Abstract
The aim of this study was to assess the biological aspects and food preferences of Helicoverpa armigera fed different sunflower genotypes and an artificial diet. Tests were performed under multiple-choice and no-choice conditions to evaluate the biological characteristics of H. armigera. In addition, the biological data obtained were used to determine parameters of fertility life tables. The results showed that H. armigera does not have a feeding preference among the sunflower genotypes tested. The larval period on sunflower ranged from 15.0 to 16.2 days. The maximum fecundity on sunflower was 542.6 eggs/female and that on the artificial diet was 794.5 eggs/female. In general, insects feeding on Helio 250 consumed greater quantities of leaves, had higher survival until the end of the pupal stage, displayed high population growth rates, and had low population doubling times, suggesting that in the field populations will achieve greater population densities when fed on Helio 250. Insects that fed on CF101 consumed smaller leaf areas, had lower survival until the end of the pupal stage, lower fertility rates, and lower population growth rates, and may also have displayed lower population densities and smaller reductions in field productivity. This insect developed best on an artificial diet in comparison to sunflower genotypes studied.
Access options
Buy single article
Instant access to the full article PDF.
USD 39.95
Price includes VAT (USA)
Tax calculation will be finalised during checkout.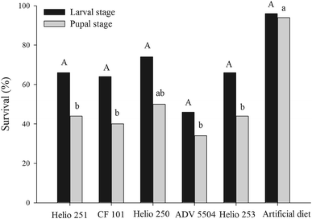 References
Abrol DP (2013) Integrated pest management: current concepts and ecological perspectives. Academic Press, San Diego, p 584

Ahmad S, Ansari MS, Muslim M (2015) Toxic effects of neem based insecticides on the fitness of Helicoverpa armigera (Hübner). Crop Prot 68:72–78

Baptista APM, Carvalho GA, Carvalho SM, Carvalho CF, Bueno Filho JSS (2009) Toxicidade de produtos fitossanitários utilizados em citros para Aphis melífera. Ciênc Rural 39:955–961

Birch LC (1948) The intrinsic rate of natural increase of on insect population. J Anim Ecol 17:15–26

Bueno RCOF, Yamamoto PT, Carvalho MM, Bueno NM (2014) Occurrence of Helicoverpa armigera (Hubner, 1808) on citrus in the state of Sao Paulo, Brazil. Rev Bras Frutic 36:520–523

Building BM, Arhabhata S (2007) Status of insecticide resistance in the cotton bollworm, Helicoverpa armigera (Hübner). J Cent Eur Agric 8:171–182

CONAB—Companhia Nacional de Abastecimento (2015) Boletim Conjuntura Mensal. Available at http://www.conab.gov.br/OlalaCMS/uploads/arquivos/15_07_14_14_15_03_girassoljunho2015.pdf. Accessed August 15, 2015

Cunningham JP, Zalucki MP, West SA (1999) Learning in Helicoverpa armigera (Lepidoptera: Noctuidae): a new look at the behavior and control of a polyphagous pest. Bull Entomol Res 89:201–207

Czepak C, Albernaz KC, Vivan LM, Guimarães HO, Carvalhais T (2013) Primeiro registro de ocorrência de Helicoverpa armigera (Hübner) (Lepidoptera: Noctuidae) no Brasil. Pesqui Agropecu Trop 43:110–113

Gabriel D (2013) Lagarta Helicoverpa: mais um sério problema. São Paulo: Instituto Biológico. (Comunicado Técnico, 186). Available at http://www.biologico.sp.gov.br/artigos_ok.php?id_artigo=186. Accessed February 11, 2015

Gottems L (2014) Helicoverpa armigera ataca cana, citros e amendoim em São Paulo. Available at http://www.agrolink.com.br/culturas/milho/noticia/helicoverpa-armigera-ataca-cana-citros-e-amendoim-em-sao-paulo_194355.html. Accessed February 19, 2015

Greene GL, Leppla NC, Dickerson WA (1976) Velvetbean caterpillar: a rearing procedure and artificial medium. J Econ Entomol 69:487–488

Inácio FR, Marchini LC, Ambrosano GMB, Moreti ACCC (2003) Efeito da aplicação de inseticida carbamato na visitação de insetos e sua relação com a produtividade na cultura do girassol (Helianthus annuus L.) Rev Magistra 15:87-91

Jarrahi A, Safavi SA (2016) Fitness costs to Helicoverpa armigera after exposure to sub-lethal concentrations of Metarhizium anisopliae sensu lato: study on F1 generation. J Invert Pathol 138:50–56

Kranthi S, Krathi KR, Wanjari RR (2003) Influence of semilooper damage on cotton host-plant resistance to Helicoverpa armigera (Hub). Plant Sci 164:157–163

Krebs CJ (1994) Ecology: the experimental analysis of distribution and abundance, 4th edn. Harper Collins College Publishers, New York

Lara FM (1991) Princípios de resistência de plantas a insetos, 2nd edn. Ícone, São Paulo

Lazzarotto JJ, Roessing AC, Mello HC O (2005) Agronegócio do girassol no mundo e no Brasil. In: Campos Leite RMVB, Brighenti AM, Castro C (eds) Girassol no Brasil, Embrapa-Soja, Londrina, PR, Brazil, pp 15-42

Liu X, Liang P, Gao X, Shi X (2006) Induction of the cytochrome P450 activity by plant allelochemicals in the cotton bollworm, Helicoverpa armigera (Hübner). Pest Biochem Physiol 84:127–134

Maia AHN, Luiz AJB, Campanhola C (2000) Statistical inference on associated fertility life parameters using Jackknife technique: computational aspects. J Econ Entomol 93:511–518

MAPA-Agrofit (2015) Available at http://www.agricultura.gov.br/. Accessed February 11, 2015

Moretti AC, Parra JRP (1983) Biologia comparada e controle de qualidade de Heliothis virescens (Fabr., 1781) (Lepidoptera: Noctuidae) em dietas natural e artificial. Arq Inst Biol 50:7–15

Paramasiva I, Krishnayya PV, War AR, Sharma HC (2014) Crop hosts and genotypic resistance influence the biological activity of Bacillus thuringiensis towards Helicoverpa armigera. Crop Prot 64:38–46

Paro Júnior LA, Nakano O (1976) Dano simulado para a lagarta do girassol Chlosyne lacinia saundersii (Lepidoptera: Nymphalidae). An Soc Entomol Bras 5:216–294

Pratissoli D, Lima VLS, Pirovani VD, Lima WL (2015) Occurrence of Helicoverpa armigera (Lepidoptera: Noctuidae) on tomato in the Spirito Santo State. Hortic Bras 33:101–105

Price PW (1984) Insect ecology, 2nd edn. Wiley, New York

Safuraie-Parizi S, Fathipour Y, Talebi AA (2014) Evaluation of tomato cultivars to Helicoverpa armigera using two-sex life table parameters in laboratory. J Asia Pac Entomol 17:837–844

SAS Institute (2002) SAS: user`s guide: statistics. Version 9.0. Cary

Shanower TG, Romeis J (1999) Insect pests of pigeon pea and their management. Annu Rev Entomol 44:77–96

Shao-Ying W, Xue-Yan S, Yi W, Xi-Wu G (2013) Response of cytochrome P450 expression to maize volatiles in Helicoverpa armigera (Hübner). J Integr Agric 12:646–652

Sharma M, Singh G (2001) Development of Helicoverpa armigera on different hybrids of sunflower (Helianthus annuus). Indian J Agric Sci 71:538–543

Silveira Neto S, Nakano O, Barbin D (1976) Manual de ecologia dos insetos. Agronômica Ceres, São Paulo

Soleimannejad S, Fathipour Y, Moharramipour S, Zalucki MP (2010) Evaluation of potential resistance in seeds of different soybean cultivars to Helicoverpa armigera (Lepidoptera: Noctuidae) using demographic parameters and nutritional indices. J Econ Entomol 103:1420–1430

Southwood TER (1978) Ecological methods. Chapman and Hall, London

USDA—United States Department of Agriculture (2015) Oilseeds: World Markets and Trade. Available at http://apps.fas.usda.gov/psdonline/circulars/oilseeds.pdf. Accessed February 11, 2015

Villas Bôas GL, Moscardi F (1985) Levantamento dos insetos-pragas do girassol e seus inimigos naturais. Embrapa, Londrina

Voujoudi S, Saber M, Gharekhani G, Esfandiari E (2017) Toxicity and sublethal effects of hexaflumuron and indoxacarb on the biological and biochemical parameters os Helicoverpa armigera (Hubner) (Lepidoptera: Noctuidae). Crop Prot 91:100–107
Acknowledgements
C. C. T. was supported by the Tutorial Education Program and fellowship from the Sao Paulo State University.
Additional information
Handling Editor: Joe Louis.
About this article
Cite this article
Truzi, C.C., Vieira, N.F., de Laurentis, V.L. et al. Development and feeding behavior of Helicoverpa armigera (Hübner) (Lepidoptera: Noctuidae) on different sunflower genotypes under laboratory conditions. Arthropod-Plant Interactions 11, 797–805 (2017). https://doi.org/10.1007/s11829-017-9534-4
Received:

Accepted:

Published:

Issue Date:
Keywords
Insect biology

Helianthus annuus

Integrated pest management