Abstract
Invasive plants disrupt both floral and faunal communities of the invaded regions. Influence of invasive plants on ecosystem functioning and dynamics in the invaded region can be understood by taking into consideration complex interactions between native insects and non-native plants. This review attempts to synthesize available key literature on the effects of plant invasion on native insect communities and the role of native insects in control or spread of invasive plants. The toxic or attractive nature of invasive plants will have bearing on the novel associations that native insects form with the invasive plants and consequently in regulating their population. This study examines the consequences of herbivory and pollination on invasive plants upon encounters with native insects in the invaded regions and illustrates a sequence of possible changes that native insects and invasive plants interactions may bring about within a biotic community.
Access options
Buy single article
Instant access to the full article PDF.
USD 39.95
Price excludes VAT (USA)
Tax calculation will be finalised during checkout.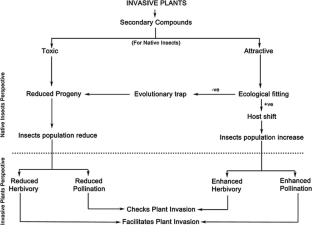 References
Agosta SJ (2006) On ecological fitting, plant-insect associations, herbivore host shifts, and host plant selection. Oikos 114:556–565

Agosta SJ, Klemens JA (2008) Ecological fitting by phenotypically flexible genotypes: implications for species associations, community assembly and evolution. Ecol Lett 11:1123–1134

Agrawal AA, Kotanen PM (2003) Herbivores and the success of exotic plants: a phylogenetically controlled experiment. Ecol Lett 6:712–715

Aizen MA, Morales CL, Morales JM (2008) Invasive mutualists erode native pollination webs. PLoS Biol 6:e31

Ballard M, Hough-Goldstein J, Tallamy D (2013) Arthropod communities on native and nonnative early successional plants. Environ Entomol 42:851–859

Battin J (2004) When good animals love bad habitats: ecological traps and the conservation of animal populations. Conserv Biol 18:1482–1491

Bezemer TM, Harvey JA, Cronin JT (2014) The response of native insect communities to Invasive plants. Ann Rev of Entomol 59:119–141

Blossey B, Notzold R (1995) Evolution of increased competitive ability in invasive nonindigenous plants: a hypothesis. J Ecol 83:887–889

Bossdorf O, Auge H, Lafuma L et al (2005) Phenotypic and genetic differentiation between native and introduced plant populations. Oecologia 144:1–11

Bowers MD, Stamp NE, Collinge SK (1992) Early stage of host range expansion by a specialist herbivore, Euphydryas phaeton (Nymphalidae). Ecology 73:526–536

Brändle M, Kühn I, Klotz S, Belle C, Brandl R (2008) Species richness of herbivores on exotic host plants increases with time since introduction of the host. Divers Distrib 14:905–912

Brown BJ, Mitchell RJ, Graham SA (2002) Competition for pollination between an invasive species (purple loosestrife) and a native congener. Ecology 83:2328–2336

Callaway RM, Ridenour WM (2004) Novel weapons: invasive success and the evolution of increased competitive ability. Front Ecol Environ 2:436–443

Cappuccino N, Carpenter D (2005) Invasive exotic plants suffer less herbivory than non-invasive plants. Biol Lett 1:435–438

Carpenter D, Cappuccino N (2005) Herbivory, time since introduction and the invasiveness of exotic plants. J Ecol 93:315–321

Carroll SP (2007) Natives adapting to invasive species: ecology, genes, and the sustainability of conservation. Ecol Res 22:892–901

Carroll SP, Boyd C (1992) Host race radiation in the soapberry bug: natural history with the history. Evolution 46:1052–1069

Carvalheiro LG, Biesmeijer JC, Benadi G et al (2014) The potential for indirect effects between co-flowering plants via shared pollinators depends on resource abundance, accessibility and relatedness. Ecol Lett 17:1389–1399

Case C, Crawley M (2000) Effect of interspecific competition and herbivory on the recruitment of an invasive alien plant: Conyza sumatrensis. Biol Invasions 2:103–110

Castells E, Morante M, Goula M, Pérez N, Dantart J, Escolà A (2014) Herbivores on native and exotic Senecio plants: is host switching related to plant novelty and insect diet breadth under field conditions? Insect Conserv Divers 7:420–431

Chew FS (1981) Coexistence and local extinction in two pierid butterflies. Am Nat 118:655–672

Chittka L, Schürkens S (2001) Successful invasion of a floral market. Nature 411:653–654

Chupp AD, Battaglia LL (2014) Potential for host shifting in Papilio palamedes following invasion of laurel wilt disease. Biol Invasions 16:2639–2651

Cincotta CL, Adams JM, Holzapfel C (2009) Testing the enemy release hypothesis: a comparison of foliar insect herbivory of the exotic Norway maple (Acer platanoides L.) and the native sugar maple (A. saccharum L.). Biol Invasions 11:379–388

Clark KE, Hartley SE, Johnson SN (2011) Does mother know best? The preference–performance hypothesis and parent—offspring conflict in aboveground-belowground herbivore life cycles. Ecol Entomol 36:117–124

Cogni R (2010) Resistance to plant invasion? a native specialist herbivore shows preference for and higher fitness on an introduced host. Biotropica 42:188–193

Crooks JA (2002) Characterizing ecosystem-level consequences of biological invasions: the role of ecosystem engineers. Oikos 97:153–166

Davies KW, Sheley RL (2007) A conceptual framework for preventing the spatial dispersal of invasive plants. Weed Sci 55:178–184

Dawson W, Bottini A, Fischer M, van Kleunen M, Knop E (2014) Little evidence for release from herbivores as a driver of plant invasiveness from a multi-species herbivore-removal experiment. Oikos 123:1509–1518

DeWalt SJ, Denslow JS, Ickes K (2004) Natural-enemy release facilitates habitat expansion of the invasive tropical shrub Clidemia hirta. Ecology 85:471–483

Ding J, Blossey B (2009) Differences in preference and performance of the water lily leaf beetle, Galerucella nymphaeae populations on native and introduced aquatic plants. Environ Entomol 38:1653–1660

Dostál P, Allan E, Dawson W, Kleunen MV, Bartish I, Fischer M (2013) Enemy damage of exotic plant species is similar to that of natives and increases with productivity. J Ecol 101:388–399

Ehrenfeld JG (2010) Ecosystem consequences of biological invasions. Ann Rev Ecol Evol Syst 41:59–80

Engelkes T, Morriën E, Verhoeven KJ et al (2008) Successful range-expanding plants experience less above-ground and below-ground enemy impact. Nature 456:946–948

Fan S, Yu D, Liu C (2013) The Invasive Plant Alternanthera philoxeroides was suppressed more intensively than its native congener by a native generalist: implications for the biotic resistance hypothesis. PLoS One 8:e83619

Feldman TS, Morris WF, Wilson WG (2004) When can two plant species facilitate each other's pollination? Oikos 105:197–207

Fortuna TM, Woelke JB, Hordijk CA et al (2013) A tritrophic approach to the preference-performance hypothesis involving an exotic and a native plant. Biol Invasions 15:2387–2401

Frenzel M, Brandl R (2003) Diversity and abundance patterns of phytophagous insect communities on alien and native host plants in the Brassicaceae. Ecography 26:723–730

Ghazoul J (2002) Flowers at the front line of invasion? Ecol entomol 27:638–640

Gibson MR, Richardson DM, Pauw A (2012) Can floral traits predict an invasive plant's impact on native plant-pollinator communities? J Ecol 100:1216–1223

Gibson MR, Pauw A, Richardson DM (2013) Decreased insect visitation to a native species caused by an invasive tree in the Cape Floristic Region. Biol Conserv 157:196–203

Gillespie M, Wratten SD (2011) Oviposition preference of Lycaena salustius for, and larval performance on, a novel host plant: an example of ecological fitting. Ecol Entomol 36:616–624

Godoy O, Valladares F, Castro-Díez P (2011) Multispecies comparison reveals that invasive and native plants differ in their traits but not in their plasticity. Funct Ecol 25:1248–1259

Graves SD, Shapiro AM (2003) Exotics as host plants of the California butterfly fauna. Biol Conserv 110:413–433

Harris RJ, Toft RJ, Dugdale JS et al (2004) Insect assemblage in a native (kanuka-Kunzea ericoides) and an invasive (gorse-Ulex europaeus) shrubland. New Zeal J Ecol 28:35–47

Hartley MK, Rogers WE, Siemann E (2010) Comparisons of arthropod assemblages on an invasive and native trees: abundance, diversity and damage. Arthropod Plant Interact 4:237–245

Harvey JA, Fortuna TM (2012) Chemical and structural effects of invasive plants on herbivore parasitoid/predator interactions in native communities. Entomol Exp Appl 144:14–26

Harvey JA, Biere A, Fortuna T et al (2010) Ecological fits, mis-fits and lotteries involving insect herbivores on the invasive plant, Bunias orientalis. Biol Invasions 12:3045–3059

Harvey KJ, Nipperess DA, Britton DR, Hughes L (2013) Does time since introduction influence enemy release of an invasive weed? Oecologia 173:493–506

Hengstum T, Hooftman DA, Oostermeijer JGB, Tienderen PH (2014) Impact of plant invasions on local arthropod communities: a meta-analysis. J Ecol 102:4–11

Herrera CM, Medrano M, Rey PJ et al (2002) Interaction of pollinators and herbivores on plant fitness suggests a pathway for correlated evolution of mutualism-and antagonism-related traits. P Natl Acad Sci 99:16823–16828

Herrera AM, Carruthers RI, Mills NJ (2011) No evidence for increased performance of a specialist psyllid on invasive French broom. Acta Oecol 37:79–86

Hull-Sanders HM, Clare R, Johnson RH, Meyer GA (2007) Evaluation of the evolution of increased competitive ability (EICA) hypothesis: loss of defense against generalist but not specialist herbivores. J Chem Ecol 33:781–799

Jahner JP, Bonilla MM, Badik KJ, Shapiro AM, Forister ML (2011) Use of exotic hosts by Lepidoptera: widespread species colonize more novel hosts. Evolution 65:2719–2724

Janzen DH (1985) On ecological fitting. Oikos 45:308–310

Jeschke JM, Bacher S, Blackburn TM et al (2014) Defining the impact of non-native species. Conserv Biol. doi:10.1111/cobi.12299

Jogesh T, Carpenter D, Cappuccino N (2008) Herbivory on invasive exotic plants and their non-invasive relatives. Biol Invasions 10:797

Joshi S, Tielbörger K (2012) Response to enemies in the invasive plant Lythrum salicaria is genetically determined. Ann Bot-Lond 110:1403–1410

Keane RM, Crawley MJ (2002) Exotic plant invasions and the enemy release hypothesis. Trends Ecol Evol 17:164–170

Keeler MS, Chew FS (2008) Escaping an evolutionary trap: preference and performance of a native insect on an exotic invasive host. Oecologia 156:559–568

Kokko H, Sutherland WJ (2001) Ecological traps in changing environments: ecological and evolutionary consequences of a behaviourally mediated Allee effect. Evol Ecol Res 3:537–551

Lake JC, Leishman MR (2004) Invasion success of exotic plants in natural ecosystems: the role of disturbance, plant attributes and freedom from herbivores. Biol Conserv 117:215–226

Larson DL, Royer RA, Royer MR (2006) Insect visitation and pollen deposition in an invaded prairie plant community. Biol Conserv 130:148–159

Levine JM, D'Antonio CM (2003) Forecasting biological invasions with increasing international trade. Conserv Biol 17:322–326

Mack RN, Simberloff D, Lonsdale M et al (2000) Biotic invasions: causes, epidemiology, global consequences, and control. Ecol Appl 10:689–710

Maron JL, Vilà M (2001) When do herbivores affect plant invasion? Evidence for the natural enemies and biotic resistance hypotheses. Oikos 95:361–373

Martins VF, Guimaraes PR Jr, Haddad CRB, Semir J (2009) The effect of ants on the seed dispersal cycle of the typical myrmecochorous Ricinus communis. Plant Ecol 205:213–222

Memmott J, Fowler SV, Paynter Q, Sheppard AW, Syrett P (2000) The invertebrate fauna on broom, Cytisus scoparius, in two native and two exotic habitats. Acta Oecol 21:213–222

Morales CL, Traveset A (2009) A meta-analysis of impacts of alien versus native plants on pollinator visitation and reproductive success of co-flowering native plants. Ecol Lett 12:716–728

Morrison JA, Mauck K (2007) Experimental field comparison of native and non-native maple seedlings: natural enemies, ecophysiology, growth and survival. J Ecol 95:1036–1049

Müller-Schärer H, Schaffner U, Steinger T (2004) Evolution in invasive plants: implications for biological control. Trends Ecol Evol 19:417–422

Muñoz AA, Cavieres LA (2008) The presence of a showy invasive plant disrupts pollinator service and reproductive output in native alpine species only at high densities. J Ecol 96:459–467

Murphy SM (2004) Enemy-free space maintains swallowtail butterfly host shift. P Natl Acad Sci 01:18048–18052

Nienhuis C, Stout JC (2009) Effectiveness of native bumblebees as pollinators of the alien invasive plant Impatiens glandulifera (Balsaminaceae) in Ireland. J Pollinat Ecol 1:1–11

Novotny V, Miller SE, Cizek L et al (2003) Colonising aliens: caterpillars (Lepidoptera) feeding on Piper aduncum and P. umbellatum in rainforests in Papua New Guinea. Ecol Entomol 28:704–716

Parker JD, Hay ME (2005) Biotic resistance to plant invasions? Native herbivores prefer non-native plants. Ecol Lett 8:959–967

Parker JD, Burkepile DE, Hay ME (2006) Opposing effects of native and exotic herbivores on plant invasions. Science 311:1459–1461

Pearse IS, Altermatt F (2013) Predicting novel trophic interactions in a non-native world. Ecol Lett 16:1088–1094

Pearse IS, Hipp AL (2014) Native plant diversity increases herbivory to non-natives. Proc R Soc B 281:20141841

Pearse IS, Harris DJ, Karban R, Sih A (2013) Predicting novel herbivore—plant interactions. Oikos 122:1554–1564

Powell KI, Krakos KN, Knight TM (2011) Comparing the reproductive success and pollination biology of an invasive plant to its rare and common native congeners: a case study in the genus Cirsium (Asteraceae). Biol Invasions 13:905–917

Pyšek P, Jarošík V, Chytrý M et al (2011) Successful invaders co-opt pollinators of native flora and accumulate insect pollinators with increasing residence time. Ecol Monogr 81:277–293

Richardson DM, Pyšek P (2012) Naturalization of introduced plants: ecological drivers of biogeographical patterns. New Phytol 196:383–396

Robertson BA, Rehage JS, Sih A (2013) Ecological novelty and the emergence of evolutionary traps. Trends Ecol Evol 28:552–560

Rodewald AD, Shustack DP, Jones TM (2011) Dynamic selective environments and evolutionary traps in human-dominated landscapes. Ecology 92:1781–1788

Rodriguez LF (2006) Can invasive species facilitate native species? Evidence of how, when, and why these impacts occur. Biol Invasions 8:927–939

Rova E, Björklund M (2011) Can preference for oviposition sites initiate reproductive isolation in Callosobruchus maculatus? PLoS One 6:e14628

Schlaepfer MA, Runge MC, Sherman PW (2002) Ecological and evolutionary traps. Trends Ecol Evol 17:474–480

Schlaepfer MA, Sherman PW, Blossey B, Runge MC (2005) Introduced species as evolutionary traps. Ecol Lett 8:241–246

Schlaepfer MA, Sax DF, Olden JD (2011) The potential conservation value of non-native species. Conserv Biol 25:428–437

Shapiro AM (2002) The Californian urban butterfly fauna is dependent on alien plants. Divers Distrib 8:31–40

Siemann E, Rogers WE, Dewalt SJ (2006) Rapid adaptation of insect herbivores to an invasive plant. P Roy Soc Lond B Bio 273:2763–2769

Singer MC (1986) The definition and measurement of oviposition preference in plant-feeding insects. In: Miller J, Miller TA (eds) Insect-plant relations. Springer, Berlin, pp 66–94

Singer MC, Thomas CD, Parmesan C (1993) Rapid human-induced evolution of insect—host associations. Nature 366:681–683

Solarz SL, Newman RM (2001) Variation in hostplant preference and performance by the milfoil weevil, Euhrychiopsis lecontei Dietz, exposed to native and exotic watermilfoils. Oecologia 126:66–75

Stout J, Morales CL (2009) Ecological impacts of invasive alien species on bees. Apidologie 40:388–409

Tallamy DW (2004) Do alien plants reduce insect biomass? Conserv Biol 18(6):1689–1692

Tallamy DW, Ballard M, D'Amico V (2010) Can alien plants support generalist insect herbivores? Biol Invasions 12:2285–2292

Topp W, Kappes H, Rogers F (2008) Response of ground-dwelling beetle (Coleoptera) assemblages to giant knotweed (Reynoutria spp.) invasion. Biol Invasions 10:381–390

Traveset A, Richardson DM (2006) Biological invasions as disruptors of plant reproductive mutualisms. Trends Ecol Evol 21:208–216

Vanparys V, Meerts P, Jacquemart AL (2008) Plant-pollinator interactions: comparison between an invasive and a native congeneric species. Acta Oecol 34:361–369

Vermeij GJ (1996) An agenda for invasion biology. Biol Conserv 78:3–9

Wolfe LM (2002) Why alien invaders succeed: support for the escape-from-enemy hypothesis. Am Nat 160:705–711

Yang X, Huang W, Tian B, Ding J (2014) Differences in growth and herbivory damage of native and invasive kudzu (Peuraria montana var. lobata) populations grown in the native range. Plant Ecol 215:339–346

Yela JL, Lawton JH (1997) Insect herbivore loads on native and introduced plants; a preliminary study. Entomol Exp Appl 85:275–279

Zheng YL, Fenga YL, Lei YB, Liao ZY (2012) Comparisons of plastic responses to irradiance and physiological traits by invasive Eupatorium adenophorum and its native congeners. J Plant Physiol 169:884–891
Acknowledgments
AS acknowledges Junior Research Fellowship (JRF) support from University Grant Commission, New Delhi. SD and GPS acknowledge support from Science and Engineering Research Board, Department of Science and Technology, India, and University of Delhi, India, for research funding. We thank the reviewers and the Associate Editor for suggestions that greatly improved the manuscript. We also thank Adrienne Gembala, San Francisco, USA, and Mackenzie Kwak, Melbourne, Australia, for help with English language editing.
Additional information
Handling Editor: Jeffrey Harvey.
About this article
Cite this article
Sunny, A., Diwakar, S. & Sharma, G.P. Native insects and invasive plants encounters. Arthropod-Plant Interactions 9, 323–331 (2015). https://doi.org/10.1007/s11829-015-9384-x
Received:

Accepted:

Published:

Issue Date:

DOI: https://doi.org/10.1007/s11829-015-9384-x
Keywords