Abstract
In the late growing season of apples, most eggs of the codling moth, Cydia pomonella L. (Lepidoptera, Tortricidae), of the second and third generations are deposited directly on fruits. The apple fruit surface is densely covered by three-dimensional micro- and nanoprojections, the epicuticular wax crystals, emerging from an underlying wax film. These epicuticular waxes render the apple fruit surface hydrophobic, which could affect the attachment of insect legs and eggs to it. A better survival of the codling moth offspring is expected to be ensured by the selection of suitable oviposition sites by females, as well as by a proper adhesion of deposited eggs to these sites. In this study, we investigated egg adhesion of the codling moth to the fruit surface of different cultivars of the domestic apple, Malus domestica Borkh., by measuring the pull-off force required to detach eggs from fruits. Since surface characteristics may influence insect egg adhesion, the information about morphological and physicochemical properties of the fruit surface is crucial for understanding oviposition site selection by females. In the present study, surface morphology, wettability, and free surface energy of the apple cultivars 'Boskoop', 'Elstar', 'Golden Delicious', 'Jonica', and 'Topaz' were analyzed. Eggs adhered tightly to the fruit surface of all apple cultivars tested: pull-off forces averaged 63.9 mN. These forces are four- to tenfold stronger than those previously measured on adaxial and abaxial leaf surfaces of the identical apple cultivars. The mechanisms used by the moth to fix its eggs on the waxy surface of apple fruits, and the influence of fruit surface properties on egg glue adhesion are discussed. Furthermore, the results are debated in the context of the oviposition site selection by females, and its role in offspring survival of the second and third generations of the codling moth.
Access options
Buy single article
Instant access to the full article PDF.
USD 39.95
Price includes VAT (USA)
Tax calculation will be finalised during checkout.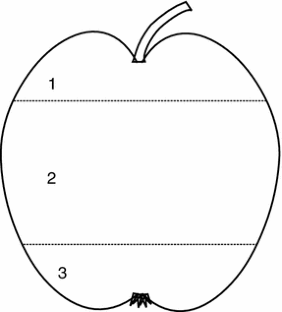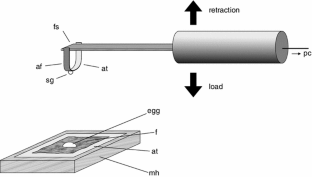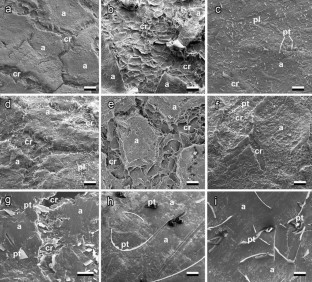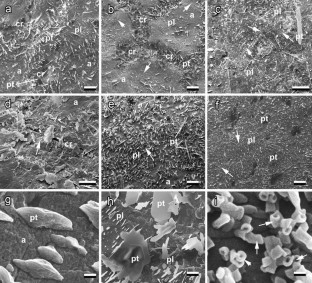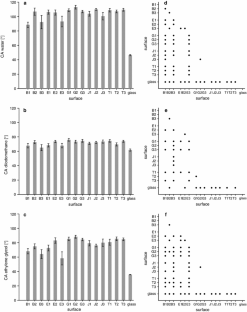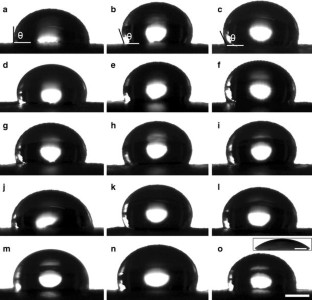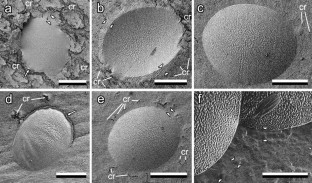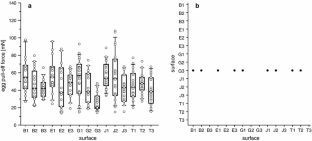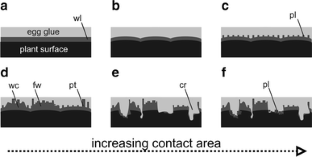 References
Aghdam HR, Fathipour Y, Radjabi G, Rezapanah M (2009) Temperature-dependent development and temperature thresholds of codling moth (Lepidoptera: Tortricidae) in Iran. Environ Entomol 38:885–895

Al Bitar L, Voigt D, Zebitz CPW, Gorb SN (2009) Tarsal morphology and attachment ability of the codling moth Cydia pomonella L. (Lepidoptera, Tortricidae) to smooth surfaces. J Insect Physiol 55:1029–1038

Al Bitar L, Voigt D, Zebitz CPW, Gorb SN (2010) Attachment ability of the codling moth Cydia pomonella L. to rough substrates. J Insect Physiol 56:1966–1972

Al Bitar L, Gorb SN, Zebitz CPW, Voigt D (2012) Egg adhesion of the codling moth Cydia pomonella L. (Lepidoptera, Tortricidae) to various substrates: I. Leaf surfaces of different apple cultivars. Arthropod Plant Interact 6:471–488

Amiri A, Cholodowski D, Bompeix G (2005) Adhesion and germination of waterborne and airborne conidian of Penicillium expansum to apple and inert surfaces. Physiol Mol Plant Pathol 67:40–48

Amornsak W, Noda T, Yamashita O (1992) Accumulation of glue proteins in the developing colleterial glands of the silkworm, Bombyx mori. J Seric Sci Jpn 61:123–130

Audemard H (1991) Population dynamics of the codling moth. In: Van der Geest LPS, Evenhuis HH (eds) Tortricid pests: Their biology, natural enemies and control. Elsevier, Amsterdam, pp 329–338

Bargel H, Koch K, Cerman Z, Neinhuis C (2006) Structure-function relationships of the plant cuticle and cuticular waxes – a smart material? Funct Plant Biol 33:893–910

Barnes MM (1991) Codling moth occurrence, host race formation, and damage. In: Van der Geest LPS, Evenhuis HH (eds) Tortricid pests: their biology, natural enemies and control. Elsevier, Amsterdam, pp 313–327

Barthlott W, Neinhuis C, Cutler D, Ditsch F, Meusel I, Theisen I, Wilhelmi H (1998) Classification and terminology of plant epicuticular waxes. Bot J Linn Soc 126:237–260

Beament JWL, Lal R (1957) Penetration through the egg-shell of Pieris brassicae (L.). Bull Entomol Res 48:109–125

Belding RD, Blankenship SM, Young E, Leidy RB (1998) Composition and variability of epicuticular waxes in apple cultivars. J Am Soc Hort Sci 123:348–356

Betz O (2010) Adhesive exocrine glands in insects: morphology, ultrastructure, and adhesive secretion. In: Byern J, Grunwald I (eds) Biological adhesive systems from nature to technical and medical application. Springer, Wien, pp 111–152

Blago N, Dickler E (1990) Neue Methode zur Untersuchung der Ei-Phänologie des Apfelwicklers, Cydia pomonella L. (Lep., Tortricidae). J Appl Entomol 109:98–104

Blomefield TL, Giliomee JH (2009) Development rates of the embryonic and immature stages of codling moth, Cydia pomonella (L.) (Lepidoptera: Tortricidae), at constant and fluctuating temperatures. Afr Entomol 17:183–191

Blomefield TL, Pringle KL, Sadie A (1997) Field observations on oviposition of codling moth, Cydia pomonella (Linnaeus) (Lepidoptera: Olethreutidae), in an unsprayed apple orchard in South Africa. Afr Entomol 5:319–336

Bonebrake TC, Boggs CL, McNally JM, Ranganathan J, Ehrlich PR (2010) Oviposition behavior and offspring performance in herbivorous insects: consequences of climatic and habitat heterogeneity. Oikos 119:927–934

Borchert DM, Stinner RE, Walgenbach JF, Kennedy GG (2004) Oriental fruit moth (Lepidoptera: Tortricidae) phenology and management with methoxyfenozide in North Carolina apples. J Econ Entomol 97:1353–1364

Borden AD (1931) Some field observations on codling moth behavior. J Econ Entomol 24:1137–1145

Burgess IF (2010) Do nit removal formulations and other treatments loosen head louse eggs and nits from hair? Med Vet Entomol 24:55–61

Burkhart CN, Stankiewicz BA, Pchalek I, Kruge MA, Burkhart CG (1999) Molecular composition of the louse sheath. J Parasitol 85:559–561

Casado CG, Heredia A (2001) Ultrastructure of the cuticle during growth of the grape berry (Vitis vinifera). Physiol Plant 111:220–224

Cheung PJ, Ruggierl GD, Nigrelli RF (1977) A new method for obtaining barnacle cement in the liquid state for polymerization studies. Mar Biol 43:157–163

Chickering DE III, Mathiowitz E (1999) Definitions, mechanisms, and theories of bioadhesion. In: Mathiowitz E, Chickering DE III, Lehr C-M (eds) Bioadhesive drug delivery systems: fundamentals, novel approaches, and development. Marcel Dekker, NewYork, pp 1–10

Cogley TP, Cogley MC (1989) Morphology of the eggs of the human bot fly, Dermatobia hominis (L. Jr.) (Diptera: Cuterebridae) and their adherence to the transport carrier. Int J Insect Morphol Embryol 18:239–248

Cogley TP, Anderson JR, Weintraub J (1981) Ultrastructure and function of the attachment organ of warble fly eggs (Diptera: Oestridae: Hypodermatinae). Int J Insect Morphol Embryol 10:7–18

Considine JA, Brown KC (1981) Physical aspects of fruit growth: theoretical analysis of distribution of surface growth forces in fruit in relation to cracking and splitting. Plant Physiol 68:371–376

Creasy LL (1980) The correlation of weather parameters with russet of 'Golden Delicious' apples under orchard conditions. J Am Soc Hort Sci 105:735–738

Curry EA (2005) Ultrastructure of epicuticular wax aggregates during fruit development in apple (Malus domestica Borkh.). J Hort Sci Biotechnol 80:668–676

Curry, EA (2009) Growth-induced microcracking and repair mechanisms of fruit cuticles. In: Society for experimental mechanics. Proceedings: SEM annual conference and exposition on experimental and applied mechanics; 2009. p. 1751–1757

Doss RP, Oliver JE, Proebsting WM, Potter SW, Kuy S, Clement SL, Williamson RT, Carney JR, DeVilbiss ED (2000) Bruchins: Insect-derived plant regulators that stimulate neoplasm formation. Proc Natl Acad Sci USA 97:6218–6223

Eigenbrode SD (2004) The effects of plant epicuticular waxy blooms on attachment and effectiveness of predatory insects. Arthropod Struct Dev 33:91–102

Eigenbrode SD, Kabalo NN (1999) Effects of Brassica oleracea waxblooms on predation and attachment by Hippodamia convergens. Entomol Exp Appl 91:125–130

Eigenbrode SD, Castagnola T, Roux MB, Steljes L (1996) Mobility of three generalist predators is greater on cabbage with glossy leaf wax than on cabbage with a wax bloom. Entomol Exp Appl 81:335–343

Eigenbrode SD, White C, Rohde M, Simon CJ (1998) Behavior and effectiveness of adult Hippodamia convergens (Coleoptera: Coccinellidae) as a predator of Acyrthosiphon pisum (Homoptera: Aphididae) on a wax mutant of Pisum sativum. Environ Entomol 27:902–909

El-Otmani M, Arpaia ML, Coggins CW, Pehrson JE, O'Connell NV (1989) Developmental changes in 'Valencia' orange fruit epicuticular wax in relation to fruit position on the tree. Sci Hortic 41:69–81

Ensikat HJ, Boese M, Mader W, Barthlott W, Koch K (2006) Crystallinity of plant epicuticular waxes: electron and X-ray diffraction studies. Chem Phys Lipids 144:45–59

Faust M, Shear CB (1972a) Fine structure of the fruit surface of three apple cultivars. J Am Soc Hort Sci 97:351–355

Faust M, Shear CB (1972b) Russeting of apples, an interpretive review. HortScience 7:233–235

Fordyce JA, Nice CC (2003) Variation in butterfly egg adhesion: adaptation to local host plant senescence characteristics? Ecol Lett 6:23–27

Forister ML, Fordyce JA, Nice CC, Compert Z, Shapiro AM (2006) Egg morphology varies among populations and habitats along a suture zone in the Lycaeides idas-melissa species complex (Lepidoptera: Lycaenidae). Ann Entomol Soc Am 99:933–937

Franchini MC, Hernández LF, Lindström LI (2010) Cuticle and cuticular wax development in the sunflower (Helianthus annuus L.) pericarp grown at the field under a moderate water deficit. Phyton (Buenos Aires) 79:153–161

Gaume L, Perret P, Gorb E, Gorb S, Labat J–J, Rowe N (2004) How do plant waxes cause flies to slide? Experimental tests of wax-based trapping mechanisms in three pitfall carnivorous plants. Arthropod Struct Dev 33:103–111

Geier PW (1963) The life history of codling moth Cydia pomonella (L.) (Lepidoptera: Tortricidae) in the Australian Capital Territory. Aust J Zool 11:323–367

Gibert C, Chadœuf J, Vercambre G, Génard M, Lescourret F (2007) Cuticular cracking on nectarine fruit surface: spatial distribution and development in relation to irrigation and thinning. J Am Soc Hort Sci 132:583–591

Glenn GM, Rom CR, Rasmussen HP, Poovaiah BW (1990) Influence of cuticular structure on the appearance of artificially waxed 'Delicious' apple fruit. Sci Hortic 42:289–297

Gorb SN (2001) Attachment devices of insect cuticle. Kluwer, Dordrecht

Gorb SN (2008) Biological attachment devices: exploring nature's diversity for biomimetics. Phil Trans R Soc A 366:1557–1574

Gorb EV, Gorb SN (2002) Attachment ability of the beetle Chrysolina fastuosa on various plant surfaces. Entomol Exp Appl 105:13–28

Gorb EV, Gorb SN (2006) Physicochemical properties of functional surfaces in pitchers of the carnivorous plant Nepenthes alata Blanco (Nepenthaceae). Plant Biol 8:841–848

Gorb EV, Gorb SN (2009) Effect of surface topography and chemistry of Rumex obtusifolius leaves on the attachment of the beetle Gastrophysa viridula. Entomol Exp Appl 130:222–228

Gorb E, Voigt D, Eigenbrode SD, Gorb S (2008) Attachment force of the beetle Cryptolaemus montrouzieri (Coleoptera, Coccinellidae) on leaflet surfaces of mutants of the pea Pisum sativum (Fabaceae) with regular and reduced wax coverage. Arthropod Plant Interact 2:247–259

Habenicht G (2002) Kleben: Grundlagen, Technologien, Anwendung, 4th edn. Springer, Berlin

Hagley EAC, Bronskill JF, Ford EJ (1980) Effect of the physical nature of leaf and fruit surfaces on oviposition by the codling moth, Cydia pomonella (Lepidoptera: Tortricidae). Can Entomol 112:503–510

Hinton HE (1981) Biology of insect eggs. vol I–III. Oxford: Pergamon Press

Huang Y, Leobandung W, Foss A, Peppas NA (2000) Molecular aspects of muco- and bioadhesion: tethered structures and site-specific surfaces. J Control Release 65:63–71

Jackson DM (1979) Codling moth egg distribution on unmanaged apple trees. Ann Entomol Soc Am 72:361–368

Jackson DM (1982) Searching behavior and survival of 1st-instar codling moths. Ann Entomol Soc Am 75:284–289

Jackson DM, Hardwood RE (1980) Survival potential of first instars of the codling moth in laboratory experiments. Ann Entomol Soc Am 73:160–163

Jeffree CE (1986) The cuticle, epicuticular waxes and trichomes of plants, with reference to their structure, functions and evolution. In: Juniper BE, Southwood SR (eds) Insects and the plant surface. Edward Arnold, London, pp 23–64

Jetter R, Schäffer S (2001) Chemical composition of the Prunus laurocerasus leaf surface. Dynamic changes of the epicuticular wax film during leaf development. Plant Physiol 126:1725–1737

Jin Y, Chen YL, Jiang Y, Xu M (2006) Proteome analysis of the silkworm (Bombyx mori L.) colleterial gland during different development stages. Arch Insect Biochem Physiol 61:42–50

Knoche M, Grimm E (2008) Surface moisture induces microcracks in the cuticle of 'Golden Delicious'. HortScience 43:1929–1931

Knoche M, Peschel S (2007) Deposition and strain of the cuticle of developing European plum fruit. J Amer Soc Hort Sci 132:597–602

Koch K (2011) Design of hierarchically sculptured biological surfaces with anti-adhesive properties. In: Hicks MG, Kettner C (eds) Functional nanoscience. Logos, Berlin, pp 167–178

Koch K, Ensikat HJ (2008) The hydrophobic coatings of plant surfaces: epicuticular wax crystals and their morphologies, crystallinity and molecular self-assembly. Rev Micron 39:759–772

Koch K, Bushan B, Barthlott W (2008) Diversity of structure, morphology and wetting of plant surfaces. Soft Matter 4:1943–1963

Koch K, Bhushan B, Barthlott W (2009) Multifunctional surface structures of plants: an inspiration for biomimetics. Prog Mater Sci 54:137–178

Koch K, Neinhuis C, Ensikat H-J, Barthlott W (2004) Self assembly of epicuticular waxes on living plant surfaces imaged by atomic force microscopy (AFM). J Exp Bot 55:711–718

Konarska A (2012) Differences in the fruit peel structures between two apple cultivars during storage. Acta Sci Polonorum-Hortorum Cultus 11:105–116

Li D, Huson MG, Graham LD (2008) Proteinaceous adhesive secretions from insects, and in particular the egg attachment glue of Opodiphthera sp. moths. Arch Insect Biochem Physiol 69:85–105

Lombarkia N, Derridj S (2002) Incidence of apple fruit and leaf surface metabolites on Cydia pomonella oviposition. Entomol Exp Appl 104:79–87

Lurie S, Fallik E, Klein JD (1996) The effect of heat treatment on apple epicuticular wax and calcium uptake. Postharvest Biol Technol 8:271–277

Maguire KM, Lang A, Banks NH, Hall A, Hopcroft D, Bennett R (1999) Relationship between water vapour permeance of apples and micro-cracking of the cuticle. Postharvest Biol Technol 17:89–96

McDonald RE, Nordby HE, McCollum TG (1993) Epicuticular wax morphology and composition are related to grapefruit chilling injury. HortScience 28:311–312

Meier U, Graf H, Hack H, Hess M, Kennel W, Klose R, Mappes D, Seipp D, Stauss R, Streif J, van den Boom T (1994) Phänologische Entwicklungsstadien des Kernobstes (Malus domestica Borkh. und Pyrus communis L.) des Steinobstes (Prunus-Arten), der Johannisbeere (Ribes-Arten) und der Erdbeere (Fragaria x ananassa Duch.). Nachrichtenbl Dt Pflanzenschutzd 46:141–153

Meyer A (1944) A study of the skin structure of Golden Delicious apples. Proc Am Soc Hort Sci 45:105–110

Morice IM, Shorland FB (1973) Composition of the surface waxes of apple fruits and changes during storage. J Sci Food Agric 24:1331–1339

Mphosi MS, Foster SP (2010) Female preference and larval performance of sunflower moth, Homoeosoma electellum, on sunflower pre-breeding lines. Entomol Exp Appl 134:182–190

Müller C, Riederer M (2005) Plant surface properties in chemical ecology. J Chem Ecol 31:2621–2651

Neinhuis C, Barthlott W (1997) Characterization and distribution of water-repellent, self-cleaning plant surfaces. Ann Bot 79:667–677

Nickles EP, Ghiradella H, Bakhru H, Haberl A (2002) Egg of the karner blue butterfly (Lycaeides melissa samuelis): morphology and elemental analysis. J Morphol 251:140–148

Nosonovsky M, Bhushan B (2005) Roughness optimization for biomimetic superhydrophobic surfaces. Microsyst Technol 11:535–549

Opara UL (1993) A study on stem-end splitting in apples. PhD Thesis, Massey University, New Zealand

Owens DK, Wendt RC (1969) Estimation of the surface free energy of polymers. J Appl Polym Sci 13:1741–1747

Peet MM (1992) Fruit cracking in tomato. Hort Technol 2:216–223

Peppas NA, Buri PA (1985) Surface interfacial and molecular aspects of polymer bioadhesion on soft tissues. J Controlled Release 2:257–275

Plourde DF, Goonewardene HF, Kwolek WF (1985) Pubescence as a factor in codling moth oviposition and fruit entry in five apple selections. HortScience 20:82–83

Proctor JTA, Lougheed EC (1980) Cracking of Golden Russet apples. Can Plant Dis Surv 60:55–58

Renwick JAA (1989) Chemical ecology of oviposition in phytophagous insects. Experientia 45:223–228

Renwick JAA, Chew FS (1994) Oviposition behavior in Lepidoptera. Annu Rev Entomol 39:377–400

Riley RC, Forgash AJ (1967) Drosophila melongaster eggshell adhesive. J Insect Physiol 13:509–517

Roy S, Conway WS, Watada AE, Sams CE, Erbe EF, Wergin WP (1994) Heat treatment affects epicuticular wax structure and postharvest calcium uptake in 'Golden Delicious' apples. HortScience 29:1056–1058

Santos R, Gorb S, Jamar V, Flammang P (2005) Adhesion of echinoderm tube feet to rough surfaces. J Exp Biol 208:2555–2567

Scherge M, Gorb S (2001) Biological micro- and nano-tribology. Springer, Berlin

Scholz I (2009) Ultrastructure and functional morphology of adhesive organs and anti-adhesive plant surfaces. PhD Thesis, RWTH Aachen University, Aachen

Schwerdtfeger G (1972) Die Oberfläche der Apfelfrucht in Aufnahmen mit dem Raster-Elektronen-Mikroskop und Elektronen-Mikroskop. Der Erwerbsobstbau 14:17–20

Shel'Deshova GG (1967) Ecological factors determining distribution of the codling moth, Laspeyresia pomonella L. (Lepidoptera: Tortricidae) in the northern and southern hemispheres. Annu Rev Entomol 46:349–361

Simčič M, Kadunc M, Hribar J, Vidrih R (2007) Influence of cultivar and storage time on the content of higher fatty acids in apple cuticle. Veg Crops Res Bull 66:197–203

Singer MC, Ng D, Thomas CD (1988) Heritability of oviposition preference and its relationship to offspring performance within a single insect population. Evolution 42:977–985

Skene DS (1963) The fine structure of apple, pear, and plum fruit surfaces, their changes during ripening, and their response to polishing. Ann Bot 37:581–587

Smart JD (2005) The basics and underlying mechanisms of mucoadhesion. Adv Drug Deliv Rev 57:1556–1568

Stork NE (1980) Role of waxblooms in preventing attachment to Brassicas by the mustard beetle, Phaedon cochleariae. Entomol Exp Appl 28:100–107

Subinprasert S, Svensson BW (1988) Effects of predation on clutch size and egg dispersion in the codling moth Laspeyresia pomonella. Ecol Entomol 13:87–94

Thiery D, Gabel B, Farkas P, Jarry M (1995) Egg dispersion in codling moth: influence of egg extract and of its fatty acid constituents. J Chem Ecol 21:2015–2026

Thompson JN (1988) Evolutionary ecology of the relationship between oviposition preference and performance of offspring in phytophagous insects. Entomol Exp Appl 47:3–14

Uehara K, Sakurai M (2002) Bonding strength of adhesives and surface roughness of joined parts. J Mater Process Technol 127:178–181

Velásquez P, Skurtys O, Enrione J, Osorio F (2011) Evaluation of surface free energy of various fruit epicarps using acid-base and Zisman approaches. Food Biophys 6:349–358

Verardo G, Pagani E, Geatti P, Martinuzzi P (2003) A thorough study of the surface wax of apple fruits. Anal Bioanal Chem 376:659–667

Veraverbeke EA, Bruaene NV, Oostveldt PV, Nicolaï BM (2001) Non destructive analysis of the wax layer of apple (Malus domestica Borkh.) by means of confocal laser scanning microscopy. Planta 213:525–533

Veraverbeke EA, Verboven P, Van Oostveldt P, Nicolaï BM (2003) Prediction of moisture loss across the cuticle of apple (Malus sylvestris subsp. Mitis (Wallr.)) during storage: part 1. Model development and determination of diffusion coefficients. Postharvest Biol Technol 30:75–88

Voigt D, Gorb S (2010) Egg attachment of the asparagus beetle Crioceris asparagi to the crystalline waxy surface of Asparagus officinalis. Proc R Soc Lond B 277:895–903

Wang H, Feng H, Liang W, Luo Y, Malyarchuk V (2009) Effect of surface roughness on retention and removal of Escherichia coli O157:H7 on surfaces of selected fruits. J Food Sci 74:E8–E15

Witzgall P, Ansebo L, Yang Z, Angeli G, Sauphanor B, Bengtsson M (2005) Plant volatiles affect oviposition by codling moths. Chemoecology 15:77–83

Wojcik P, Dyki B, Cieslinski G (1997) Fine structure of the fruit surface of seven apple cultivars. J Fruit Ornam Plant Res 5:119–127

Wood TG (1965) Field observations on flight and oviposition of codling moth (Carpocapsa pomonella L.) and mortality of eggs and first-instar larvae in an integrated control orchard. N Z J Agric Res 8:1043–1059

Yan F, Bengtsson M, Witzgall P (1999) Behavioral response of female codling moths, Cydia pomonella, to apple volatiles. J Chem Ecol 25:1343–1351

Yokoyama VY, Miller GT, Hartsell PL (1990) Evaluation of a methyl bromide quarantine treatment to control codling moth (Lepidoptera: Tortricidae) on nectarine cultivars proposed for export to Japan. J Econ Entomol 83:466–471
Acknowledgments
The first author is grateful for the help of Martin Hofmeister (Institute of Phytomedicine, University of Hohenheim, Stuttgart, Germany) in preparation of figures. Frank Körner (Max Planck Institute for Metals Research, Stuttgart, Germany) assisted in contact angle measurements. This study was supported by a PhD grant from Syria to LAB.
Additional information
Communicated by Handling editor: Heikki Hokkanen.
About this article
Cite this article
Al Bitar, L., Gorb, S.N., Zebitz, C.P.W. et al. Egg adhesion of the codling moth Cydia pomonella L. (Lepidoptera, Tortricidae) to various substrates: II. Fruit surfaces of different apple cultivars. Arthropod-Plant Interactions 8, 57–77 (2014). https://doi.org/10.1007/s11829-013-9288-6
Received:

Accepted:

Published:

Issue Date:
Keywords
Attachment

Epicuticular waxes

Glue

Malus domestica

Oviposition

Plant surface