Abstract
A growing body of literature reports the importance of non-prey food sources in boosting fitness of arthropod natural enemies, thus further contributing to their pest control efficacy. Although resources such as nectar, pollen, or honeydew have received a fair amount of research attention, little is known about the role of fruit juices. Under natural conditions, Tephritid fruit fly parasitoids enjoy ample access to fallen or damaged fruits and their saccharide-rich juices, and wasp fitness can potentially benefit in multiple ways from access to these resources. In this study, we compared the effect of fruit juice with other food resources on multiple fitness parameters in parasitoids that commonly forage on fallen, damaged fruits: the braconid Diachasmimorpha longicaudata and figitid Aganaspis pelleranoi. Parasitoids were subject to simple or combined diets of guava juice (Psidium guajava), honey and pollen, and their effect on wasp longevity, ovarian dynamics and (body) carbohydrate levels was assessed. For both species, adult longevity proved lowest on simple diets of water, guava juice, or pollen, while greatest longevity was attained on honey or combined diets. For D. longicaudata, egg load did not differ between the various diets, while A. pelleranoi egg load was higher for individuals that had access to honey or pollen, but did not differ between newly emerged wasps and those fed guava juice. In both parasitoid species, total sugars, fructose, and glycogen levels were highest in wasps fed with honey or combined diets and lowest under (simple) guava juice, pollen, or water diets. In conclusion, D. longicaudata and A. pelleranoi attained superior longevity and body nutrient levels with access to high-sucrose sugar sources, such as honey, but benefited comparatively little from access to guava juice. Our work hints the role of high-sucrose foods such as (extra-) floral nectar or artifical sugar sprays in boosting fitness of fruit fly parasitoids. We further discuss the relevance of these findings for fruit fly biological control, in crops such as guava.
Access options
Buy single article
Instant access to the full article PDF.
US$ 39.95
Tax calculation will be finalised during checkout.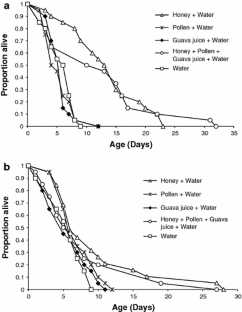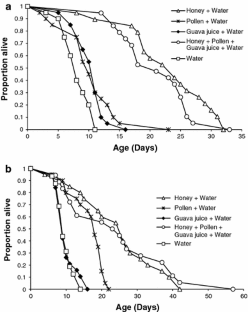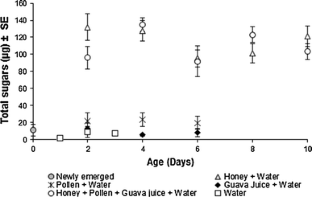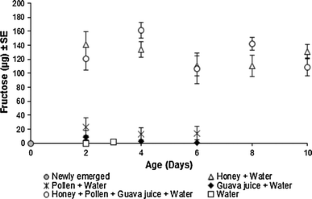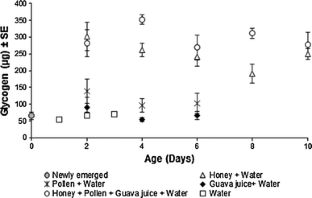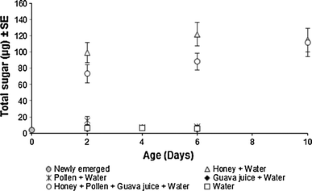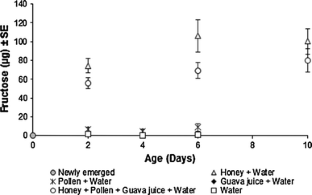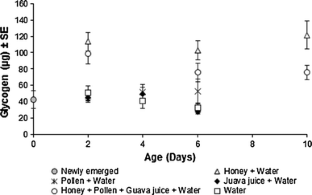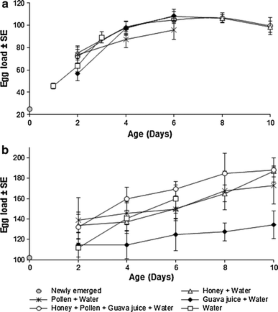 References
Aluja M (1993) Manejo integrado de moscas de la fruta. Trillas, Mexico DF

Aung KSD, Takagi M, Ueno T (2010) Influence of food on the longevity and egg maturation of the egg parasitoid Ooencyrtus nezarae (Hymenoptera: Encyrtidae). J Fac Agr Kyushu Univ 55:79–81

Baggen LR, Gurr GM (1998) The influence of food on Copidosoma koehleri (Hymenoptera: Encyrtidae), and the use of flowering plants as a habitat management tool to enhance biological control of potato moth, Phthorimaea operculetta (Lepidoptera: Gelechiidae). Biol Control 11:9–17

Bautista RC, Harris EJ, Vargas RI (2001) The fruit fly parasitoid Fopius arisanus: reproductive attributes of pre-released females and the use of added sugar as a potential food supplement in the field. Entomol Exp Appl 101:247–255

Berndt LA, Wratten SD, Scarratt SL (2006) The influence of floral resource subsidies on parasitism rates of leafrollers (Lepidoptera: Tortricidae) in New Zealand vineyards. Biol Control 37:50–55

Boggs CL (1997) Dynamics of reproductive allocation from juvenile and adult feeding: radiotracer studies. Ecology 78:192–202

Brecht JK, Yahia EM (2009) Postharvest Physiol. In: Litz RE (ed) Mango: botany, production and uses, 2nd edn. CAB International, Wallingord, pp 484–528

Canard M (2001) Présence en Grece continentale de Chrysoperla carnea (Stephens, 1836) sensu stricto (Neuroptera, Chrysopidae). Bull Soc Entomol Fr 106:416

Canas L, O'Neil R (1998) Applications of sugar solutions to maize, and the impact of natural enemies on fall armyworm. Int J Pest Manag 44:59–64

Cancino J, Ruiz L, Montoya P, Harris E (2009) Biological attributes of three introduced parasitoids as natural enemies of fruit flies, genus Anastrepha (Diptera: Tephritidae). J Appl Entomol 133:181–188

Chen L, Fadamiro HY (2006) Comparing the effects of five naturally occurring monosaccharide and oligosaccharide sugars on longevity and carbohydrate nutrient levels of a parasitic phorid fly, Pseudacteon tricuspis. Physiol Entomol 31:46–56

De Moreno L, Marín M, De Rincón C, Sandoval L (1995) Determinación por HPLC de los azúcares en los frutos de guayaba (Psidium guajava L.) de una plantación comercial del Municipio Mara. Rev Fac Agron (LUZ) 12:467–483

Ding H, Lamb RJ, Ames N (2000) Inducible production of phenolic acids in wheat and antibiotic resistance to Sitodiplosis mosellana. J Chem Ecol 26:969–985

Dulaurent AM, Rossi JP, Deborde C, Moing A, Menassieu P, Jactel H (2011) Honeydew feeding increased the longevity of two egg parasitoids of the pine processionary moth. J Appl Entomol 135:184–194

Eijs IEM, Ellers J, Van Duinen GJ (1998) Feeding strategies in drosophilid parasitoids: the impact of natural food resources on energy reserves in females. Ecol Entomol 23:133–138

Fadamiro HY, Chen L (2005) Utilization of aphid honeydew and floral nectar by Pseudacteon tricuspis (Diptera: Phoridae), a parasitoid of imported fire ants, Solenopis spp. (Hymenoptera: Formicidae). Biol Control 34:73–82

Fadamiro HY, Heimpel GE (2001) Effects of partial sugar deprivation on lifespan and carbohydrate mobilization in the parasitoid Macrocentrus grandii (Hymenoptera: Braconidae). Ann Entomol Soc Am 94:909–916

Geng JH, Shen ZR, Song K, Zheng L (2006) Effect of pollen of regular cotton and transgenic Bt + CpTI cotton on the survival and reproduction of the parasitoid wasp Trichogramma chilonis (Hymenoptera: Trichogrammatidae) in the laboratory. Environ Entomol 35:1661–1668

Gilbert FS (1986) Hoverflies. Cambridge University Press, Cambridge

Heimpel GE, Jervis MA (2005) An evaluation of the hypothesis that floral nectar improves biological control by parasitoids. In: Wäckers FL, van Rijn P, Bruin J (eds) Plant-provided food for carnivorous insects: a protective mutualism and its applications. Cambridge University Press, Cambridge, pp 267–304

Hein S, Dorn S (2008) The parasitoid of a fruit moth caterpillar utilizes fruit components as nutrient source to increase its longevity and fertility. Biol Control 44:341–348

Hickman JM, Lövei GL, Wratten SD (1995) Pollen feeding by adults of the hoverfly Melanostoma fasciatum (Diptera: Syrphidae). N Z J Zool 22:387–392

Idris A, Grafius E (1995) Wildflowers as nectar sources for Diadegma insulare (Hymenoptera: Ichneumonidae), a parasitoid of diamondback moth (Lepidoptera: Yponomeutidae). Environ Entomol 24:1726–1735

Irvin NA, Wratten SD, Frampton CM, Bowie MH, Evans AM, Moar NT (1999) The phenology and pollen feeding of three hover fly (Diptera: Syrphidae) species in Canterbury, New Zealand. N Z J Zool 26:105–115

Jacob H, Evans E (1998) Effects of sugar spray and aphid honeydew on field populations of the parasitoid Bathyplectes curculionis (Hymenoptera: Ichneumonidae). Environ Entomol 27:1563–1568

Jervis MA (1998) Functional and evolutionary aspects of mouthpart structure in parasitoid wasps. Biol J Linnean Soc 63:461–493

Jervis MA, Kidd NAC, Heimpel GE (1996) Parasitoid adult feeding behaviour and biocontrol-a review. Biocon News Inf 17:11–22

Lavandero B, Wratten S, Shishehbor P, Worner S (2005) Enhancing the effectiveness of the parasitoid Diadegma semiclausum (Helen): movement after use of nectar in the field. Biol Control 34:152–158

Lee JC, Heimpel GE (2008) Floral resources impact longevity and oviposition rate of a parasitoid in the field. J Anim Ecol 77:565–572

Lee JC, Heimpel GE, Leibee GL (2004) Comparing floral nectar and aphid honeydew diets on the longevity and nutrient levels of a parasitoid wasp. Entomol Exp Appl 111:189–199

Lee JC, Andow DA, Heimpel GE (2006) Influence of floral resources on sugar feeding and nutrient dynamics of a parasitoid in the field. Ecol Entomol 31:470–480

Leius K (1960) Attractiveness of different foods and flowers to the adults of some Hymenopterous parasites. Can Entomol 92:369–376

Lundgren J (2009) Relationships of natural enemies and non-prey foods. Springer International, Dordrecht

Luo S, Li J, Liu X, Lu Z, Pan W, Zhang Q (2010) Effects of six sugars on the longevity, fecundity and nutrient reserves of Microplitis mediator. Biol Control 52:51–57

Majerus MEN (1994) Ladybirds. The new naturalist series, vol 81. Harper Collins, London

Montoya P, Liedo P, Benrey B, Cancino J, Barrera JF, Sivinski J, Aluja M (2000) Biological control of Anastrepha spp. (Diptera: Tephritidae) in mango orchards through augmentative releases of Diachasmimorpha longicaudata (Ashmead) (Hymenoptera: Braconidae). Biol Control 18:216–224

Montoya P, Benrey B, Barrera JF, Zenil M, Ruiz L, Liedo P (2003) Oviposition behavior and conspecific host discrimination in Diachasmimorpha longicaudata (Hymenoptera: Braconidae), a fruit fly parasitoid. Biocon Sci Technol 13:683–690

Montoya P, Suárez A, López F, Cancino J (2009) Fopius arisanus oviposition in four Anastrepha fruit fly species of economic importance in Mexico. Biocontrol 54:437–444

Nuñez L, Gómez R, Guarín G, León G (2004) Moscas de las frutas (Díptera: Tephritidae) y parasitoides asociados con Psidium guajava L. y Coffea arabica L. en tres municipios de la Provincia de Vélez (Santander, Colombia) parte 2: identificación y evaluación de parasitoides del Orden Hymenoptera. Rev Corpoica 5:1

Ode PJ (2006) Plant chemistry and natural enemy fitness: effects on herbivore and natural enemy interactions. Ann Rev Entomol 51:163–185

Olson DM, Fadamiro H, Lundgren J, Heimpel G (2000) Effect of sugar feeding on carbohydrate and lipid metabolism in a parasitoid wasp. Physiol Entomol 25:17–26

Ovruski SM (1994) Comportamiento en la detección del huésped en Aganaspis pelleranoi (Brèthes) (Hymenoptera: Cynipoidea, Eucoilidae) parasitoide de larvas de Ceratitis capitata (Wied.) (Diptera: Tephritidae). Rev Soc Entomol Argentina 53:121–127

Ovruski SM, Aluja M, Sivinski J, Wharton R (2000) Hymenopteran parasitoids on fruit infesting Tephritidae (Diptera) in Latin America and the southern United States: diversity, distribution, taxonomic status and their use in fruit fly biological control. Int J Pest Manag 5:81–107

Ovruski SM, Schliserman P, Aluja M (2004) Indigenous parasitoids (Hymenoptera) attacking Anastrepha fraterculus and Ceratitis capitata (Diptera: Tephritidae) in native and exotic host plants in Northwestern Argentina. Biol Control 29:43–57

Ozkan C (2007) Effect of food, light and host instar on the egg load of the synovigenic endoparasitoid Venturia canescens (Hymenoptera: Ichneumonidae). J Pest Sci 80:79–83

Palenchar J, Holler T, Moses-Rowley A, Mcgovern R, Sivinski J (2009) Evaluation of irradiated caribbean fruit fly (Diptera: Tephritidae) larvae for laboratory rearing of Doryctobracon areolatus (Hymenoptera: Braconidae). Florida Entomol 92:535–537

Patthamakanokporn O, Puwastein P, Nitihamyong A, Sirichakwal PP (2008) Changes of antioxidant activity and total phenolic compounds during storage of selected fruits. J Food Compos Anal 21:241–248

Purcell MF (1998) Contribution of biological control to integrated pest management of tephritid fruit flies in the tropic and subtropics. Integr Pest Manag Rev 3:63–83

Purcell MF, Jackson CG, Long JP, Batchelor MA (1994) Influence of guava ripening on parasitism of the Oriental fruit fly, Bactrocera dorsalis (Hendel) (Diptera: Tephritidae), by Diachasmimorpha longicaudata (Ashmead) (Hymenoptera: Braconidae) and other parasitoids. Biol Control 4:396–403

Riddick EW (2007) Influence of honey and maternal age on egg load of lab-cultured Cotesia marginiventris. Biocontrol 52:613–618

Rivero A, Casas J (1999) Incorporating physiology into parasitoid behavioral ecology: the allocation of nutritional resources. Res Popul Ecol 41:39–45

Rivero A, West SA (2002) The physiological costs of being small in a parasitic wasp. Evol Ecol Res 4:407–420

Sivinski J, Aluja M, Holler T (2006) Food sources for adult Diachasmimorpha longicaudata, a parasitoid of tephritid fruit flies: effects on longevity and fecundity. Entomol Exp Appl 118:193–202

Sun J, Chu Y, Wu X, Liu RH (2002) Antioxidant and antiproliferative activities of common fruits. J Agric Food Chem 50:7449–7454

Takasu K, Lewis WJ (1994) Importance of adult food sources to host searching of the larval parasitoid Microplitis croceipes. Biol Control 5:25–30

Thompson SN (1999) Nutrition and culture of entomophagous insects. Annu Rev Entomol 44:561–592

Tylianakis JM, Didham RK, Wratten SD (2004) Improved fitness of aphid parasitoids receiving resource subsidies. Ecology 85:658–666

Wäckers FL (1994) The effect of food deprivation on the innate visual and olfactory preferences in the parasitoid Cotesia rubecula. J Insect Physiol 40:641–649

Wäckers FL (2005) Suitability of (extra-) floral nectar, pollen, and honeydew as insect food sources. In: Wäckers FL, van Rijn PCJ, Bruin J (eds) Plant-provided food for carnivorous insects: a protective mutualism and its applications. Cambridge University, Cambridge, pp 17–74

Wäckers FL, Van Rijn PCJ, Heimpel GE (2008) Honeydew as a food source for natural enemies: making the best of a bad meal? Biol Control 45:176–184

Wade MR, Hopkinson JE, Zalucki MP (2008) Influence of food supplementation on the fitness of two biological control agents: a predatory nabid bug and a bollworm pupal parasitoid. J Pest Sci 81:99–107

Wang XG, Messing RH (2004) Potential interactions between pupal and egg- or larval-pupal parasitoids of tephritid fruit flies. Environ Entomol 33:1313–1320

Wharton RA, Ovruski SM, Gilstrap FE (1998) Neotropical Eucoilidae (Cynipoidea) associated with fruit infesting Tephritidae, with new records from Argentina, Bolivia and Costa Rica. J Hymenop Res 7:102–115

White IM, Elson-Harris MM (1992) Fruit flies of economic significance: their identification and bionomics. CAB International, Wallingford

Winkler K, Wäckers FL, Bukovinszkine-Kiss G, van Lenteren JC (2006) Sugar resources are vital for Diadegma semiclausum fecundity under field conditions. Basic Appl Ecol 7:133–140

Wu H, Meng L, Li B (2008) Effects of feeding frequency and sugar concentrations on lifetime reproductive success of Meteorus pulchricornis (Hymenoptera: Braconidae). Biol Control 45:353–359

Wyckhuys KAG, Strange-George JE, Kulhanek CA, Wäckers FL, Heimpel GE (2008) Sugar feeding by the aphid parasitoid Binodoxys communis: How does honeydew compare with other sugar sources? J Insect Physiol 54:481–491

Yokoyama VY, Rendon PA, Wang XG, Opp SB, Johnson MW, Daane KM (2011) Response of Psyttalia humilis (Hymenoptera: Braconidae) to olive fruit fly (Diptera: Tephritidae) and conditions in California olive orchards. Environ Entomol 40:315–323

Zhang G, Zimmermann O, Hassan SA (2004) Pollen as a source of food for egg parasitoids of the genus Trichogramma (Hymenoptera: Trichogrammatidae). Biocon Sci Technol 14:201–209
Acknowledgments
The authors thank Luz Stella Fuentes, Luis Alejandro Arias, Francisco López, Lina María Márquez, Carolina González and Sandra Herrera at the Centro de BioSistemas, Universidad Jorge Tadeo Lozano. We are also grateful to George Heimpel at the University of Minnesota, José Rengifo at the ICA Quarantine Treatment Laboratory, Armando Osorio at the Universidad del Tolima and Nubia Moreno at the Biotechnology Institute, Universidad Nacional de Colombia. In Mexico, Jose Manuel Gutíerrez Ruelas and Pablo Montoya facilitated shipments of biological material. This research was financed by the Colombian Ministry of Agriculture and Rural Development, with project grant MADR 2008L6772-3445 to KW.
Additional information
Handling Editor: Jonathan Lundgren.
About this article
Cite this article
Narváez, A., Cancino, J., Daza, N.C. et al. Effect of different dietary resources on longevity, carbohydrate metabolism, and ovarian dynamics in two fruit fly parasitoids. Arthropod-Plant Interactions 6, 361–374 (2012). https://doi.org/10.1007/s11829-012-9188-1
Received:

Accepted:

Published:

Issue Date:
Keywords
Biological control

Fruit fly parasitoids

Nutritional physiology

Fitness

Longevity

Sugar levels

Egg load