Abstract
The Russian wheat aphid Diuraphis noxia (Kurdjumov) (Homoptera: Aphididae) is a global pest of wheat and barley. This arthropod is difficult to manage with pesticides or biological control agents due to the aphid's ability to seek shelter in rolled leaves and also to develop virulent biotypes. During the past 20 years, the use of aphid-resistant cereal cultivars has proven to be an economically and ecologically beneficial method of protecting crops from D. noxia damage. Our research reports the results of experiments to determine the categories of D. noxia biotype 2 resistance present in Cereal Introduction Triticeae (CItr) 2401, and a barley genotype (IBRWAGP4-7), compared to control resistant and susceptible wheat and barley genotypes. CItr2401 and IBRWAGP4-7 exhibit no antixenosis, but both genotypes demonstrated antibiosis to D. noxia in the form of reduced aphid populations. Reduced leaf dry weight change, a measure of plant tolerance of D. noxia feeding, was significantly less in CItr2401 and IBRWAGP4-7 plants than in plants of susceptible control varieties. However, tolerance was negated when a tolerance index was calculated to correct for differences in aphid populations. Barley IBRWAGP4-7 is a new source of D. noxia biotype 2 resistance. D. noxia foliar leaf damage and population growth were significantly less on IBRWAGP4-7 plants than on plants of the susceptible barley variety Morex. IBRWAGP4-7 plants were equal in resistance to plants of the resistant barley STARS 9301 and wheat genotype CItr2401.
Access options
Buy single article
Instant access to the full article PDF.
US$ 39.95
Tax calculation will be finalised during checkout.
Subscribe to journal
Immediate online access to all issues from 2019. Subscription will auto renew annually.
US$ 79
Tax calculation will be finalised during checkout.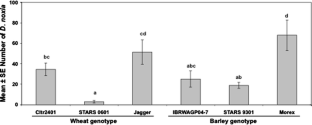 References
Almaraz L, Bellone B, Chidichimo HO (2003) The response of wheat sources of resistance and Argentinean commercial cultivars infested with RWA. In: La Sociedad Chilena de EntomologoÞ ìa. Sociedad Chilena de EntomologoÞ ìa, Valdivia. (ed) Proc XXIII Congr Chilean Entomol Society, 5–7 December 2003, Temuco, Chile

Baker CA, Webster JA, Porter DR (1992) Characterization of Russian wheat aphid resistance in a hard white spring wheat. Crop Sci 32:1442–1446

Basky Z, Hopper KR, Jordan J, Saayman T (2001) Biotypic differences in Russian wheat aphid between South Africa and Hungarian agro-ecosystems. Agric Ecosyst Environ 83:121–128. doi:10.1016/S0167-8809(00)00245-0

Burd JD, Porter DR, Puterka GJ, Haley SD, Peairs FB (2006) Biotypic variation among North American Russian wheat aphid (Homoptera: Aphididae) populations. J Econ Entomol 99:1862–1866

Dolatti L, Ghareyazie B, Moharramipour S, Noori-Daloii MR (2005) Evidence for regional diversity and host adaptation in Iranian populations of the Russian wheat aphid. Entomol Exp Appl 114:171–180. doi:10.1111/j.1570-7458.2005.00247.x

Formusoh ES, Wilde GE, Hatchett JH, Collins RD (1992) Resistance to Russian wheat aphid (Homoptera: Aphididae) in Tunisian wheats. J Econ Entomol 85:2505–2509

Girma M, Wilde GE, Reese JC (1990) Influence of temperature and plant growth stage on development, reproduction, life span and intrinsic rate of increase of the Russian wheat aphid (Homoptera: Aphididae). Environ Entomol 19:1438–1442

Hein GL (1992) Influence of plant growth stage on Russian wheat aphid, Diuraphis noxia (Homoptera: Aphididae), reproduction and damage symptom expression. J Kans Entomol Soc 65:369–376

Hewitt PH, van Niekerk GJJ, Walters MC, Kriel CF, Fouche A (1984) Aspects of the ecology of the Russian wheat aphid, Diuraphis noxia, in the Bloemfontein district. I. The colonization and infestation of sown wheat, identification of summer hosts and cause of infestation systems. In Walters MC (ed) Progress in Russian wheat aphid (Diuraphis noxia Mordw.) research in the Republic of South Africa. Department of Agriculture Technical Communication 191, Republic of South Africa, pp 3–13

Johnson VA, Briggle LW, Axtell JD, Bouman LF, Leng ER, Johnson TH (1978) Grain crops. In: Milner M (ed) Protein resources and technology. AVI Publ. Co., Westport, p 239

Lage JL, Skovmand B, Andersen SB (2004) Resistance categories of synthetic hexaploid wheats resistant to the Russian wheat aphid (Diuraphis noxia). Euphytica 136:291–296. doi:10.1023/B:EUPH.0000032732.53350.93

Liu XM, Smith CM, Gill BS (2005) Allelic relationships among Russian wheat aphid resistance genes. Crop Sci 45:2273–2280. doi:10.2135/cropsci2004.0704

Marais GF, Horn M, Du Toit F (1994) Intergeneric transfer (rye to wheat) of a gene(s) for Russian wheat aphid resistance. Plant Breed 113:265–271

Miller HR, Randolph TL, Peairs FB (2003) Categories of resistance at four growth stages in three wheats resistant to Russian wheat aphid (Homoptera: Aphididae). J Econ Entomol 96:673–679

Mornhinweg DW, Porter DR, Webster JA (2002) Inheritance of Russian wheat aphid resistance in spring barley germplasm line STARS-9577B. Crop Sci 42:1891–1893

Painter RH (1951) Insect resistance in crop plants. Macmillan, New York

Puterka GJ, Burd JD, Mornhinweg DW, Haley SD, Peairs FB (2006) Response of resistant and susceptible barley to infestations of five Diuraphis noxia (Homoptera: Aphididae) biotypes. J Econ Entomol 99:2151–2155

Quick JS, Ellis GE, Norman RM, Stromberger JA, Shanahan JF, Peairs FB et al (1996) Registration of 'Halt' wheat. Crop Sci 36:210

Quisenberry SS, Peairs FB (1998) A response model for an introduced pest- the Russian wheat aphid. Thomas Say Publications in Entomology, Entomological Society of America, Lanham, MD

Randolph TL, Peairs FB, Koch M, Walker CB, Stubbs JR, Quick JS et al (2005) Yield response and categories of resistance to Russian wheat aphid in four Dn4 hard red winter wheat cultivars. J Econ Entomol 98:588–594

Reese JC, Schwenke JR, Lamont PS, Zehr DD (1994) Importance and quantification of plant tolerance in crop pest management programs for aphids: greenbug resistance in Sorghum. J Agric Entomol 11:255–270

Renaud JP, Mauffette Y (1991) The relationships of crown dieback with carbohydrate content and growth of sugar maple (Acer Saccharum). Can J For Res 21:1111–1118. doi:10.1139/x91-153

Riedell WE, Blackmer TM (1999) Leaf reflectance spectra of cereal aphid-damaged wheat. Crop Sci 39:1835–1840

Robinson RA (1996) Return to resistance: breeding crops to reduce pesticide dependency. Fertile Ground Books, Davis, CA

Rodgers HL, Brakke MP, Ewel JJ (1995) Shoot damage effects on starch reserves of Cedrela odorata. Biotropica 27:71–77. doi:10.2307/2388904

Saidi A, Quick JS (1996) Inheritance and allelic relationship among Russian wheat aphid resistance genes in winter wheat. Crop Sci 36:256–258

SAS Institute (1985) SAS user's guide: basics. SAS Institute, Cary, NC

Smith CM (2005) Plant resistance to arthropods—molecular and conventional approaches. Springer, The Netherlands, p 423

Souza EJ (1998) Host plant resistance to Russian wheat aphid (Homoptera Aphididae) in wheat and barley. In: Quisenberry SS, Peairs FB (eds) A response model for an introduced pest- the Russian wheat aphid. Thomas Say Publication in Entomology, Entomological Society of America, Lanham, MD, pp 122–147

Souza E, Smith CM, Schotzko DJ, Zemetra RS (1991) Greenhouse evaluation of red winter wheats for resistance to the Russian wheat aphid (Diuraphis noxia, Mordvilko). Euphytica 57:221–225. doi:10.1007/BF00039668

Tolmay VL (1995) The inheritance and mechanisms of Russian wheat aphid (Duiraphis noxia) resistance in two Triticum aestivum Lines. M. Sc. Thesis, University of the Free State, Bloemfontein, South Africa, 180 pp

Tolmay VL, Lindeque RC, Prinsloo GL (2007) Preliminary evidence of a resistance-breaking biotype of the Russian wheat aphid, Diuraphis noxia (Kurdjumov) (Homoptera: Aphididae), in South Africa. Afr Entomol 15:228–230

Voothuluru P, Meng J, Khajuria C, Louis J, Zhu L, Starkey S et al (2006) Categories and inheritance of resistance to Russian wheat aphid (Homoptera: Aphididae) biotype 2 in a selection from wheat cereal introduction 2401. J Econ Entomol 99:1854–1861

Walters MC 1984. Introduction. In: Walters MC (ed) Progress in Russian wheat aphid (Diuraphis noxia Mordw.) Research in the Republic of South Africa. South African Department of Agricultural and Technical Communications, pp 1

Webster JA, Treat P, Morgan L, Elliott N (2000) Economic impact of the Russian wheat aphid and Greenbug in the Western United States. 1993–94, 1994–95, and 1995–96. USDA ARS Service Report PSWCRL Rep 00-001

Wraight SP, Poprawski TJ, Meyer WL, Peairs FB (1993) Natural enemies of Russian wheat aphid (Homoptera: Aphididae) and associated cereal aphid species in spring-planted wheat and barley in Colorado. Environ Entomol 22:1383–1391

Zadoks JC, Chang TT, Konzak CF (1974) A decimal code for the growth stages of cereals. Weed Res 14:415–421. doi:10.1111/j.1365-3180.1974.tb01084.x

Zwer PK, Mosaad MG, Elsidaig AA, Rickman RW (1994) Effect of Russian wheat aphid on wheat root and shoot development in resistant and susceptible genotypes. Crop Sci 34:650–655
Additional information
Handling editor: Heikki Hokkanen
About this article
Cite this article
Ennahli, S., Bouhssini, M.E., Grando, S. et al. Comparison of categories of resistance in wheat and barley genotypes against biotype 2 of the Russian wheat aphid, Diuraphis noxia (Kurdjumov). Arthropod-Plant Interactions 3, 45–53 (2009). https://doi.org/10.1007/s11829-009-9054-y
Received:

Accepted:

Published:

Issue Date:
Keywords
Antibiosis

Antixenosis

Barley

Diuraphis noxia

Tolerance

Wheat