Abstract
There is increasing interest in the use of trap crops as components of integrated pest management (IPM) strategies. Understanding the mechanisms underlying host plant preferences of herbivorous pests can lead to improved effectiveness and reliability of the trap crop. We investigated the behavioural and chemical ecology underlying the success of turnip rape, Brassica rapa, trap crops in protecting oilseed rape, Brassica napus, from the pollen beetle, Meligethes aeneus, which feeds in the flowers and lays its eggs in the buds causing yield loss. Using a semi-field arena bioassay, plant growth stage was found to be a major factor in the preference of this pest for B. rapa over B. napus. Plants at early-flowering growth stages were preferred over plants in the bud stage, irrespective of species. No preference was found when both species were flowering. As B. rapa develops faster than B. napus in the field, this could explain part of the mechanism of its success as a trap crop. However, B. rapa was preferred over B. napus when both species were in the bud stage, indicating some inherent preferences for B. rapa. Responses of M. aeneus in olfactometer tests to the odours of B. napus and B. rapa at the bud and flowering growth stages, reflected those of the semi-field arena bioassay. These behavioural responses can be explained by volatile compounds associated with the flowering stage. Phenylacetaldehyde, indole and (E,E)-α-farnesene were found to be present in air entrainment samples of both plant species at the flowering growth stage, but only in those of B. rapa at the bud stage. The former two compounds were behaviourally-active in olfactometer tests. These compounds are likely to be involved in host location by M. aeneus, and, at least partially, responsible for the attractiveness of B. rapa and its success as a trap crop to protect B. napus from this pest.
Access options
Buy single article
Instant access to the full article PDF.
USD 39.95
Price includes VAT (USA)
Tax calculation will be finalised during checkout.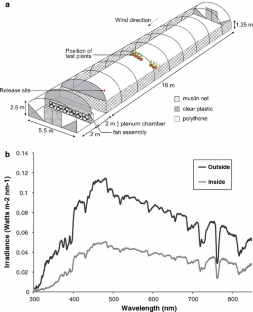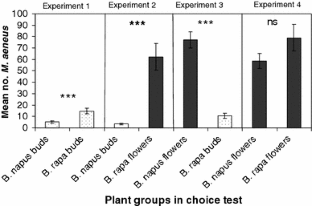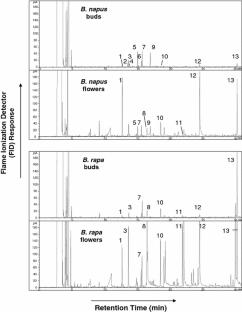 References
Agelopoulos NG, Hooper AM, Maniar SP, Pickett JA, Wadhams LJ (1999) A novel approach for isolation of volatile chemicals released by individual leaves of a plant in situ. J Chem Ecol 25(6):1411–1425

Alford DV, Nilsson C, Ulber B (2003) Insect pests of oilseed rape crops. In: Alford DV (ed) Biocontrol of oilseed rape pests. Blackwell Science, Oxford, pp 9–42

Bartlet E, Blight MM, Lane P, Williams IH (1997) The responses of the cabbage seed weevil Ceutorhynchus assimilis to volatile compounds from oilseed rape in a linear track olfactometer. Entomol Exp Appl 85(3):257–262

Blight MM (1990) Techniques for isolation and characterization of volatile semiochemicals of phytophagous insects. In: McCaffrey AR, Wilson ID (ed) Chromatography and isolation of insect hormones and pheromones. Plenum Press, New York, pp 281–288

Blight MM, Le Métayer M, Pham-Delègue M-H, Pickett JA, Marion-Poll F, Wadhams LJ (1997) Identification of floral volatiles involved in recognition of oilseed rape flowers, Brassica napus by honeybees, Apis mellifera. J Chem Ecol 23(7):1715–1727

Blight MM, Pickett JA, Wadhams LJ, Woodcock CM (1995) Antennal perception of oilseed rape, Brassica napus (Brassicaceae), volatiles by the cabbage seed weevil Ceutorhynchus assimilis (Coleoptera, Curculionidae). J Chem Ecol 21(11):1649–1664

Blight MM, Smart LE (1999) Influence of visual cues and isothiocyanate lures on capture of the pollen beetle, Meligethes aeneus in field traps. J Chem Ecol 25(7):1501–1516

Bruce TJA, Wadhams LJ, Woodcock CM (2005) Insect host location: a volatile situation. Trends Plant Sci 10(6):269–274

Buechi R (1990) Investigations on the use of turnip rape as trap plant to control oilseed rape pests. IOBC/wprs Bull 13(4):32–39

Chou T, Tso H, Chang L (1984) Stereoselective one-step syntheses of trans-β-ocimene and α-farnesene. J Chem Soc Chem Commun 1323–1324

Collet D (1991) Modelling binary data. Chapman & Hall, London

Cook S (2000) The use of pollen cues in resource location by a pollinator and a pest. School of Life & Environmental Science, Nottingham University

Cook SM, Bartlet E, Murray DA, Williams IH (2002) The role of pollen odour in the attraction of pollen beetles to oilseed rape flowers. Entomol Exp Appl 104(1):43–50

Cook SM, Khan ZR, Pickett JA (2007) The use of push–pull strategies in integrated pest management. Annu Rev Entomol 52:375–400

Cook SM, Skellern MP, Smith MJ, Williams IH (2006a) Responses of pollen beetles (Meligethes aeneus) to petal colour. IOBC/wprs Bull 29(7):153–160

Cook SM, Smart LE, Martin JL, Murray DA, Watts NP, Williams IH (2006b) Exploitation of host plant preferences in pest management strategies for oilseed rape (Brassica napus). Entomol Exp Appl 119(3):221–229

Cook SM, Watts NP, Castle LM, Williams IH (2006c) Determining the sex of insect pests of oilseed rape for behavioural bioassays. IOBC/wprs Bull 29(7):207–213

Ekbom B, Borg A (1996) Pollen beetle (Meligethes aeneus) oviposition and feeding preference on different host plant species. Entomol Exp Appl 78(3):291–299

Ekbom B, Kuusk AK (2001) Pollen beetles (Meligethes aeneus) and resistance against pyrethroids. Vaxtskyddsnotiser 65(3):39–42

Evans KA, Allen-Williams LJ (1992) Electroantennogram responses of the cabbage seed weevil, Ceutorhynchus assimilis, to oilseed rape, Brassica napus spp. oleifera, volatiles. J Chem Ecol 18:1641–1659

Evans KA, Allen-Williams LJ (1994) Laboratory and field response of the pollen beetle, Meligethes aeneus, to the odour of oilseed rape. Physiol Entomol 19(4):285–290

Frearson DJT, Ferguson AW, Campbell JM, Williams IH (2005) The spatial dynamics of pollen beetles in relation to inflorescence growth stage of oilseed rape: implications for trap crop strategies. Entomol Exp Appl 116(1):21–29

Gaoni Y (1977) Lithium aluminium hydride promoted extrusion of SO2 from sulfolenes and sulfolene-adducts. 1,3-Dienes, 3-chloro- and 3,3-dichloro-1,4-dienes and skipped polyenes. Tetrahedron Lett 11:947–950

Giamoustaris A, Mithen R (1996) The effect of flower colour and glucosinolates on the interaction between oilseed rape and pollen beetles. Entomol Exp Appl 80:206–208

Hansen LM (2003) Insecticide-resistant pollen beetles (Meligethes aeneus F) found in Danish oilseed rape (Brassica napus L) fields. Pest Manag Sci 59(9):1057–1059

Hokkanen HMT (1989) Biological and agrotechnical control of the rape blossom beetle Meligethes aeneus (Coleoptera, Nitidulidae). Acta Entomol Fenn 53:25–29

Hokkanen HMT (1991) Trap cropping in pest management. Annu Rev Entomol 36:119–138

Huber FK, Kaiser R, Sauter W, Schiestl FP (2005) Floral scent emission and pollinator attraction in two species of Gymnadenia (Orchidaceae). Oecologia 142(4):564–575

Jakobsen HB, Friis P, Nielsen JK, Olsen CE (1994) Emission of volatiles from flowers and leaves of Brassica napus in situ. Phytochemistry 37(3):695–699

Jönsson M, Lindkvist A, Anderson P (2005) Behavioural responses in three ichneumonid pollen beetle parasitoids to volatiles emitted from different phenological stages of oilseed rape. Entomol Exp Appl 115(3):363–369

Khan ZR, Pickett JA (2004) The 'push-pull' strategy for stemborer management: a case study in exploiting biodiversity and chemical ecology. In: Gurr GM, Wratten SD Altieri MA (ed) Ecological engineering for pest management: advances in habitat manipulation for arthropods. CAB International, Wallingford, pp 155–164

Lancashire PD, Bleiholder H, Vandenboom T, Langeluddeke P, Stauss R, Weber E, Witzenberger A (1991) A uniform decimal code for growth stages of crops and weeds. Ann Appl Biol 119(3):561–601

LeMetayer M, MarionPoll F, Sandoz JC, PhamDelegue MH, Blight MM, Wadhams LJ, Masson C, Woodcock CM (1997) Effect of conditioning on discrimination of oilseed rape volatiles by the honeybee: use of a combined gas chromatography-proboscis extension behavioural assay. Chem Senses 22(4):391–398

Mauchline AL, Osborne JL, Martin AP, Poppy GM, Powell W (2005) The effects of non-host plant essential oil volatiles on the behaviour of the pollen beetle Meligethes aeneus. Entomol Exp Appl 114(3):181–188

Omura H, Honda K, Hayashi N (1999) Chemical and chromatic bases for preferential visiting by the cabbage butterfly, Pieris rapae, to rape flowers. J Chem Ecol 25(8):1895–1906

Pellmyr O, Thein LB (1986) Insect reproduction and floral fragrances: keys to the evolution of angiosperms? Taxon 35:76–85

Pickett JA (1990) GC-MS in insect pheromone identification: three extreme case histories. In: McCaffery AR, Wilson ID (ed) Chromatography and isolation of insect hormones and pheromones. Plenum, New York, pp 299–309

Robertson GW, Griffiths DW, MacFarlane Smith W, Butcher RD (1993) The application of thermal-dissorption-gas chromatography-mass spectrometry to the analysis of five varieties of oilseed rape (Brassica napus spp. oleifera). Phytochem Anal 4:152–157

Sarfraz M, Dosdall LM, Keddie BA (2006) Diamondback moth–host plant interactions: implications for pest management. Crop Prot 25(7):625–639

Sedivy J, Kocourek F (1994) Flight activity of winter rape pests. J Appl Entomol 117(4):400–407

Shelton AM, Badenes-Perez FR (2006) Concepts and applications of trap cropping in pest management. Annu Rev Entomol 51:285–308

Smart LE, Blight MM (2000) Response of the pollen beetle, Meligethes aeneus to traps baited with volatiles from oilseed rape, Brassica napus. J Chem Ecol 26(4):1051–1064

Theis N (2006) Fragrance of Canada thistle (Cirsium arvense) attracts both floral herbivores and pollinators. J Chem Ecol 32:917–929

Tollsten L, Bergström G (1988) Headspace volatiles of whole plants and macerated plant parts of Brassica and Sinapis. Phytochemistry 27(12):4013–4018

Wegorek P (2006) Resistance of pollen beetle (Meligethes aeneus F.) to pyrethroids, chloronicotinyls and organophosphorous insecticides in Poland. IOBC/wprs Bull 29(7):137–142

Williams IH (2004) Advances in insect pest management of oilseed rape in Europe. In: Ishaaya I, Horowitz AR (ed) Novel approaches to insect pest management. Springer-Verlag, Berlin, pp 181–208
Acknowledgements
We thank John Pickett and Lester Wadhams for facilitating these experiments, Wilf Powell and anonymous reviewers for comments on the manuscript and Ian Pearman & Matthew Skellern for technical assistance. This work was funded by the UK Department for Environment, Food and Rural Affairs. Rothamsted Research receives grant-aided support from the UK Biotechnology and Biological Sciences Research Council.
Additional information
Handling Editor: Heikki Hokkanen
About this article
Cite this article
Cook, S.M., Rasmussen, H.B., Birkett, M.A. et al. Behavioural and chemical ecology underlying the success of turnip rape (Brassica rapa) trap crops in protecting oilseed rape (Brassica napus) from the pollen beetle (Meligethes aeneus). Arthropod-Plant Interactions 1, 57 (2007). https://doi.org/10.1007/s11829-007-9004-5
Received:

Accepted:

Published:
Keywords
(E ,E)-α-farnesene

Host plant volatiles

Indole

Linear track olfactometer

Phenylacetaldehyde

Pollen beetle

Polytunnel semi-field arena bioassay

Trap cropping