Zusammenfassung
Die Katalogisierung genomischer, epigenetischer und transkriptioneller Veränderungen in Tumorzellen sowie die Integration disponierender oder klinisch relevanter Keimbahnvarianten ist die Voraussetzung für die zukünftige Anwendung präzisionsmedizinischer Ansätze in der Onkologie. Das Internationale Krebsgenomkonsortium (International Cancer Genome Consortium, ICGC) hat sich deshalb zum Ziel gesetzt, auf verschiedenen OMICs-Ebenen die wesentlichen Aberrationen in den 50 häufigsten und sozioökonomisch relevanten Tumorentitäten zu beschreiben. Dazu werden die Tumoren nach standardisierten Protokollen mittels sequenzierungsbasierter Verfahren analysiert. Die erhobenen Daten sind unter bestimmten Bedingungen auch Wissenschaftlern außerhalb des ICGC zugänglich. Auch wenn die Datensammlung noch nicht abgeschlossen ist, konnten entitätenspezifische und -übergreifende Analysen u. a. bereits Mutationssignaturen oder neue Driververänderungen und pathogene Signalwege identifizieren.
Abstract
Cataloging genomic, epigenetic and transcriptional aberrations in tumor cells along with the integration of predisposing or clinically relevant germline variants is the prerequisite for the future application of precision medicine approaches in oncology. The International Cancer Genome Consortium (ICGC) aims to describe the key alterations of the 50 most common and socio-economically relevant subtypes of cancer on the different OMICs layers. To this end, tumors are characterized by sequencing according to standardized protocols. Under defined circumstances, the obtained data are also accessible to researchers outside the ICGC. Though data acquisition is still ongoing, the ICGC has already provided novel insights into, for example, mutational signatures, driver events and deregulated signalling pathways in cancer.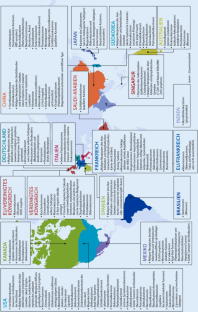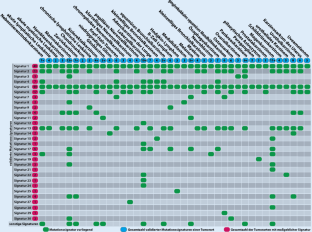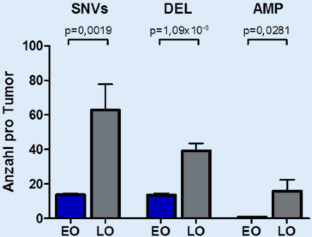 Literatur
1.

International Cancer Genome Consortium (2010) International network of cancer genome projects. Nature 464:993–998. doi:10.1038/nature08987

2.

Alioto TS, Buchhalter I, Derdak S et al (2015) A comprehensive assessment of somatic mutation detection in cancer using whole-genome sequencing. Nat Commun 6:10001

3.

Alexandrov LB, Nik-Zainal S, Wedge DC et al (2013) Signatures of mutational processes in human cancer. Nature 500:415–421

4.

Costello M, Pugh TJ, Fennell TJ et al (2013) Discovery and characterization of artifactual mutations in deep coverage targeted capture sequencing data due to oxidative DNA damage during sample preparation. Nucleic Acids Res 41:e67

5.

Jones DTW, Jäger N, Kool M et al (2012) Dissecting the genomic complexity underlying medulloblastoma. Nature 488:100–105

6.

Hovestadt V, Jones DTW, Picelli S et al (2014) Decoding the regulatory landscape of medulloblastoma using DNA methylation sequencing. Nature 510:537–541

7.

Weischenfeldt J, Simon R, Feuerbach L et al (2013) Integrative genomic analyses reveal an androgen-driven somatic alteration landscape in early-onset prostate cancer. Cancer Cell 23:159–170

8.

Gu L, Frommel SC, Oakes CC et al, ICGC Project on Early Onset Prostate Cancer (2015) BAZ2A (TIP5) is involved in epigenetic alterations in prostate cancer and its overexpression predicts disease recurrence. Nat Genet 47:22–30

9.

Kretzmer H, Bernhart SH, Wang W et al (2015) DNA methylome analysis in Burkitt and follicular lymphomas identifies differentially methylated regions linked to somatic mutation and transcriptional control. Nat Genet 47:1316–1325

10.

Cancer Genome Atlas Research Network, Weinstein JN, Collisson EA, Mills GB et al (2013) The Cancer Genome Atlas Pan-Cancer analysis project. Nat Genet 45:1113–1120
Förderung
Die Deutschen ICGC-Projekte werden vom Bundesministerium für Bildung und Forschung (BMBF) gefördert, das ICGC-PedBrain-Projekt zudem initial von der Deutschen Krebshilfe.
Ethics declarations
Interessenkonflikt
R. Siebert, C. Gerhäuser, R. Simon, R. Wagener, U. Weber, G. Sauter, C. Plass und P. Lichter geben an, dass kein Interessenkonflikt besteht.
Alle beschriebenen Untersuchungen am Menschen wurden mit Zustimmung der zuständigen Ethik‐Kommission, im Einklang mit nationalem Recht sowie gemäß der Deklaration von Helsinki von 1975 (in der aktuellen, überarbeiteten Fassung) durchgeführt. Gemäss den jeweils gültigen Regularien der Ethikkomissionen liegen Einverständnisse der Patienten bzw. Sorgeberechtigen vor.
About this article
Cite this article
Siebert, R., Gerhäuser, C., Simon, R. et al. Internationales Krebsgenomkonsortium (ICGC). medgen 28, 416–423 (2016). https://doi.org/10.1007/s11825-017-0117-7
Schlüsselwörter
Tumorgenom

ICGC

Sequenzierung

Standardisierung

Drivermutationen
Keywords
Cancer genome

ICGC

Sequencing

Standardization

Driver mutation