Zusammenfassung
Fortschritte in der genetischen Charakterisierung von Leukämien und Lymphomen haben in den letzten Jahren zielgerichtete Therapieansätze ermöglicht. So haben zum Beispiel BCR-ABL1-inhibierende Tyrosinkinaseinhibitoren (TKI) die Behandlung der chronischen myeloischen Leukämie (CML) revolutioniert. Im Gegensatz dazu hat sich die Behandlung der akuten myeloischen Leukämie (AML) in den letzten 40 Jahren nicht wesentlich verändert, wobei neueste Erkenntnisse beginnen, auch zielgerichtete Therapien in der AML zu ermöglichen. Als sehr heterogene Erkrankung mit unterschiedlichem Ausgang, je nach AML-Subtyp, haben jüngste Fortschritte im Verständnis der AML-Biologie und der Identifizierung von Treibermutationen eine neue Ära der molekularen Therapie ermöglicht. Eine Reihe von prognostischen und prädiktiven molekularen Markern und Signalwegen wurden als neue therapeutische Ziele entdeckt, wie z. B. die Aktivierung der Fms-like-tyrosinkinase-3(FLT3)-Rezeptortyrosinkinase oder aberrante DNA-Methylierungsmuster, denen eine Vielzahl unterschiedlicher Mutationen in epigenetischen Treibern zugrunde liegt. Aber auch zielgerichtete Therapien mit monoklonalen Antikörpern und weiteren Kinaseinhibitoren sind vielversprechende Therapieoptionen, die dazu beitragen könnten, die Heilungsrate der AML weiter verbessern zu können. In diesem Übersichtsartikel werden wir die aktuellen Ansätze zielgerichteter Therapien bei der AML beleuchten und einen Ausblick auf neuartige und bevorstehende therapeutische Optionen sowie einen kurzen Überblick zu den aktuellen Optionen bei weiteren hämatologischen Neoplasien geben.
Abstract
In recent years, advances in molecular genetic characterization of leukemias and lymphomas have started to facilitate targeted therapies. For example, the use of tyrosine kinase inhibitors (TKI) targeting BCR-ABL1 have revolutionized the treatment of chronic myeloid leukemia (CML). In contrast, the treatment of acute myeloid leukemia (AML) has not changed significantly over the last 40 years, but novel insights into leukemia biology have recently started to move things forward. While AML is an extremely heterogeneous disease with outcomes greatly varying according to the AML genotype, recent progress in understanding the biology and the identification of the mutations driving leukemogenesis have opened new avenues for molecular therapeutic approaches. A number of prognostic and predictive molecular markers and pathways have been identified that can serve as therapeutic targets, such as the activation of the fms-like tyrosine kinase 3 (FLT3) receptor tyrosine kinase or aberrant DNA methylation patterns caused by mutations in distinct epigenetic modifiers. In addition, targeted therapy with monoclonal antibodies and novel small molecule kinase inhibitors are promising strategies that might help to further improve the cure rates in AML. In this review, we will highlight recent efforts on targeted therapies in AML, give an outlook on novel and/or upcoming therapeutic options, and briefly summarize current strategies in other hematologic malignancies.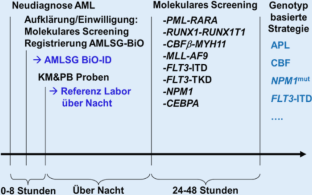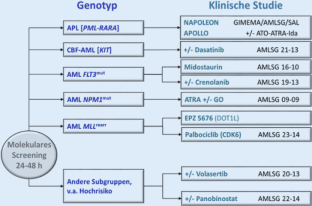 Literatur
1.

Brockelmann PJ, Borchmann P, Engert A (2016) Current and future immunotherapeutic approaches in Hodgkin lymphoma. Leuk Lymphoma 57(9):2014–2024

2.

Bullinger L, Frohling S (2012) Array-based cytogenetic approaches in acute myeloid leukemia: clinical impact and biological insights. Semin Oncol 39(1):37–46

3.

Bullinger L, Rucker FG, Kurz S, Du J, Scholl C, Sander S, Corbacioglu A, Lottaz C, Krauter J, Frohling S, Ganser A, Schlenk RF, Dohner K, Pollack JR, Dohner H (2007) Gene-expression profiling identifies distinct subclasses of core binding factor acute myeloid leukemia. Blood 110(4):1291–1300

4.

Cicconi L, Lo-Coco F (2016) Current management of newly diagnosed acute promyelocytic leukemia. Ann Oncol 27(8):1474–1481

5.

Döhner H, Estey E, Grimwade D, Amadori S, Appelbaum FR, Büchner T, Dombret H, Ebert BL, Fenaux P, Larson RA, Levine RL, Lo-Coco F, Naoe T, Niederwieser D, Ossenkoppele GJ, Sanz M, Sierra J, Tallman MS, Tien HF, Wei AH, Löwenberg B, Bloomfield CD (2016) Diagnosis and management of acute myeloid leukemia in adults: 2016 recommendations from an international expert panel, on behalf of the European LeukemiaNet. Blood. doi:10.1182/blood-2016-08-733196

6.

Dohner H, Estey EH, Amadori S, Appelbaum FR, Buchner T, Burnett AK, Dombret H, Fenaux P, Grimwade D, Larson RA, Lo-Coco F, Naoe T, Niederwieser D, Ossenkoppele GJ, Sanz MA, Sierra J, Tallman MS, Lowenberg B, Bloomfield CD (2010) Diagnosis and management of acute myeloid leukemia in adults: recommendations from an international expert panel, on behalf of the European LeukemiaNet. Blood 115(3):453–474

7.

Dohner H, Weisdorf DJ, Bloomfield CD (2015) Acute myeloid leukemia. N Engl J Med 373(12):1136–1152

8.

Grunwald MR, Levis MJ (2015) FLT3 tyrosine kinase inhibition as a paradigm for targeted drug development in acute myeloid leukemia. Semin Hematol 52(3):193–199

9.

Ley TJ, Mardis ER, Ding L, Fulton B, McLellan MD, Chen K, Dooling D, Dunford-Shore BH, McGrath S, Hickenbotham M, Cook L, Abbott R, Larson DE, Koboldt DC, Pohl C, Smith S, Hawkins A, Abbott S, Locke D, Hillier LW, Miner T, Fulton L, Magrini V, Wylie T, Glasscock J, Conyers J, Sander N, Shi X, Osborne JR, Minx P, Gordon D, Chinwalla A, Zhao Y, Ries RE, Payton JE, Westervelt P, Tomasson MH, Watson M, Baty J, Ivanovich J, Heath S, Shannon WD, Nagarajan R, Walter MJ, Link DC, Graubert TA, DiPersio JF, Wilson RK (2008) DNA sequencing of a cytogenetically normal acute myeloid leukaemia genome. Nature 456(7218):66–72

10.

Magarotto V, Salvini M, Bonello F, Bringhen S, Palumbo A (2016) Strategy for the treatment of multiple myeloma utilizing monoclonal antibodies: a new era begins. Leuk Lymphoma 57(3):537–556

11.

Malagola M, Papayannidis C, Baccarani M (2016) Tyrosine kinase inhibitors in Ph+ acute lymphoblastic leukaemia: facts and perspectives. Ann Hematol 95(5):681–693

12.

Papaemmanuil E, Gerstung M, Bullinger L, Gaidzik VI, Paschka P, Roberts ND, Potter NE, Heuser M, Thol F, Bolli N, Gundem G, Van Loo P, Martincorena I, Ganly P, Mudie L, McLaren S, O'Meara S, Raine K, Jones DR, Teague JW, Butler AP, Greaves MF, Ganser A, Dohner K, Schlenk RF, Dohner H, Campbell PJ (2016) Genomic classification and prognosis in acute myeloid leukemia. N Engl J Med 374(23):2209–2221

13.

Paschka P, Dohner K (2013) Core-binding factor acute myeloid leukemia: Can we improve on HiDAC consolidation? Hematology Am Soc Hematol Educ Program 2013:209–219

14.

Paschka P, Marcucci G, Ruppert AS, Mrozek K, Chen H, Kittles RA, Vukosavljevic T, Perrotti D, Vardiman JW, Carroll AJ, Kolitz JE, Larson RA, Bloomfield CD (2006) Adverse prognostic significance of KIT mutations in adult acute myeloid leukemia with inv(16) and t(8;21): a Cancer and Leukemia Group B Study. J Clin Oncol 24(24):3904–3911

15.

Paschka P, Schlenk RF, Weber D, Fiedler W, Lübbert M, Theobald M, Greil R, Horst H‑A, Krauter J, Salih HR, Heil G, Martens U, Kündgen A, Brossart P, Heuser M, Gaidzik VI, Thol F, Göhring G, Ganser A, Döhner K, Döhner H (2015) Dasatinib (DAS) in combination with chemotherapy and as maintenance in core-binding factor (CBF) acute myleoid leukemia (AML): a phase IB/IIA study of the German-Austrian AML study group (AMLSG). Presentation during "EHA20" 20th Congress of European Hematology Association: Abstract: S515.

16.

Rowe JM (2015) Reasons for optimism in the therapy of acute leukemia. Best Pract Res Clin Haematol 28(2–3):69–72

17.

Sanz MA, Lo FC, Martin G, Avvisati G, Rayon C, Barbui T, Diaz-Mediavilla J, Fioritoni G, Gonzalez JD, Liso V, Esteve J, Ferrara F, Bolufer P, Bernasconi C, Gonzalez M, Rodeghiero F, Colomer D, Petti MC, Ribera JM, Mandelli F (2000) Definition of relapse risk and role of nonanthracycline drugs for consolidation in patients with acute promyelocytic leukemia: a joint study of the PETHEMA and GIMEMA cooperative groups. Blood 96(4):1247–1253

18.

Schlenk RF, Dohner K, Kneba M, Gotze K, Hartmann F, Del Valle F, Kirchen H, Koller E, Fischer JT, Bullinger L, Habdank M, Spath D, Groner S, Krebs B, Kayser S, Corbacioglu A, Anhalt A, Benner A, Frohling S, Dohner H (2009) Gene mutations and response to treatment with all-trans retinoic acid in elderly patients with acute myeloid leukemia. Results from the AMLSG Trial AML HD98B. Haematologica 94(1):54–60

19.

Schlenk RF, Kayser S, Bullinger L, Kobbe G, Casper J, Ringhoffer M, Held G, Brossart P, Lubbert M, Salih HR, Kindler T, Horst HA, Wulf G, Nachbaur D, Gotze K, Lamparter A, Paschka P, Gaidzik VI, Teleanu V, Spath D, Benner A, Krauter J, Ganser A, Dohner H, Dohner K (2014) Differential impact of allelic ratio and insertion site in FLT3-ITD-positive AML with respect to allogeneic transplantation. Blood 124(23):3441–3449

20.

Schlenk RF, Lubbert M, Benner A, Lamparter A, Krauter J, Herr W, Martin H, Salih HR, Kundgen A, Horst HA, Brossart P, Gotze K, Nachbaur D, Wattad M, Kohne CH, Fiedler W, Bentz M, Wulf G, Held G, Hertenstein B, Salwender H, Gaidzik VI, Schlegelberger B, Weber D, Dohner K, Ganser A, Dohner H (2016) All-trans retinoic acid as adjunct to intensive treatment in younger adult patients with acute myeloid leukemia: results of the randomized AMLSG 07-04 study. Ann Hematol 95(12):1931–1942

21.

Shivarov V, Bullinger L (2014) Expression profiling of leukemia patients: key lessons and future directions. Exp Hematol 42(8):651–660

22.

Stilgenbauer S (2015) Prognostic markers and standard management of chronic lymphocytic leukemia. Hematology Am Soc Hematol Educ Program 2015:368–377

23.

Stone RM, Mandrekar S, Sanford BL, Geyer S, Bloomfield CD, Dohner K, Thiede C, Marcucci G, Lo-Coco F, Klisovic RB, Wei A, Sierra J, Sanz MA, Brandwein JM, de Witte T, Niederwieser D, Appelbaum FR, Medeiros BC, Tallman MS, Krauter J, Schlenk RF, Ganser A, Serve H, Ehninger G, Amadori S, Larson RA, Dohner H (2015) The multi-Kinase inhibitor midostaurin (M) prolongs survival compared with placebo (P) in combination with daunorubicin (D)/cytarabine (C) induction (ind), high-dose C consolidation (consol), and as maintenance (maint) therapy in newly diagnosed acute myeloid leukemia (AML) patients (pts) age 18–60 with FLT3 mutations (muts): an international prospective randomized (rand) P‑controlled double-blind trial (CALGB 10603/RATIFY [alliance]). Blood 126(23):6–6

24.

Tang L, Dolnik A, MacBeth KJ, Dombret H, Seymour JF, Minden MD, Stone RM, Beach CL, Döhner H, Bullinger L (2016) Impact of gene mutations on overall survival in older patients with acute myeloid leukemia (AML) treated with azacitidine (AZA) or conventional care regimens (CCR). 58th ASH Annual Meeting & Exposition: abstract 2859.

25.

Tannock IF, Hickman JA (2016) Limits to personalized cancer medicine. N Engl J Med 375(13):1289–1294

26.

The Cancer Genome Atlas Research Network (2013) Genomic and epigenomic landscapes of adult de novo acute myeloid leukemia. N Engl J Med 368(22):2059–2074

27.

Walter RB, Appelbaum FR, Estey EH, Bernstein ID (2012) Acute myeloid leukemia stem cells and CD33-targeted immunotherapy. Blood 119(26):6198–6208
Danksagung
Frank Rücker und Lars Bullinger danken den Mitgliedern der Deutsch-Österreichischen Studiengruppe Akute Myeloische Leukämie (AMLSG) für die Mitarbeit an den gemeinsamen Studienkonzepten. Lars Bullinger dankt dem Heisenberg-Programm der DFG und dem Sonderforschungsbereich 1074 "Experimental Models and Clinical Translation in Leukemia" für die Unterstützung seiner Forschungsarbeiten.
Ethics declarations
Interessenkonflikt
F.G. Rücker und L. Bullinger geben an, dass kein Interessenkonflikt besteht.
Dieser Beitrag beinhaltet keine von den Autoren durchgeführten Studien an Menschen oder Tieren.
About this article
Cite this article
Rücker, F.G., Bullinger, L. Personalisierte Medizin in der Hämatologie am Beispiel der akuten myeloischen Leukämie. medgen 28, 435–442 (2016). https://doi.org/10.1007/s11825-016-0112-4
Schlüsselwörter
Zielgerichtete Therapie

Akute myeloische Leukämie (AML)

Molekulare Marker

Kinase-Inhibitor

Immuntherapie
Keywords
Targeted therapy

Acute myeloid leukemia (AML)

Molecular markers

Kinase inhibitor

Immunotherapy