Zusammenfassung
Die zunehmende Berücksichtigung molekularer Charakteristika in der Therapieauswahl hat bei etlichen histologisch nicht weiter zu differenzierenden Tumorentitäten zu einer relevanten Prognoseverbesserung geführt. Beispiele wie das EGFR-mutierte Bronchialkarzinom oder das BRAF-mutierte maligne Melanom, die effektiv durch Kinaseinhibitoren behandelt werden können, ebenso wie neue Einblicke in genetische Determinanten des Ansprechens auf eine Immuncheckpointblockade lassen darauf hoffen, dass diese Ansätze auch bei anderen Tumorentitäten, Proteinfamilien und Medikamentenklassen Anwendung finden werden. Moderne Hochdurchsatzverfahren zur Sequenzierung von DNA und RNA können detaillierte Informationen über alle somatischen Alterationen in Krebsgenomen liefern und werden zunehmend bezahlbar. Die Integration dieser Analytik in klinische Abläufe stellt aber eine große Herausforderung dar. Innerhalb des NCT MASTER-Programms wurde ein standardisierter Arbeitsablauf etabliert, der ein interdisziplinäres Molekulares Tumorboard beinhaltet und eine umfassende Tumorgenomsequenzierung im klinischen Kontext ermöglicht. Im Rahmen molekular stratifizierter Studienkonzepte gilt es nun, die Umsetzung individueller Therapieempfehlungen und die Evaluation der Therapieresultate zu optimieren.
Abstract
For several cancer types, outcomes have improved significantly by patient stratification and individualization of treatment based on the molecular characteristics of histologically identical tumors. The potential of genomics to improve the management of distinct tumor entities is exemplified by EGFR mutant lung cancer and BRAF mutant melanoma, which can be targeted by small-molecule kinase inhibitors, as well as by the recent discovery of genetic determinants of clinical benefit from immune checkpoint blockade. It will likely be possible to extend this paradigm to other entities, protein families and classes of drugs. Advances in high-throughput DNA/RNA sequencing provide accurate information about all somatic alterations in cancer genomes at decreasing costs. However, it remains a challenge to integrate these analyses into a clinical setting. Within the NCT MASTER program, a standardized workflow including a multidisciplinary molecular tumor board was implemented and allows for tumor genome sequencing within a clinical context. These efforts may pave the way for molecularly stratified treatment trials to optimize the clinical implementation of biology-guided therapeutic interventions as well as the systematic evaluation of patient outcomes.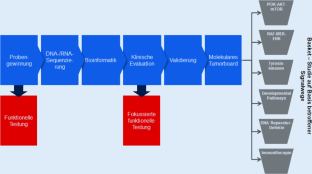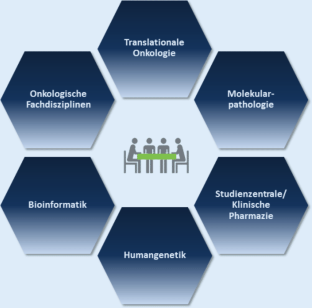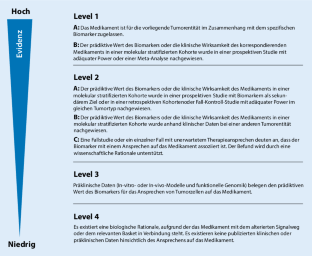 Literatur
1.

Sharma SV, Bell DW, Settleman J, Haber DA (2007) Epidermal growth factor mutations in lung cancer. Nat Rev Cancer 7:169–181

2.

Bollag G, Tsai J, Zhang J, Zhang C, Ibrahim P, Nolop K, Hirth P (2012) Vemurafenib: the first drug approved for BRAF-mutant cancer. Nat Rev Drug Discov 11:873–886

3.

Iyer G, Hanrahan AJ, Milowsky MI, Al-Ahmadie H, Scott SN, Janakiraman M, Pirun M, Sander C, Socci ND, Ostrovnaya I, Viale A, Heguy A, Peng L, Chan TA, Bochner B, Bajorin DF, Berger MF, Taylor BS, Solit DB (2012) Genome sequencing identifies a basis for everolimus sensitivity. Science 338:221

4.

Wagle N, Grabiner BC, Van Allen EM, Hodis E, Jacobus S, Supko JG, Stewart M, Choueiri TK, Gandhi L, Cleary JM, Elfiky AA, Taplin ME, Stack EC, Signoretti S, Loda M, Shapiro GI, Sabatini DM, Lander ES, Gabriel SB, Kantoff PW, Garraway LA, Rosenberg JE (2014) Activating mTOR mutations in a patient with an extraordinary response on a phase I trial of everolimus and pazopanib. Cancer Discov 4:546–553

5.

Wu YM, Su F, Kalyana-Sundaram S, Khazanov N, Ateeq B, Cao X, Lonigro RJ, Vats P, Wang R, Lin SF, Cheng AJ, Kunju LP, Siddiqui J, Tomlins SA, Wyngaard P, Sadis S, Roychowdhury S, Hussain MH, Feng FY, Zalupski MM, Talpaz M, Pienta KJ, Rhodes DR, Robinson DR, Chinnaiyan AM (2013) Identification of targetable FGFR gene fusions in diverse cancers. Cancer Discov 3:636–647

6.

Lipson EJ, Forde PM, Hammers HJ, Emens LA, Taube JM, Topalian SL (2015) Antagonists of PD-1 and PD-L1 in cancer treatment. Semin Oncol 42:587–600

7.

Redig AJ, Jänne PA (2015) Basket trials and the evolution of clinical trial design in an era of genomic medicine. J Clin Oncol 33:975

8.

Brower V (2015) NCI-MATCH pairs tumor mutations with matching drugs. Nat Biotechnol 33:790–791

9.

https://www.asco.org/research-progress/clinical-trials/targeted-agent-profiling-utilization-registry-study

10.

Van Allen EM, Miao D, Schilling B, Shukla SA, Blank C, Zimmer L, Sucker A, Hillen U, Foppen MH, Goldinger SM, Utikal J, Hassel JC, Weide B, Kaehler KC, Loquai C, Mohr P, Gutzmer R, Dummer R, Gabriel S, Wu CJ, Schadendorf D, Garraway LA (2015) Genomic correlates of response to CTLA-4 blockade in metastatic melanoma. Science 350:207–211

11.

Rizvi NA, Hellmann MD, Snyder A, Kvistborg P, Makarov V, Havel JJ, Lee W, Yuan J, Wong P, Ho TS, Miller ML, Rekhtman N, Moreira AL, Ibrahim F, Bruggeman C, Gasmi B, Zappasodi R, Maeda Y, Sander C, Garon EB, Merghoub T, Wolchok JD, Schumacher TN, Chan TA (2015) Cancer immunology. Mutational landscape determines sensitivity to PD-1 blockade in non-small cell lung cancer. Science 348:124–128

12.

Snyder A, Makarov V, Merghoub T, Yuan J, Zaretsky JM, Desrichard A, Walsh LA, Postow MA, Wong P, Ho TS, Hollmann TJ, Bruggeman C, Kannan K, Li Y, Elipenahli C, Liu C, Harbison CT, Wang L, Ribas A, Wolchok JD, Chan TA (2014) Genetic basis for clinical response to CTLA-4 blockade in melanoma. N Engl J Med 371:2189–2199

13.

Dieter SM, Heining C, Agaimy A, Huebschmann D, Bonekamp D, Hutter B, Ehrenberg KR, Fröhlich M, Schlesner M, Scholl C, Schlemmer HP, Wolf S, Mavratzas A, Jung CS, Gröschel S, Kalle CV, Eils R, Brors B, Penzel R, Kriegsmann M, Reuss DE, Schirmacher P, Stenzinger A, Federspil PA, Weichert W, Glimm H, Fröhling S (2016) Mutant KIT as imatinib-sensitive target in metastatic sinonasal carcinoma. Ann Oncol. doi:10.1093/annonc/mdw446

14.

Chudasama P, Renner M, Straub M, Mughal SS, Hutter B, Kosaloglu Z, Schweßinger R, Scheffler M, Alldinger I, Schimmack S, Persigehl T, Kobe C, Jäger D, von Kalle C, Schirmacher P, Beckhaus MK, Wolf S, Heining C, Gröschel S, Wolf J, Brors B, Weichert W, Glimm H, Scholl C, Mechtersheimer G, Specht K, Fröhling S (2016) Targeting fibroblast growth factor receptor 1 for treatment of soft-tissue sarcoma. Clin Cancer Res. doi:10.1158/1078-0432.ccr-16-0860

15.

Czink E, Heining C, Weber TF, Lasitschka F, Schemmer P, Schirmacher P, Weiss KH, Glimm H, Brors B, Weichert W, Jäger D, Fröhling S, Springfeld C (2016) Durable remission under dual HER2 blockade with trastuzumab and pertuzumab in a patient with metastatic gallbladder cancer. Z Gastroenterol 54:426–430

16.

Gröschel S, Bommer M, Hutter B, Budczies J, Bonekamp D, Heining C, Fröhlich M, Hübschmann D, Geörg C, Richter D, Pfarr N, Pfütze K, Wolf S, Schirmacher P, Jäger D, von Kalle C, Brors B, Glimm H, Weichert W, Stenzinger A, Fröhling S (2016) Integration of genomics and histology reveals diagnosis and effective therapy of refractory cancer of unknown primary with PDL1 amplification. Cold Spring Harb Mol Case Stud. doi:10.1101/mcs.a001180

17.

Berry DA (2011) Adaptive clinical trials in oncology. Nat Rev Clin Oncol 9:199–207

18.

Berry DA (2016) Emerging innovations in clinical trial design. Clin Pharmacol Ther 99:82–91
Ethics declarations
Interessenkonflikt
C. Heining, P. Horak, S. Gröschel, H. Glimm und S. Fröhling geben an, dass kein Interessenkonflikt besteht.
Alle beschriebenen Untersuchungen am Menschen wurden mit Zustimmung der zuständigen Ethik-Kommission, im Einklang mit nationalem Recht sowie gemäß der Deklaration von Helsinki von 1975 (in der aktuellen, überarbeiteten Fassung) durchgeführt. Von allen beteiligten Patienten liegt eine Einverständniserklärung vor.
About this article
Cite this article
Heining, C., Horak, P., Gröschel, S. et al. Personalisierte Medizin: Strukturen, Tumorboards, Visionen. medgen 28, 452–459 (2016). https://doi.org/10.1007/s11825-016-0111-5
Schlüsselwörter
Präzisionsonkologie

Ganzexomsequenzierung

Molekulares Tumorboard

Basketstudien
Keywords
Precision oncology

Whole-exome sequencing

Molecular tumor board

Basket trials