Zusammenfassung
Paare mit Kinderwunsch, bei denen aufgrund genetischer Veränderungen eine erhöhte Wahrscheinlichkeit für eine Fehl- oder Totgeburt oder ein erhöhtes Risiko für die Geburt eines Kindes mit einer schweren, genetisch bedingten Erkrankung besteht, dürfen in Deutschland eine Präimplantationsdiagnostik (PID) durchführen lassen. In diesem Artikel fassen wir unsere Erfahrungen aus dem PID-Zentrum Lübeck zusammen, das seit 1. März 2014 vom Gesundheitsministerium in Schleswig-Holstein zugelassen ist. Im Zeitraum zwischen März 2014 und Juni 2016 haben sich 230 Paare an das PID-Zentrum Lübeck gewandt, davon wurden 108 zur persönlichen Vorstellung eingeladen. Von den Anfragen bezogen sich ca. 30 % auf chromosomale Veränderungen, 70 % auf monogen verursachte Erkrankungen. Mehrfach wurden Untersuchungen für die Huntington-Krankheit, cystische Fibrose, spinale Muskelatrophie, Muskeldystrophie Duchenne, β‑Thalassämie, myotone Dystrophie, das fragile X‑Syndrom und die Neurofibromatosen gewünscht. Im PID-Zentrum haben sich 71 der 108 Paare informieren und beraten lassen, 28 davon haben einen Antrag an die PID-Kommission Nord gestellt. Von den 28 Anträgen an die PID-Kommission handelte es sich in 14 Fällen um Translokationen, in 14 Fällen um monogene Ursachen. Es wurden 27 Fälle durch die PID-Kommission Nord zustimmend beurteilt, einer wurde abgelehnt. Im o. g. Zeitraum wurden für elf Paare PID-Zyklen durchgeführt: sieben für Translokationen (durch Array-CGH), vier für monogen verursachte Erkrankungen (Mutationsnachweis einschließlich gekoppelter polymorpher Marker).
Abstract
For couples in Germany wanting to have children, in whom there is an increased probability of miscarriage or still birth, or who are at a high risk of transmitting a monogenic inherited disorder or a structural chromosomal aberration resulting in the birth of offspring with a severe genetic disease, preimplantation genetic diagnosis (PGD) is one option. Here, we report the first data from the PGD Center Lübeck, Germany, which was approved on 1 March 2014 by the Ministry of Health in Schleswig-Holstein. From March 2014 to June 2016, a total of 230 couples contacted our center, including 108 who had passed the first assessment of the Lübeck PGD committee. The main indications have been single gene disorders (70 %) compared with inherited chromosome abnormalities (30 %). Multiple requests refer to Huntington's disease, cystic fibrosis, spinal muscular atrophy, Duchenne muscular dystrophy, β‑thalassemia, myotonic dystrophy, fragile X syndrome, and neurofibromatosis. Of the 71 couples counselled 28 asked for ethical approval from the PGD Ethics Committee. Of the 28 applications to the PGD Ethics Committee, 14 cases involved translocations and 14 cases monogenic causes. 27 applications were accepted and one was rejected. For 11 couples PGD cycles were performed during the aforementioned period, seven for translocations (by array-based comparative genomic hybridization), and four for monogenic disorders (mutation detection combined with linkage analyses for polymorphic markers).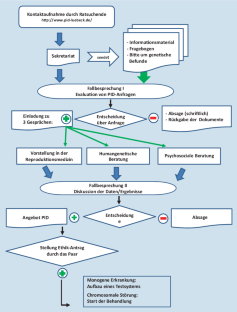 Literatur
1.

Moutou C et al (2014) ESHRE PGD Consortium data collection XII: cycles from January to December 2009 with pregnancy follow-up to October 2010. Hum Reproduction 29:880–903
Ethics declarations
Interessenkonflikt
C. Zühlke,Y. Hellenbroich, S. Fondel, B. Schöpper, I. Hüning, A. Busche, M. Depenbusch, A. Schultze-Mosgau, K. von Horn, T. Osterholz-Zaleski, G. Griesinger und G. Gillessen-Kaesbach geben an, dass kein Interessenkonflikt besteht.
Alle im vorliegenden Manuskript beschriebenen Untersuchungen wurden mit Zustimmung der zuständigen PID-Kommission, im Einklang mit nationalem Recht sowie gemäß der Deklaration von Helsinki von 1975 (in der aktuellen, überarbeiteten Fassung) durchgeführt.
About this article
Cite this article
Zühlke, C., Hellenbroich, Y., Fondel, S. et al. Präimplantationsdiagnostik. medgen 28, 304–309 (2016). https://doi.org/10.1007/s11825-016-0096-0
Schlüsselwörter
Präimplantationsdiagnostik (PID)

PID-Kommission

PID-Zentrum Lübeck

Anfragen für PID

Interdisziplinäre Beratung
Keywords
Preimplantation genetic diagnosis (PGD)

Ethics committee

PGD Center Lübeck

Indication for PGD

Interdisciplinary counselling