Zusammenfassung
Die Analyse epigenetischer Marker aus Liquid Biopsies erlaubt Einblicke in physiologische und pathologische Prozesse im Körper einer Person, die über die reine Sequenzinformation hinausgehen. Insbesondere das DNA-Methylierungsmuster sowie die Expressionsmuster von mRNA und ncRNA sind aus Liquid Biopsies erfassbar. Damit werden ganze Gruppen neuer potenzieller Biomarker einer nicht invasiven und ökonomischen Diagnostik zugänglich. Darüber hinaus und im Gegensatz zur reinen DNA-Sequenzanalyse von Liquid Biopsies erlaubt die hohe Gewebespezifität epigenetischer Marker auch die Bestimmung der Herkunft der analysierten Nukleinsäuren z. B. in Bezug auf ein betroffenes Organ. Angesichts der fallenden Kosten für Sequenzierungen und des technologischen Fortschritts, der die Nachweisgrenzen immer weiter zu immer sensitiveren Anwendungen verschiebt, könnten epigenetische Untersuchungen aus Liquid Biopsies den Trend zu einer Individualisierung in der Medizin weiter forcieren.
Abstract
Analysis of epigenetic markers from liquid biopsies provides insights into physiological and pathological processes in the body of a person far beyond the pure sequence information. In particular, the DNA methylation pattern and the expression patterns of mRNA and ncRNA are accessible from liquid biopsies. Therefore, a whole group of new potential biomarkers will come into reach for non-invasive and economic diagnostics. Furthermore, and in contrast to the pure DNA sequence analysis from liquid biopsies, the high tissue specificity of several epigenetic markers allows the origin of the nucleic acids analyzed, e. g. with regard to the affected organ, to be determined. In view of the falling costs of sequencing and the technological progress that continues to push the detection limits to even more sensitive application, epigenetic analyses from liquid biopsies could further enforce the trend toward precision medicine.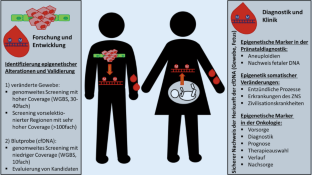 Literatur
1.

Akolekar R, Beta J, Picciarelli G, Ogilvie C, D'Antonio F (2015) Procedure-related risk of miscarriage following amniocentesis and chorionic villus sampling: a systematic review and meta-analysis. Ultrasound Obstet Gynecol 45(1):16–26. doi:10.1002/uog.14636

2.

Ammerpohl O, Martin-Subero JI, Richter J, Vater I, Siebert R (2009) Hunting for the 5th base: Techniques for analyzing DNA methylation. Biochim Biophys Acta 1790(9):847–862. doi:10.1016/j.bbagen.2009.02.001

3.

Balgkouranidou I, Karayiannakis A, Matthaios D, Bolanaki H, Tripsianis G, Tentes AA, Lianidou E, Chatzaki E, Fiska A, Lambropoulou M, Kolios G, Kakolyris S (2013) Assessment of SOX17 DNA methylation in cell free DNA from patients with operable gastric cancer. Association with prognostic variables and survival. Clin Chem Lab Med 51(7):1505–1510. doi:10.1515/cclm-2012-0320

4.

Balgkouranidou I, Chimonidou M, Milaki G, Tsarouxa EG, Kakolyris S, Welch DR, Georgoulias V, Lianidou ES (2014) Breast cancer metastasis suppressor-1 promoter methylation in cell-free DNA provides prognostic information in non-small cell lung cancer. Br J Cancer 110(8):2054–2062. doi:10.1038/bjc.2014.104

5.

Balgkouranidou I, Matthaios D, Karayiannakis A, Bolanaki H, Michailidis P, Xenidis N, Amarantidis K, Chelis L, Trypsianis G, Chatzaki E, Lianidou ES, Kakolyris S (2015) Prognostic role of APC and RASSF1A promoter methylation status in cell free circulating DNA of operable gastric cancer patients. Mutat Res 778:46–51. doi:10.1016/j.mrfmmm.2015.05.002

6.

Bettegowda C, Sausen M, Leary RJ, Kinde I, Wang Y, Agrawal N, Bartlett BR, Wang H, Luber B, Alani RM, Antonarakis ES, Azad NS, Bardelli A, Brem H, Cameron JL, Lee CC, Fecher LA, Gallia GL, Gibbs P, Le D, Giuntoli RL, Goggins M, Hogarty MD, Holdhoff M, Hong SM, Jiao Y, Juhl HH, Kim JJ, Siravegna G, Laheru DA, Lauricella C, Lim M, Lipson EJ, Marie SK, Netto GJ, Oliner KS, Olivi A, Olsson L, Riggins GJ, Sartore-Bianchi A, Schmidt K, Shih l M, Oba-Shinjo SM, Siena S, Theodorescu D, Tie J, Harkins TT, Veronese S, Wang TL, Weingart JD, Wolfgang CL, Wood LD, Xing D, Hruban RH, Wu J, Allen PJ, Schmidt CM, Choti MA, Velculescu VE, Kinzler KW, Vogelstein B, Papadopoulos N, Diaz LA Jr (2014) Detection of circulating tumor DNA in early- and late-stage human malignancies. Sci Transl Med 6(224):224ra24. doi:10.1126/scitranslmed.3007094

7.

Brenner C, Fuks F (2006) DNA methyltransferases: facts, clues, mysteries. Curr Top Microbiol Immunol 301:45–66

8.

Brinkman AB, Simmer F, Ma K, Kaan A, Zhu J, Stunnenberg HG (2010) Whole-genome DNA methylation profiling using MethylCap-seq. Methods 52(3):232–236. doi:10.1016/j.ymeth.2010.06.012

9.

Cai X, Janku F, Zhan Q, Fan JB (2015) Accessing Genetic Information with Liquid Biopsies. Trends Genet 31(10):564–575. doi:10.1016/j.tig.2015.06.001

10.

Carstensen T, Schmidt B, Engel E, Jandrig B, Witt C, Fleischhacker M (2004) Detection of cell-free DNA in bronchial lavage fluid supernatants of patients with lung cancer. Ann N Y Acad Sci 1022:202–210. doi:10.1196/annals.1318.031

11.

Chan KC, Jiang P, Chan CW, Sun K, Wong J, Hui EP, Chan SL, Chan WC, Hui DS, Ng SS, Chan HL, Wong CS, Ma BB, Chan AT, Lai PB, Sun H, Chiu RW, Lo YM (2013) Noninvasive detection of cancer-associated genome-wide hypomethylation and copy number aberrations by plasma DNA bisulfite sequencing. Proc Natl Acad Sci USA 110(47):18761–18768. doi:10.1073/pnas.1313995110

12.

Cheng L, Doecke JD, Sharples RA, Villemagne VL, Fowler CJ, Rembach A, Martins RN, Rowe CC, Macaulay SL, Masters CL, Hill AF, Australian Imaging B, Lifestyle Research G (2015) Prognostic serum miRNA biomarkers associated with Alzheimer's disease shows concordance with neuropsychological and neuroimaging assessment. Mol Psychiatry 20(10):1188–1196. doi:10.1038/mp.2014.127

13.

Chimonidou M, Strati A, Malamos N, Georgoulias V, Lianidou ES (2013) SOX17 promoter methylation in circulating tumor cells and matched cell-free DNA isolated from plasma of patients with breast cancer. Clin Chem 59(1):270–279. doi:10.1373/clinchem.2012.191551

14.

Chimonidou M, Tzitzira A, Strati A, Sotiropoulou G, Sfikas C, Malamos N, Georgoulias V, Lianidou E (2013) CST6 promoter methylation in circulating cell-free DNA of breast cancer patients. Clin Biochem 46(3):235–240. doi:10.1016/j.clinbiochem.2012.09.015

15.

consortium B (2016) Quantitative comparison of DNA methylation assays for biomarker development and clinical applications. Nat Biotechnol 34(7):726–737. doi:10.1038/nbt.3605

16.

Dietrich D, Jung M, Puetzer S, Leisse A, Holmes EE, Meller S, Uhl B, Schatz P, Ivascu C, Kristiansen G (2013) Diagnostic and prognostic value of SHOX2 and SEPT9 DNA methylation and cytology in benign, paramalignant and malignant pleural effusions. PLoS ONE 8(12):e84225. doi:10.1371/journal.pone.0084225

17.

Ekstrom K, Valadi H, Sjostrand M, Malmhall C, Bossios A, Eldh M, Lotvall J (2012) Characterization of mRNA and microRNA in human mast cell-derived exosomes and their transfer to other mast cells and blood CD34 progenitor cells. J Extracell Vesicles. doi:10.3402/jev.v1i0.18389

18.

Endzelins E, Melne V, Kalnina Z, Lietuvietis V, Riekstina U, Llorente A, Line A (2016) Diagnostic, prognostic and predictive value of cell-free miRNAs in prostate cancer: a systematic review. Mol Cancer 15(1):41. doi:10.1186/s12943-016-0523-5

19.

Guasconi V, Souidi M, Ait-Si-Ali S (2005) Nuclear positioning, gene activity and cancer. Cancer Biol Ther 4(2):134–138

20.

Hatt L, Aagaard MM, Graakjaer J, Bach C, Sommer S, Agerholm IE, Kolvraa S, Bojesen A (2015) Microarray-based analysis of methylation status of CpGs in placental DNA and maternal blood DNA – potential new epigenetic biomarkers for cell free fetal DNA-based diagnosis. PLoS ONE 10(7):e0128918. doi:10.1371/journal.pone.0128918

21.

How Kit A, Nielsen HM, Tost J (2012) DNA methylation based biomarkers: practical considerations and applications. Biochimie 94(11):2314–2337. doi:10.1016/j.biochi.2012.07.014

22.

Huang G, Krocker JD, Kirk JL, Merwat SN, Ju H, Soloway RD, Wieck LR, Li A, Okorodudu AO, Petersen JR, Abdulla NE, Duchini A, Cicalese L, Rastellini C, Hu PC, Dong J (2014) Evaluation of INK4A promoter methylation using pyrosequencing and circulating cell-free DNA from patients with hepatocellular carcinoma. Clin Chem Lab Med 52(6):899–909. doi:10.1515/cclm-2013-0885

23.

Huang X, Yuan T, Tschannen M, Sun Z, Jacob H, Du M, Liang M, Dittmar RL, Liu Y, Liang M, Kohli M, Thibodeau SN, Boardman L, Wang L (2013) Characterization of human plasma-derived exosomal RNAs by deep sequencing. BMC Genomics 14:319. doi:10.1186/1471-2164-14-319

24.

Hui L, Bianchi DW (2011) Cell-free fetal nucleic acids in amniotic fluid. Hum Reprod Update 17(3):362–371. doi:10.1093/humupd/dmq049

25.

Jiang D, Hong Q, Shen Y, Xu Y, Zhu H, Li Y, Xu C, Ouyang G, Duan S (2014) The diagnostic value of DNA methylation in leukemia: a systematic review and meta-analysis. PLoS ONE 9(5):e96822. doi:10.1371/journal.pone.0096822

26.

Jung M, Putzer S, Gevensleben H, Meller S, Kristiansen G, Dietrich D (2016) Diagnostic and prognostic value of SHOX2 and SEPT9 DNA methylation and cytology in benign, paramalignant, and malignant ascites. Clin Epigenetics 8:24. doi:10.1186/s13148-016-0192-7

27.

Khan S, Bennit HF, Turay D, Perez M, Mirshahidi S, Yuan Y, Wall NR (2014) Early diagnostic value of survivin and its alternative splice variants in breast cancer. BMC Cancer 14:176. doi:10.1186/1471-2407-14-176

28.

Kirsanova OV, Cherepanova NA, Gromova ES (2009) Inhibition of C5-cytosine-DNA-methyltransferases. Biochemistry (Mosc) 74(11):1175–1186

29.

Korabecna M, Pazourkova E, Horinek A, Mokrejsova M, Tesar V (2013) Methylation status of immune response genes promoters in cell-free DNA differs in hemodialyzed patients with diabetic nephropathy according to the intensity of anemia therapy. Blood Purif 36(3–4):280–286. doi:10.1159/000356094

30.

Kretzmer H, Bernhart SH, Wang W, Haake A, Weniger MA, Bergmann AK, Betts MJ, Carrillo-de-Santa-Pau E, Doose G, Gutwein J, Richter J, Hovestadt V, Huang B, Rico D, Juhling F, Kolarova J, Lu Q, Otto C, Wagener R, Arnolds J, Burkhardt B, Claviez A, Drexler HG, Eberth S, Eils R, Flicek P, Haas S, Hummel M, Karsch D, Kerstens HH, Klapper W, Kreuz M, Lawerenz C, Lenze D, Loeffler M, Lopez C, MacLeod RA, Martens JH, Kulis M, Martin-Subero JI, Moller P, Nagel I, Picelli S, Vater I, Rohde M, Rosenstiel P, Rosolowski M, Russell RB, Schilhabel M, Schlesner M, Stadler PF, Szczepanowski M, Trumper L, Stunnenberg HG, project IM-S, project B, Kuppers R, Ammerpohl O, Lichter P, Siebert R, Hoffmann S, Radlwimmer B (2015) DNA methylome analysis in Burkitt and follicular lymphomas identifies differentially methylated regions linked to somatic mutation and transcriptional control. Nat Genet 47(11):1316–1325. doi:10.1038/ng.3413

31.

Kulis M, Merkel A, Heath S, Queiros AC, Schuyler RP, Castellano G, Beekman R, Raineri E, Esteve A, Clot G, Verdaguer-Dot N, Duran-Ferrer M, Russinol N, Vilarrasa-Blasi R, Ecker S, Pancaldi V, Rico D, Agueda L, Blanc J, Richardson D, Clarke L, Datta A, Pascual M, Agirre X, Prosper F, Alignani D, Paiva B, Caron G, Fest T, Muench MO, Fomin ME, Lee ST, Wiemels JL, Valencia A, Gut M, Flicek P, Stunnenberg HG, Siebert R, Kuppers R, Gut IG, Campo E, Martin-Subero JI (2015) Whole-genome fingerprint of the DNA methylome during human B cell differentiation. Nat Genet 47(7):746–756. doi:10.1038/ng.3291

32.

Lasser C, Alikhani VS, Ekstrom K, Eldh M, Paredes PT, Bossios A, Sjostrand M, Gabrielsson S, Lotvall J, Valadi H (2011) Human saliva, plasma and breast milk exosomes contain RNA: uptake by macrophages. J Transl Med 9:9. doi:10.1186/1479-5876-9-9

33.

Lehmann-Werman R, Neiman D, Zemmour H, Moss J, Magenheim J, Vaknin-Dembinsky A, Rubertsson S, Nellgard B, Blennow K, Zetterberg H, Spalding K, Haller MJ, Wasserfall CH, Schatz DA, Greenbaum CJ, Dorrell C, Grompe M, Zick A, Hubert A, Maoz M, Fendrich V, Bartsch DK, Golan T, Sasson BSA, Zamir G, Razin A, Cedar H, Shapiro AM, Glaser B, Shemer R, Dor Y (2016) Identification of tissue-specific cell death using methylation patterns of circulating DNA. Proc Natl Acad Sci USA 113(13):E1826–1834. doi:10.1073/pnas.1519286113

34.

Li HG, Huang SY, Zhou H, Liao AH, Xiong CL (2009) Quick recovery and characterization of cell-free DNA in seminal plasma of normozoospermia and azoospermia: implications for non-invasive genetic utilities. Asian J Androl 11(6):703–709. doi:10.1038/aja.2009.65

35.

Li J, Huang Q, Zeng F, Li W, He Z, Chen W, Zhu W, Zhang B (2014) The prognostic value of global DNA hypomethylation in cancer: a meta-analysis. PLoS ONE 9(9):e106290. doi:10.1371/journal.pone.0106290

36.

Liggett T, Melnikov A, Tilwalli S, Yi Q, Chen H, Replogle C, Feng X, Reder A, Stefoski D, Balabanov R, Levenson V (2010) Methylation patterns of cell-free plasma DNA in relapsing-remitting multiple sclerosis. J Neurol Sci 290(1–2):16–21. doi:10.1016/j.jns.2009.12.018

37.

Liggett T, Melnikov A, Yi QL, Replogle C, Brand R, Kaul K, Talamonti M, Abrams RA, Levenson V (2010) Differential methylation of cell-free circulating DNA among patients with pancreatic cancer versus chronic pancreatitis. Cancer 116(7):1674–1680. doi:10.1002/cncr.24893

38.

Liggett TE, Melnikov A, Yi Q, Replogle C, Hu W, Rotmensch J, Kamat A, Sood AK, Levenson V (2011) Distinctive DNA methylation patterns of cell-free plasma DNA in women with malignant ovarian tumors. Gynecol Oncol 120(1):113–120. doi:10.1016/j.ygyno.2010.09.019

39.

Liggett TE, Melnikov AA, Marks JR, Levenson VV (2011) Methylation patterns in cell-free plasma DNA reflect removal of the primary tumor and drug treatment of breast cancer patients. Int J Cancer 128(2):492–499. doi:10.1002/ijc.25363

40.

Malentacchi F, Vinci S, Melina AD, Kuncova J, Villari D, Nesi G, Selli C, Orlando C, Pazzagli M, Pinzani P (2016) Urinary carbonic anhydrase IX splicing messenger RNA variants in urogenital cancers. Urol Oncol 34(7):292 e299–292 e216. doi:10.1016/j.urolonc.2016.02.017

41.

Matthaios D, Balgkouranidou I, Karayiannakis A, Bolanaki H, Xenidis N, Amarantidis K, Chelis L, Romanidis K, Chatzaki A, Lianidou E, Trypsianis G, Kakolyris S (2016) Methylation status of the APC and RASSF1A promoter in cell-free circulating DNA and its prognostic role in patients with colorectal cancer. Oncol Lett 12(1):748–756. doi:10.3892/ol.2016.4649

42.

Mitchell PS, Parkin RK, Kroh EM, Fritz BR, Wyman SK, Pogosova-Agadjanyan EL, Peterson A, Noteboom J, O'Briant KC, Allen A, Lin DW, Urban N, Drescher CW, Knudsen BS, Stirewalt DL, Gentleman R, Vessella RL, Nelson PS, Martin DB, Tewari M (2008) Circulating microRNAs as stable blood-based markers for cancer detection. Proc Natl Acad Sci USA 105(30):10513–10518. doi:10.1073/pnas.0804549105

43.

Mittelbrunn M, Gutierrez-Vazquez C, Villarroya-Beltri C, Gonzalez S, Sanchez-Cabo F, Gonzalez MA, Bernad A, Sanchez-Madrid F (2011) Unidirectional transfer of microRNA-loaded exosomes from T cells to antigen-presenting cells. Nat Commun 2:282. doi:10.1038/ncomms1285

44.

Nestor CE, Reddington JP, Benson M, Meehan RR (2014) Investigating 5‑hydroxymethylcytosine (5hmC): the state of the art. Methods Mol Biol 1094:243–258. doi:10.1007/978-1-62703-706-8_19

45.

Nolte-'t Hoen EN, Buermans HP, Waasdorp M, Stoorvogel W, Wauben MH, t Hoen PA (2012) Deep sequencing of RNA from immune cell-derived vesicles uncovers the selective incorporation of small non-coding RNA biotypes with potential regulatory functions. Nucleic Acids Res 40(18):9272–9285. doi:10.1093/nar/gks658

46.

Oever JM van den, Balkassmi S, Segboer T, Verweij EJ, van der Velden PA, Oepkes D, Bakker E, Boon EM (2013) Mrassf1a-pap, a novel methylation-based assay for the detection of cell-free fetal DNA in maternal plasma. PLoS ONE 8(12):e84051. doi:10.1371/journal.pone.0084051

47.

Patil V, Ward RL, Hesson LB (2014) The evidence for functional non-CpG methylation in mammalian cells. Epigenetics 9(6):823–828. doi:10.4161/epi.28741

48.

Peters I, Dubrowinskaja N, Abbas M, Seidel C, Kogosov M, Scherer R, Gebauer K, Merseburger AS, Kuczyk MA, Grunwald V, Serth J (2014) DNA methylation biomarkers predict progression-free and overall survival of metastatic renal cell cancer (mRCC) treated with antiangiogenic therapies. PLoS ONE 9(3):e91440. doi:10.1371/journal.pone.0091440

49.

Pilarsky C, Ammerpohl O, Sipos B, Dahl E, Hartmann A, Wellmann A, Braunschweig T, Lohr M, Jesenofsky R, Friess H, Wente MN, Kristiansen G, Jahnke B, Denz A, Ruckert F, Schackert HK, Kloppel G, Kalthoff H, Saeger HD, Grutzmann R (2008) Activation of Wnt signalling in stroma from pancreatic cancer identified by gene expression profiling. J Cell Mol Med 12(6B):2823–2835. doi:10.1111/j.1582-4934.2008.00289.x

50.

Pinney SE (2014) Mammalian non-CpG methylation: stem cells and beyond. Biology (Basel) 3(4):739–751. doi:10.3390/biology3040739

51.

Pion M, Jaramillo-Ruiz D, Martinez A, Munoz-Fernandez MA, Correa-Rocha R (2013) HIV infection of human regulatory T cells downregulates Foxp3 expression by increasing DNMT3b levels and DNA methylation in the FOXP3 gene. AIDS 27(13):2019–2029. doi:10.1097/QAD.0b013e32836253fd

52.

Puszyk WM, Chatha K, Elsenheimer S, Crea F, Old RW (2009) Methylation of the imprinted GNAS1 gene in cell-free plasma DNA: equal steady-state quantities of methylated and unmethylated DNA in plasma. Clin Chim Acta 400(1-2):107–110. doi:10.1016/j.cca .2008.10.018

53.

Romani M, Pistillo MP, Banelli B (2015) Environmental Epigenetics: Crossroad between Public Health, Lifestyle, and Cancer Prevention. Biomed Res Int 2015:587983. doi:10.1155/2015/587983

54.

Shamay M, Hand N, Lemas MV, Koon HB, Krown SE, Wrangle J, Desai P, Ramos JC, Ambinder RF (2012) CpG methylation as a tool to characterize cell-free Kaposi sarcoma herpesvirus DNA. J Infect Dis 205(7):1095–1099. doi:10.1093/infdis/jis032

55.

Siedlecki P, Zielenkiewicz P (2006) Mammalian DNA methyltransferases. Acta Biochim Pol 53(2):245–256

56.

Skvortsova TE, Rykova EY, Tamkovich SN, Bryzgunova OE, Starikov AV, Kuznetsova NP, Vlassov VV, Laktionov PP (2006) Cell-free and cell-bound circulating DNA in breast tumours: DNA quantification and analysis of tumour-related gene methylation. Br J Cancer 94(10):1492–1495. doi:10.1038/sj.bjc.6603117

57.

Sun K, Jiang P, Chan KC, Wong J, Cheng YK, Liang RH, Chan WK, Ma ES, Chan SL, Cheng SH, Chan RW, Tong YK, Ng SS, Wong RS, Hui DS, Leung TN, Leung TY, Lai PB, Chiu RW, Lo YM (2015) Plasma DNA tissue mapping by genome-wide methylation sequencing for noninvasive prenatal, cancer, and transplantation assessments. Proc Natl Acad Sci U S A 112(40):E5503–5512. doi:10.1073/pnas.1508736112

58.

Torano EG, Petrus S, Fernandez AF, Fraga MF (2012) Global DNA hypomethylation in cancer: review of validated methods and clinical significance. Clin Chem Lab Med 50(10):1733–1742. doi:10.1515/cclm-2011-0902

59.

Tost J (2015) DNA methylation signatures in circulating cell-free DNA for the monitoring of at-risk populations progressing to lung cancer. EBioMedicine 2(8):798–799. doi:10.1016/j.ebiom.2015.08.015

60.

Valadi H, Ekstrom K, Bossios A, Sjostrand M, Lee JJ, Lotvall JO (2007) Exosome-mediated transfer of mRNAs and microRNAs is a novel mechanism of genetic exchange between cells. Nat Cell Biol 9(6):654–659. doi:10.1038/ncb1596

61.

Wielscher M, Vierlinger K, Kegler U, Ziesche R, Gsur A, Weinhausel A (2015) Diagnostic performance of plasma DNA methylation profiles in lung cancer, pulmonary fibrosis and COPD. EBioMedicine 2(8):929–936. doi:10.1016/j.ebiom.2015.06.025

62.

Yao K, Honarmand S, Espinosa A, Akhyani N, Glaser C, Jacobson S (2009) Detection of human herpesvirus-6 in cerebrospinal fluid of patients with encephalitis. Ann Neurol 65(3):257–267. doi:10.1002/ana.21611

63.

Zancan M, Galdi F, Di Tonno F, Mazzariol C, Orlando C, Malentacchi F, Agostini M, Maran M, Del Bianco P, Fabricio AS, Murer B, Pianon C, Gion M (2009) Evaluation of cell-free DNA in urine as a marker for bladder cancer diagnosis. Int J Biol Markers 24(3):147–155

64.

Zelic R, Fiano V, Grasso C, Zugna D, Pettersson A, Gillio-Tos A, Merletti F, Richiardi L (2015) Global DNA hypomethylation in prostate cancer development and progression: a systematic review. Prostate Cancer Prostatic Dis 18(1):1–12. doi:10.1038/pcan.2014.45

65.

Zhai R, Zhao Y, Su L, Cassidy L, Liu G, Christiani DC (2012) Genome-wide DNA methylation profiling of cell-free serum DNA in esophageal adenocarcinoma and Barrett esophagus. Neoplasia 14(1):29–33

66.

Zhang Q, Hu G, Yang Q, Dong R, Xie X, Ma D, Shen K, Kong B (2013) A multiplex methylation-specific PCR assay for the detection of early-stage ovarian cancer using cell-free serum DNA. Gynecol Oncol 130(1):132–139. doi:10.1016/j.ygyno.2013.04.048

67.

Zhao Y, Xue F, Sun J, Guo S, Zhang H, Qiu B, Geng J, Gu J, Zhou X, Wang W, Zhang Z, Tang N, He Y, Yu J, Xia Q (2014) Genome-wide methylation profiling of the different stages of hepatitis B virus-related hepatocellular carcinoma development in plasma cell-free DNA reveals potential biomarkers for early detection and high-risk monitoring of hepatocellular carcinoma. Clin Epigenetics 6(1):30. doi:10.1186/1868-7083-6-30
Funding
Eigene Untersuchungen der Autoren zu epigenetischen Biomarkern für Erkrankungen werden gefördert aus Mitteln des Bundesministeriums für Bildung und Forschung, Fördernummern 82DZL001A5 und 82DZL00105 (Airway Research Center North (ARCN), German Center for Lung Research, DZL), 01KU1502A (RESET-AID) und 01KU1505G (ICGC-DE-Mining) sowie der Deutschen Forschungsgemeinschaft (AM343/2-3).
Ethics declarations
Interessenkonflikt
O. Ammerpohl, S. Scheufele und R. Siebert geben an, dass kein Interessenkonflikt besteht.
Dieser Beitrag beinhaltet keine von den Autoren durchgeführten Studien an Menschen oder Tieren.
About this article
Cite this article
Ammerpohl, O., Scheufele, S. & Siebert, R. Analysen epigenetischer Marker aus Liquid Biopsies: Informationen von jenseits des Genoms. medgen 28, 251–258 (2016). https://doi.org/10.1007/s11825-016-0093-3
Schlüsselwörter
Liquid Biopsy

DNA-Methylierung

ncRNA

cfDNA

epigenetische Marker
Keywords
Liquid biopsy

DNA methylation

ncRNA

cfDNA

epigenetic marker