Zusammenfassung
Eine geistige Behinderung kommt bei ca. 2–3 % der Bevölkerung vor. Sowohl die klinischen Erscheinungsbilder als auch die genetischen Ursachen sind extrem heterogen. Es können sowohl chromosomale als auch monogene Veränderungen ursächlich sein. Eine Mikrozephalie ist ein häufiges Symptom bei psychomotorischen Entwicklungsstörungen und geistiger Behinderung, was auf überlappende Pathomechanismen hindeutet. Etwa 23 % der bekannten, mit geistiger Behinderung assoziierten Gene sind auch mit Mikrozephalie assoziiert. Weitere häufige Komorbiditäten sind Krampfanfälle, Kleinwuchs oder Fehlbildungen. In einer Kohorte von über 700 Patienten mit psychomotorischer Entwicklungsstörung, die in der genetischen Sprechstunde des Humangenetischen Instituts in Erlangen gesehen wurden, waren 22,5 % auch mikrozephal. Dabei korrelierte die Schwere der Mikrozephalie mit der Schwere der kognitiven Einschränkung und dem Auftreten von Krampfanfällen.
In dieser Übersichtsarbeit werden genetische Ursachen für psychomotorische Entwicklungsstörungen mit Mikrozephalie sowie die Häufigkeit einer Mikrozephalie in einer Kohorte von Patienten mit ungeklärter Entwicklungsstörung und ihre Bedeutung bei der Diagnosefindung bei geistiger Behinderung diskutiert.
Abstract
Intellectual disability (ID) occurs in about 2–3 % of the general population and is clinically and genetically heterogeneous. Genetic causes include chromosomal and monogenic aberrations. Microcephaly is frequently present in patients with developmental disorders, which suggests overlapping pathomechanisms. About 23 % of ID genes are also associated with microcephaly. Further frequent comorbidities include seizures, short stature and malformations. In a cohort of more than 700 patients referred to the Institute of Human Genetics in Erlangen due to developmental delay 22.5 % had microcephaly. The degree of microcephaly correlated both with the severity of cognitive impairment and with the occurrence of seizures.
In this review we discuss genetic causes of intellectual disability with associated microcephaly, the frequency of microcephaly within a cohort of patients with unsolved ID and the role of microcephaly in diagnostics of developmental disorders.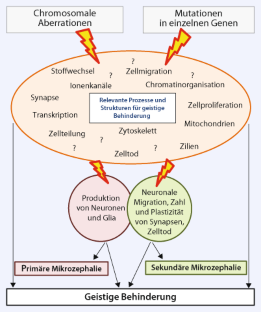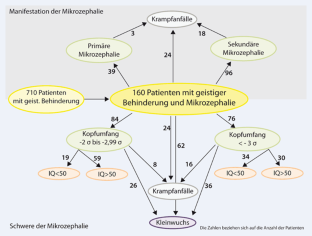 Literatur
1.

Abdel-Salam GM, Halasz AA, Czeizel AE (2000) Association of epilepsy with different groups of microcephaly. Dev Med Child Neurol 42:760–767

2.

Ashwal S, Michelson D, Plawner L et al (2009) Practice parameter: evaluation of the child with microcephaly (an evidence-based review): report of the Quality Standards Subcommittee of the American Academy of Neurology and the Practice Committee of the Child Neurology Society. Neurology 73:887–897

3.

Basel-Vanagaite L, Yilmaz R, Tang S et al (2014) Expanding the clinical and mutational spectrum of Kaufman oculocerebrofacial syndrome with biallelic UBE3B mutations. Hum Genet 133:939–949

4.

Brunetti-Pierri N, Berg JS, Scaglia F et al (2008) Recurrent reciprocal 1q21.1 deletions and duplications associated with microcephaly or macrocephaly and developmental and behavioral abnormalities. Nat Genet 40:1466–1471

5.

De Ligt J, Willemsen MH, Van Bon BW et al (2012) Diagnostic exome sequencing in persons with severe intellectual disability. N Engl J Med 367:1921–1929

6.

Dolk H (1991) The predictive value of microcephaly during the first year of life for mental retardation at seven years. Dev Med Child Neurol 33:974–983

7.

Garcia-Cazorla A, Wolf NI, Serrano M et al (2009) Mental retardation and inborn errors of metabolism. J Inherit Metab Dis 32:597–608

8.

Grant SG (2012) Synaptopathies: diseases of the synaptome. Curr Opin Neurobiol 22:522–529

9.

Gregor A, Oti M, Kouwenhoven EN et al (2013) De novo mutations in the genome organizer CTCF cause intellectual disability. Am J Hum Genet 93:124–131

10.

Hoyer J, Ekici AB, Endele S et al (2012) Haploinsufficiency of ARID1B, a member of the SWI/SNF-a chromatin-remodeling complex, is a frequent cause of intellectual disability. Am J Hum Genet 90:565–572

11.

Jacquemont S, Reymond A, Zufferey F et al (2011) Mirror extreme BMI phenotypes associated with gene dosage at the chromosome 16p11.2 locus. Nature 478:97–102

12.

Mulley JC, Scheffer IE, Petrou S et al (2003) Channelopathies as a genetic cause of epilepsy. Curr Opin Neurol 16:171–176

13.

Passemard S, Kaindl AM, Verloes A (2013) Microcephaly. Handb Clin Neurol 111:129–141

14.

Rauch A, Wieczorek D, Graf E et al (2012) Range of genetic mutations associated with severe non-syndromic sporadic intellectual disability: an exome sequencing study. Lancet 380:1674–1682

15.

Ropers HH (2010) Genetics of early onset cognitive impairment. Annu Rev Genomics Hum Genet 11:161–187

16.

Schaffer AE, Eggens VR, Caglayan AO et al (2014) CLP1 founder mutation links tRNA splicing and maturation to cerebellar development and neurodegeneration. Cell 157:651–663

17.

Vaillend C, Poirier R, Laroche S (2008) Genes, plasticity and mental retardation. Behav Brain Res 192:88–105

18.

Van Bokhoven H (2011) Genetic and epigenetic networks in intellectual disabilities. Annu Rev Genet 45:81–104

19.

Von Der Hagen M, Pivarcsi M, Liebe J et al (2014) Diagnostic approach to microcephaly in childhood: a two-center study and review of the literature. Dev Med Child Neurol 56:732–741

20.

Watemberg N, Silver S, Harel S et al (2002) Significance of microcephaly among children with developmental disabilities. J Child Neurol 17:117–122

21.

Willemsen MH, Kleefstra T (2014) Making headway with genetic diagnostics of intellectual disabilities. Clin Genet 85:101–110

22.

Wolff D, Endele S, Azzarello-Burri S et al (2012) In-Frame deletion and missense mutations of the C-terminal helicase domain of SMARCA2 in three patients with nicolaides-baraitser syndrome. Mol Syndromol 2:237–244

23.

Woods CG (2004) Human microcephaly. Curr Opin Neurobiol 14:112–117

24.

Woods CG, Parker A (2013) Investigating microcephaly. Arch Dis Child 98:707–713

25.

Zaghloul NA, Katsanis N (2010) Functional modules, mutational load and human genetic disease. Trends Gene 26:168–176
Danksagung
Die Autorin dankt Herrn Prof. André Reis und Frau Dr. Juliane Hoyer für konstruktive Kommentare, außerdem den Ärzten des Humangenetischen Instituts in Erlangen für die Erhebung der klinischen Daten (Juliane Hoyer, Christian Thiel, Antje Wiesener, Ulrike Hüffmeier, Miriam Reuter, Ina Schanze, Anita Rauch). Dank geht auch an Annette Schenck, Korinna Kochinke und Pavel Cizek für die Zusammenarbeit an der Gen-Liste. C. Zweier wurde durch das Interdisziplinäre Zentrum für Klinische Forschung (IZKF) Erlangen und durch die Deutsche Forschungsgemeinschaft (DFG, ZW184/1–2) unterstützt.
Ethics declarations
Interessenkonflikt
C. Zweier gibt an, dass kein Interessenkonflikt vorliegt.
Alle im vorliegenden Manuskript beschriebenen Untersuchungen am Menschen wurden mit Zustimmung der zuständigen Ethik-Kommission, im Einklang mit nationalem Recht sowie gemäß der Deklaration von Helsinki von 1975 (in der aktuellen, überarbeiteten Fassung) durchgeführt. Von allen beteiligten Patienten liegt eine Einverständniserklärung vor.
About this article
Cite this article
Zweier, C. Mikrozephalie bei psychomotorischen Entwicklungsstörungen und geistiger Behinderung. medgen 27, 362–368 (2015). https://doi.org/10.1007/s11825-015-0072-0
Schlüsselwörter
Geistige Behinderung

Psychomotorische Entwicklungsstörung

Mikrozephalie

Syndrome

Genetik
Keywords
Intellectual disability

Developmental delay

Microcephaly

Syndromes

Genetics