Zusammenfassung
Mitochondriopathien sind eine klinisch, biochemisch und genetisch ausgesprochen heterogene Krankheitsgruppe mit Mutationen in mehr als 250 Genen, wobei ein Teil davon im mitochondrialen Genom liegt, der Großteil aber im Kerngenom. Die Verteilung der Mutationen auf eine derart große Anzahl an Genen verschaffte den Mitochondriopathien eine Vorreiterrolle bei der Einführung der Next-Generation-Sequenzierung (NGS) in die klinische Praxis, wobei die Exomsequenzierung zurzeit die Methode der Wahl darstellt. Die Bedeutung der funktionellen Tests, vor allem der biochemischen Messung von frischen oder gefrorenen Biopsieproben und der histologischen Untersuchung, bleibt bestehen, in vielen Fällen rücken diese Analysen aber an die zweite Stelle. Diese Analysen sind vor allem zur Bestätigung der genetischen Ergebnisse häufig unerlässlich und bei Akutpatienten weiterhin als initiale bzw. parallele Untersuchung zu wählen. Es ist auch darauf zu achten, dass Mutationen gewebespezifisch auftreten können, vor allem Mutationen der mitochondrialen DNA sind im Blut nicht immer nachweisbar.
Die Therapie von Mitochondriopathien ist nach wie vor meist auf eine symptomatische Behandlung begrenzt, nur bei wenigen, vor allem bei cofaktorabhängigen Erkrankungen konnten bisher gute Therapieeffekte erzielt werden. Erfreulich ist die Entwicklung zahlreicher neuer Therapieansätze, die sich Fortschritte in der Proteinersatz- und Gentherapie zunutze machen. Besondere Aufmerksamkeit hat in jüngster Vergangenheit die Option der Spende von Eizellmitochondrien erhalten, eine in Großbritannien kürzlich zugelassene Methode zur Prävention der Vererbung von Mutationen der mitochondrialen DNA.
Abstract
Disorders of mitochondrial energy metabolism are a clinically, biochemically and genetically heterogeneous group of diseases with mutations in more than 250 genes. Gene defects are located in the mitochondrial genome, but the majority affect the nuclear genome. Due to the distribution of mutations on numerous genes, mitochondrial disorders played a pioneering role in the introduction of next generation sequencing into clinical practice, whereby exome sequencing is currently the method of choice. Functional tests are still important, especially the biochemical measurement of fresh or frozen tissue samples and the histological examination, but increasingly as second-line investigations. They are often essential to confirm the genetic results and continue to be important as the initial investigation in acute patients. It is important to point out that mutations can occur in a tissue-specific way and that mutations of mitochondrial DNA are not always detectable in blood.
Therapy for mitochondrial disorders is still mostly limited to symptomatic treatment. Only in few cases, especially in cofactor-dependent disorders, can detectable therapeutic effects be achieved. The development of numerous protein replacement and gene therapy approaches is encouraging. The donation of oocyte mitochondria has received particular attention. This method has recently been approved in the UK and can be used to prevent the inheritance of mutations in mitochondrial DNA.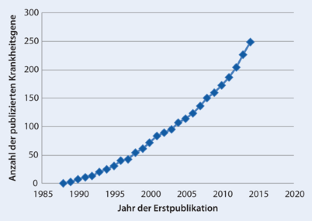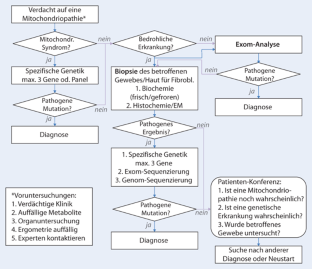 Literatur
1.

Barritt J, Willadsen S, Brenner C et al (2001) Cytoplasmic transfer in assisted reproduction. Hum Reprod Update 7:428–435

2.

Gerards M, Van Den Bosch BJ, Danhauser K et al (2011) Riboflavin-responsive oxidative phosphorylation complex I deficiency caused by defective ACAD9: new function for an old gene. Brain 134:210–219

3.

Haack TB, Klee D, Strom TM et al (2014) Infantile Leigh-like syndrome caused by SLC19A3 mutations is a treatable disease. Brain 137:e295

4.

Koene S, De Laat P, Van Tienoven DH et al (2014) Serum FGF21 levels in adult m.3243A >G carriers: clinical implications. Neurology 83:125–133

5.

Mayr JA, Haack TB, Freisinger P et al (2015) Spectrum of combined respiratory chain defects. J Inherit Metab Dis 38:629–640

6.

Pajares S, Arias A, Garcia-Villoria J et al (2013) Role of creatine as biomarker of mitochondrial diseases. Mol Genet Metab 108:119–124

7.

Rahman S (2015) Emerging aspects of treatment in mitochondrial disorders. J Inherit Metab Dis 38:641–653

8.

Rapoport M, Saada A, Elpeleg O et al (2008) TAT-mediated delivery of LAD restores pyruvate dehydrogenase complex activity in the mitochondria of patients with LAD deficiency. Mol Ther 16:691–697

9.

Rustin P, Jacobs HT (2009) Respiratory chain alternative enzymes as tools to better understand and counteract respiratory chain deficiencies in human cells and animals. Physiol Plant 137:362–370

10.

Schadwinkel A (2015) Drei Eltern für ein gesundes Kind. In: Zeit online. Zeitverlag Gerd Bucerius GmbH & Co. KG, Wissen/Gesundheit

11.

Sperl W, Freisinger P (2014) Mitochondriopathien. In: Reinhardt D, Nicolai T, Zimmer K-P (Hrsg) Therapie der Krankheiten im Kindes- und Jugendalter. Springer-Verlag, Berlin, S 153–155

12.

Sperl W, Prokisch H, Karall D et al (2011) Mitochondriopathien – Ein Update. Monatsschr Kinderheilkd 159:848–854

13.

Wortmann SB, Zietkiewicz S, Kousi M et al (2015) CLPB mutations cause 3-methylglutaconic aciduria, progressive brain atrophy, intellectual disability, congenital neutropenia, cataracts, movement disorder. Am J Hum Genet 96:245–257
Danksagung
Wir bedanken uns für die gute Zusammenarbeit mit Patienten, Klinikern und Wissenschaftlern in deutschen und europäischen Netzwerken für mitochondriale Erkrankungen: mitoNET (BMBF) und, GENOMIT (ERA-NET) sowie dem Add-On-Projekt des PMU-FFF.
Ethics declarations
Interessenkonflikt
H. Prokisch, W. Sperl, T. Meitinger und J.A. Mayr geben an, dass kein Interessenkonflikt besteht.
Alle im vorliegenden Manuskript beschriebenen Untersuchungen am Menschen wurden mit Zustimmung der zuständigen Ethik-Kommission, im Einklang mit nationalem Recht sowie gemäß der Deklaration von Helsinki von 1975 (in der aktuellen, überarbeiteten Fassung) durchgeführt. Von allen beteiligten Patienten liegt eine Einverständniserklärung vor.
About this article
Cite this article
Prokisch, H., Sperl, W., Meitinger, T. et al. Mitochondriopathien – neue Trends in Diagnostik und Therapie. medgen 27, 282–287 (2015). https://doi.org/10.1007/s11825-015-0061-3
Schlüsselwörter
Mitochondriopathien

Energiestoffwechsel

Gentherapie

Exomsequenzierung

Diagnosekaskade
Keywords
Mitochondrial diseases

Energy metabolism

Gene therapy

Exome sequencing

Diagnostic cascade