Zusammenfassung
Die massive parallele Sequenzierung (MPS) findet in der molekulargenetischen Diagnostik erblicher Krebserkrankungen zunehmend Einsatz, hier insbesondere bei Verdacht auf erblichen Brust- und Eierstockkrebs. Die potenziellen Vorteile von MPS im Vergleich zu bisher verwendeten (z. B. Sanger-sequenzbasierten) Methoden sind ein höherer Probendurchsatz, kürzere Bearbeitungszeiten und verminderte Kosten. Der Einsatz in der Routinediagnostik wird durch die Verfügbarkeit von zertifizierten Kits für die Probenvorbereitung vereinfacht. Hier wird die Validierung von 2 verschiedenen MPS-Geräten für die BRCA1-/-2-Diagnostik beschrieben. Bei Verwendung der Technik müssen die jeweiligen Vor- und Nachteile der einzelnen Geräte bedacht werden. Die Ergebnisse der MPS-Sequenzierung entsprechen denen, die mit Sanger-Sequenzierung ermittelt wurden.
Abstract
During the past few years, application of massively-parallel sequencing (MPS) in molecular diagnostics of hereditary cancer has increased significantly. The potential advantages of MPS, compared for example to Sanger sequencing-based methods, are higher sample capacities, shorter turnaround times, and decreased costs. Adoption in routine diagnostics is simplified due to the availability of certified kits for sample preparation. Here, the validation of two MPS systems for routine BRCA1/2 sequencing diagnostics are describe. Users should keep in mind the technical advantages and disadvantages of the individual sequencing machines. The results achieved with MPS are equal to those from Sanger sequencing.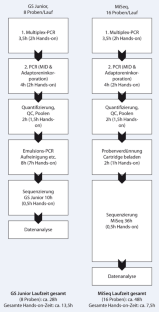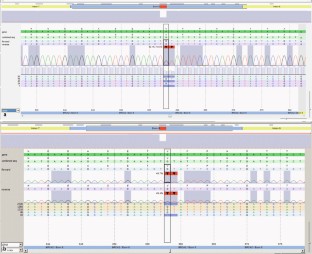 Literatur
1.

Ripperger T et al (2009) Breast cancer susceptibility: current knowledge and implications for genetic counselling. Eur J Hum Genet 17:722–731

2.

Meindl A et al (2011) Familiäres Mamma- und Ovarialkarzinom: Neue Gene, neue Therapien, neue Konzepte. Dtsch Arztebl Int 7:26

3.

Francken AB et al (2013) Breast cancer in women at high risk: the role of rapid genetic testing for BRCA1 and -2 mutations and the consequences for treatment strategies. Breast 22(5):561–568

4.

Loman NJ et al (2012) Performance comparison of benchtop high-throughput sequencing platforms. Nat Biotechnol 30:434–439

5.

Metzker ML (2010) Sequencing technologies – the next generation. Nat Rev Genet 11:31–46

6.

Hansen TV et al (2011) Screening of 1331 Danish breast and/or ovarian cancer families identified 40 novel BRCA1 and BRCA2 mutations. Fam Cancer 10:207–212

7.

Abel HJ, Duncavage EJ (2013) Detection of structural DNA variation from next generation sequencing data: a review of informatic approaches. Cancer Genet 206(12):432–440

8.

Feliubadalo L et al (2013) Next-generation sequencing meets genetic diagnostics: development of a comprehensive workflow for the analysis of BRCA1 and BRCA2 genes. Eur J Hum Genet 21(8):864–870

9.

Tarabeux J et al (2014) Streamlined ion torrent PGM-based diagnostics: BRCA1 and BRCA2 genes as a model. Eur J Hum Genet 22:535-41

10.

Moghadasi S et al (2013) Variants of uncertain significance in BRCA1 and BRCA2 assessment of in silico analysis and a proposal for communication in genetic counselling. J Med Genet 50:74–79

11.

Plon SE et al (2008) Sequence variant classification and reporting: recommendations for improving the interpretation of cancer susceptibility genetic test results. Hum Mutat 29:1282–1291
Einhaltung ethischer Richtlinien
Interessenkonflikt. B. Auber, K. Heinecke, S. Morlot, B. Schlegelberger und D. Steinemann geben an, dass kein Interessenkonflikt besteht.
Dieser Beitrag beinhaltet keine Studien an Menschen oder Tieren.
Additional information
Bernd Auber und Kai Heinecke teilen sich die Erstautorenschaft.
About this article
Cite this article
Auber, B., Heinecke, K., Morlot, S. et al. Massive parallele Sequenzierung in der Diagnostik hereditärer BRCA1-/-2-Mutationen. medgen 26, 255–263 (2014). https://doi.org/10.1007/s11825-014-0443-y
Schlüsselwörter
Hochdurchsatznukleotidsequenzierung

Hereditärer Brust- und Eierstockkrebs

BRCA1
BRCA2

Molekulare Diagnostik
Keywords
High-throughput nucleotide sequencing

Hereditary breast and ovarian cancer syndrome

BRCA1
BRCA2

Molecular diagnostics