Zusammenfassung
Next Generation Sequencing (NGS) erlaubt die Untersuchung des kompletten Exoms oder Genoms eines Patienten mit vertretbarem zeitlichem und finanziellem Aufwand. Dieser diagnostische Quantensprung hat neben rechtlichen, ethischen und ökonomischen Aspekten auch vielfältige Auswirkungen auf die Patientenversorgung. Die weitgehende Einführung des NGS in die Routinediagnostik steht momentan jedoch noch vor vielen Hürden. Insbesondere ist zu erwarten, dass mittels NGS eine Vielzahl seltener Varianten bei einem Patienten entdeckt wird, die nach derzeitigem Wissensstand klinisch nicht hinreichend klar interpretierbar sind. Als einen ersten Schritt zur Lösung dieses Problems wird das Konzept einer Datenbank vorgestellt, die systematisch genotypische und phänotypische Informationen aus dem Versorgungskontext in Deutschland integrieren soll. Die so entstehende Ressource wäre nicht nur von großem wissenschaftlichem Interesse. Sie böte vordringlich den klinisch tätigen Humangenetikern die notwendige Evidenzbasis für eine zuverlässige Bewertung ihrer patientenbezogenen Sequenzierungsdaten.
Abstract
Next generation sequencing (NGS) allows whole exome or whole genome sequencing for a given patient to be performed timely and at reasonable cost. This diagnostic quantum leap not only has various legal, ethical and economical aspects but will naturally also impact upon patient care. Currently, however, the wide-spread introduction of NGS into routine diagnostics is facing many obstacles. In particular, it is to be expected that NGS will identify a large number of rare variants in a given patient that are of (yet) unknown clinical significance. As a first step towards solving this problem, we introduce the concept of a database that will systematically integrate genotypic and phenotypic information from the German health care context. Not only will this resource be of great scientific value, but the database shall also provide human geneticists with the evidence base necessary for the reliable evaluation of their patient-related sequencing data.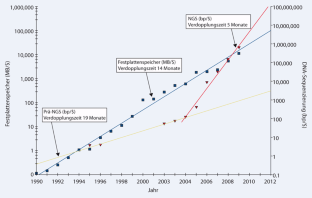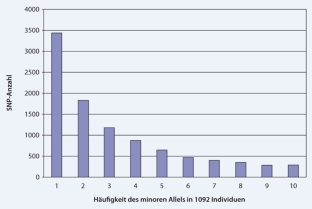 Literatur
1.

The 1000 Genomes Project Consortium (2012) An integrated map of genetic variation from 1,092 human genomes. Nature 491:56–65

2.

De Ligt J, Veltman JA, Vissers LE (2013) Point mutations as a source of de novo genetic disease. Curr Opin Genet Dev 23:257–263

3.

Hsu TC (1952) Mammalian chromosomes in vitro – the karyotype of Man. J Heredity 43:167–172

4.

Lejeune J, Gautier M, Turpin R (1959) Etude des chromosomes somatiques de neuf enfants mongoliens. C R Hebd Seances Acad Sci 248:1721–1722

5.

Schinzel A (1984) Catalogue of unbalanced chromosome aberrations. Walter de Gruyter & Co, Berlin

6.

Krawczak M, Cooper DN (1997) The human gene mutation database. Trends Genet 13:121–122

7.

Mathieu N, Löhnhardt B, Grütz R et al (2013) Ethische und rechtliche Implikationen der Speicherung humaner Genomdaten. Medizin Genet 25:278–283

8.

Baker M (2012) One-stop shop for disease genes. Nature 491:171

9.

Tennessen JA, Bigham AW, O'Connor TD et al (2012) Evolution and functional impact of rare coding variation from deep sequencing of human exomes. Science 337:64–69

10.

Webb AJ, Thorisson GA, Rookes AJ, GEN2PHEN Consortium (2011) An informatics project and online "Knowledge Centre" supporting modern genotype-to-phenotype research. Hum Mutat 32:543–550

11.

Stein LD (2010) The case for cloud computing in genome informatics. Genome Biol 11: 207

12.

Stellungnahme der Zentralen Ethikkommission bei der Bundesärztekammer zum Schutz nichteinwilligungsfähiger Personen in der medizinischen Forschung (1997). Dt. Ärzteblatt 94: A1011-1012 (http://www.aerzteblatt.de/pdf/94/15/a1011_5.pdf. Zugegriffen: 24. Januar 2014)

13.

NIH seeks better database for genetic Diagnosis (2013). Science 342: 27 (http://www.sciencemag.org/content/342/6154/27.full. Zugegriffen: 24. Januar 2014)
Ergänzender Ausblick
Zur Thematik des Artikels werden die Autoren gemeinsam mit der TMF e. V. einen Workshop als Satellitenveranstaltung der Jahrestagung der Deutschen Gesellschaft für Humangenetik in Essen organisieren. Termin: Mittwoch 19. März 2014, 9–12 Uhr.
Einhaltung ethischer Richtlinien
Interessenkonflikt. A. Pfeufer ist Angestellter der Myriad GmbH, Martinsried. T. Bettecken, R. Sudbrak, R. Siddiqui, A. Franke, T. F. Wienker und M. Krawczak geben an, dass kein Interessenkonflikt besteht.
Dieser Beitrag beinhaltet keine Studien an Menschen oder Tieren.
About this article
Cite this article
Bettecken, T., Pfeufer, A., Sudbrak, R. et al. Next Generation Sequencing in der diagnostischen Praxis. medgen 26, 21–27 (2014). https://doi.org/10.1007/s11825-014-0433-0
Schlüsselwörter
Datenbank

Diagnose

DNA

Mutation

Genetische Polymorphismen
Keywords
Database

Diagnosis

DNA

Mutation

Polymorphism, genetic