Zusammenfassung
Wegen des Fehlens stringenter Indikationskriterien hat sich die Microarray-CGH in der Pränataldiagnostik nur schwer etablieren können. Auf der Basis der Ergebnisse von 4626 pränatalen Chromosomenanalysen wurden Kriterien für die Indikationsstellung zur Durchführung der Microarray-CGH in der Pränataldiagnostik festgelegt und 6 Indikationsstellungen definiert. Nach den festgelegten Indikationsstellungen wurden von insgesamt 14.766 pränatal durchgeführten zytogenetischen Untersuchungen 337 (2,3 %) mittels Microarray-CGH untersucht. Bei 279 Feten mit strukturellen Auffälligkeiten im Ultraschall betrug der Anteil gesichert pathogener CNV 7,9 % und bei 58 Feten mit auffälligen, nach konventioneller Diagnostik/FISH nicht eindeutigen zytogenetischen Befunden 56,9 %. Der mithilfe der Microarray-CGH gefundene Anteil von 16,3 % mit klinisch relevanten Imbalancen, welche mittels konventioneller Zytogenetik nicht oder nicht hinreichend diagnostiziert werden konnte, spricht für die Wirksamkeit der festgelegten Indikationsstellungen.
Abstract
In the absence of stringent criteria for its indications microarray-CGH has had difficulties to find roots in prenatal diagnostics. Based on the results of 4626 prenatal chromosome analyses, routinely performed in our laboratory, criteria for the indications of microarray-CGH in prenatal diagnostics were developed and 6 different indications for its application defined. According to the 6 indications microarray-CGH was carried out in 337 (2.3 %) out of 14,766 prenatal samples. In 279 cases with abnormal ultrasound findings pathogenic CNV were detected in 7.9 % and in 58 cases with abnormal karyotype/FISH findings in 56.9 %. The fraction of 16.3 % clinically significant imbalances detected by means of microarray-CGH, which had not or only insufficiently been diagnosed by conventional karyotyping is indicative of the efficacy of the proposed indications for application of microarray-CGH in prenatal cases.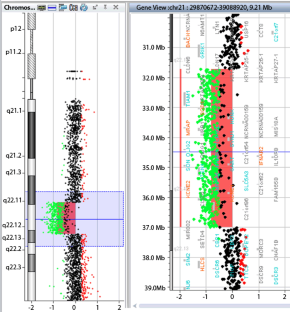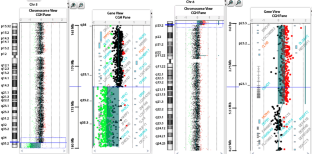 Literatur
1

American College of Obstetricians and Gynecologists. Committee Opinion No. 581. (2013) The use of chromosomal microarray analysis in prenatal diagnosis. Obstet Gynecol 122:1374–1377

2

Breman A, Pursley AN, Hixson P, Bi W, Ward P, Bacino CA, Shaw C, Lupski JR, Beaudet A, Patel A, Cheung SW, Van den Veyver I (2012) Prenatal chromosomal microarray analysis in a diagnostic laboratory; experience with > 1000 cases and review of the literature. Prenat Diagn 32(4):351–361

3

De Gregori M, Ciccone R, Magini P, Pramparo T, Gimelli S, Messa J, Novara F, Vetro A, Rossi E, Maraschio P, Bonaglia MC, Anichini C, Ferrero GB, Silengo M, Fazzi E, Zatterale A, Fischetto R, Previderé C, Belli S, Turci A, Calabrese G, Bernardi F, Meneghelli E, Riegel M, Rocchi M, Guerneri S, Lalatta F, Zelante L, Romano C, Fichera M, Mattina T, Arrigo G, Zollino M, Giglio S, Lonardo F, Bonfante A, Ferlini A, Cifuentes F, Van Esch H, Backx L, Schinzel A, Vermeesch JR (2007) Cryptic deletions are a common finding in "balanced" reciprocal and complex chromosome rearrangements: a study of 59 patients. J Med Genet 44:750–762

4

Deutsche Gesellschaft für Humangenetik e. V. (GfH) Berufsverband Deutscher Humangenetiker e. V. (BVDH) (2011) S2-Leitlinie Humangenetische Diagnostik und genetische Beratung. medgen 23:281–323

5

Feenstra I, Hanemaaijer N, Sikkema-Raddatz B, Yntema H, Dijkhuizen T, Lugtenberg D, Verheij J, Green A, Hordijk R, Reardon W, Vries Bd, Brunner H, Bongers E, Leeuw Nd, van Ravenswaaij-Arts C (2011) Balanced into array: genome-wide array analysis in 54 patients with an apparently balanced de novo chromosome rearrangement and a meta-analysis. Eur J Hum Genet 19(11):1152–1160

6

Held KR, Kähler C, Kerber S, Auber B (2012) Der Stellenwert der "array comparative genomic hybridization" in der Pränataldiagnostik. medgen 24:108–113

7

Liehr T, Ewers E, Kosyakova N, Klaschka V, Rietz F, Wagner R, Weise A (2009) Handling small supernumerary marker chromosomes in prenatal diagnostics. Expert Rev Mol Diagn 9(4):317–324

8

Rauch A (2008) Molekulare Karyotypisierung in der klinischen Diagnostik. medgen 20:386–394

9

Shaffer LG, Dabell MP, Fisher AJ, Coppinger J, Bandholz AM, Ellison JW, Ravnan JB, Torchia BS, Ballif BC, Rosenfeld JA (2012) Experience with microarray-based comparative genomic hybridization for prenatal diagnosis in over 5000 pregnancies. Prenat Diagn 32(10):976–985

10

Shaffer LG, Rosenfeld JA, Dabell MP, Coppinger J, Bandholz AM, Ellison JW et al (2012) Detection rates of clinically significant genomic alterations by microarray analysis for specific anomalies detected by ultrasound. Prenat Diagn 32:986–995

11

Tyreman M, Abbott KM, Willatt LR, Nash R, Lees C, Whittaker J, Simonic I (2009) High resolution array analysis: diagnosing pregnancies with abnormal ultrasound findings. J Med Genet 46(8):531–541

12

Wapner RJ, Martin CL, Levy B, Ballif BC, Eng CM, Zachary JM, Savage M, Platt LD, Saltzman D, Grobman WA, Klugman S, Scholl T, Simpson JL, McCall K, Aggarwal VS, Bunke B, Nahum O, Patel A, Lamb AN, Thom EA, Beaudet AL, Ledbetter DH, Shaffer LG, Jackson L (2012) Chromosomal microarray versus karyotyping for prenatal diagnosis. N Engl J Med 367(23):2175–2184

13

Warburton D (1991) De novo balanced chromosome rearrangements and extra marker chromosomes identified at prenatal diagnosis: clinical significance and distribution of breakpoints. Am J Hum Genet 49(5):995–1013
Ethics declarations
Interessenkonflikt
Der korrespondierende Autor weist für sich und seine Koautorin auf folgende Beziehungen hin: Die Autoren sind Angestellte der MVZ genteQ GmbH, Labor für Humangenetik , amedes genetics..
Alle beschriebenen Untersuchungen am Menschen wurden nach individueller Indikationsstellung im Rahmen einer Heilbehandlung im Einklang mit nationalem Recht (Gendiagnostikgesetz, Gesetz zur Verbesserung der Rechte von Patientinnen und Patienten 2013) sowie gemäß der Deklaration von Helsinki (2013) durchgeführt. Von allen beteiligten Patientinnen liegt eine schriftliche Einverständniserklärung vor.
About this article
Cite this article
Held, K., Zahn, S. Pränataler Array. medgen 26, 398–404 (2014). https://doi.org/10.1007/s11825-014-0020-4
Schlüsselwörter
Microarray-CGH

Pränataldiagnostik

Indikationsstellung
Keywords
Microarray-CGH

Prenatal diagnosis

Indications criteria