Zusammenfassung
Ichthyosen gehören zu einer klinisch und genetisch heterogenen Gruppe von Erkrankungen, die durch generalisierte Schuppung und/oder Hyperkeratosen der Haut charakterisiert sind. Seit der überwiegend klinisch orientierten Konsensus-Klassifikation von Sorèze werden diese Verhornungsstörungen als "Mendelian disorders of cornification" (MEDOC) zusammengefasst und in syndromale sowie nichtsyndromale Ichthyosen unterteilt. Abgesehen von seltenen erworbenen Fällen liegen den Ichthyosen Gendefekte zugrunde, deren Genprodukte an der Differenzierung und der Barrierefunktion der Epidermis beteiligt sind. Zurzeit sind Mutationen in etwa 40 verschiedenen Genen bekannt, die zu den unterschiedlichen Formen der Ichthyosen führen können. Damit kann in etwa 80–90 % der Fälle die Diagnose molekulargenetisch gesichert werden. Die genetischen Ursachen der übrigen 10–20 % sind noch ungeklärt. Ein Großteil der bislang noch unklaren Krankheitsursachen wird sicherlich in den nächsten Jahren dank neuer Technologien wie der Exom-Sequenzierung entschlüsselt werden.
Abstract
Ichthyoses belong to a clinically and genetically heterogeneous group of disorders that are characterized by generalized scaling and/or hyperkeratosis of the skin. The predominantly clinically oriented consensus classification of Sorèze summarizes these disorders as Mendelian disorders of cornification (MEDOC), which are divided into syndromic and non-syndromic ichthyoses. Apart from rare acquired cases, ichthyoses are due to genetic defects where the gene products are involved in the differentiation and barrier function of the epidermis. Currently, mutations in approximately 40 different genes are known which can result in the different types of ichthyosis. Thus, the diagnosis can be confirmed by molecular genetics in approximately 80-90% of cases and the genetic causes of the remaining 10-20% are still unclear. This will be deciphered in the next few years thanks to new technologies, such as exome sequencing.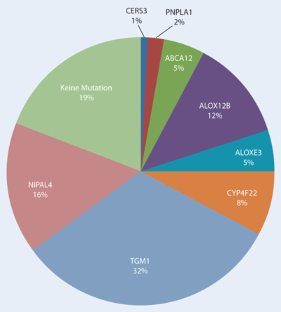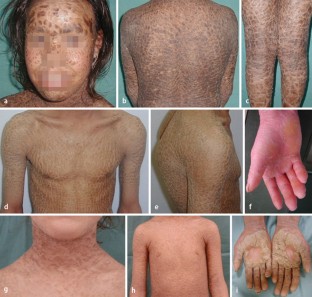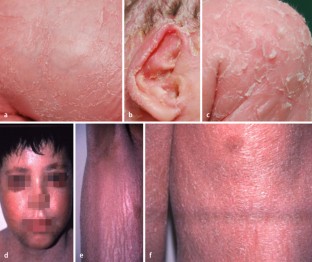 Literatur
1

Oji V, Tadini G, Akiyama M et al (2009) Revised nomenclature and classification of inherited ichthyoses: results of the First Ichthyosis Consensus Conference in Sorèze 2009. J Am Acad Dermatol 63:607–641

2

Brown SJ, Relton CL, Liao H et al (2009) Filaggrin haploinsufficiency is highly penetrant and is associated with increased severity of eczema: further delineation of the skin phenotype in a prospective epidemiological study of 792 school children. Br J Dermatol 161:884–889

3

Smith FJ, Irvine AD, Terron-Kwiatkowski A et al (2006) Loss-of-function mutations in the gene encoding filaggrin cause ichthyosis vulgaris. Nat Genet 38:337–342

4

Oji V, Seller N, Sandilands A et al (2009) Ichthyosis vulgaris: novel FLG mutations in the German population and high presence of CD1a+ cells in the epidermis of the atopic subgroup. Br J Dermatol 160:771–781

5

Webster D, France JT, Shapiro LJ et al (1978) X-linked ichthyosis due to steroid-sulphatase deficiency. Lancet 1:70–72

6

Traupe H, Fischer J, Oji V (2014) Nonsyndromic types of ichthyoses – an update. J Dtsch Dermatol Ges 12:109–121

7

Hernández-Martín A, Garcia-Doval I, Aranegui B et al (2012) Prevalence of autosomal recessive congenital ichthyosis: a population-based study using the capture-recapture method in Spain. J Am Acad Dermatol 67:240–244

8

Huber M, Rettler I, Bernasconi K et al (1995) Mutations of keratinocyte transglutaminase in lamellar ichthyosis. Science 267:525–528

9

Russell LJ, DiGiovanna JJ, Rogers GR et al (1995) Mutations in the gene for transglutaminase 1 in autosomal recessive lamellar ichthyosis. Nat Genet 9:279–283

10

Fischer J (2009) Autosomal recessive congenital ichthyosis. J Invest Dermatol 129:1319–1321

11

Bourrat E, Blanchet-Bardon C, Derbois C et al (2012) Specific TGM1 mutation profiles in bathing suit and self-improving collodion ichthyoses: phenotypic and genotypic data from 9 patients with dynamic phenotypes of autosomal recessive congenital ichthyosis. Arch Dermatol 148:1191–1195

12

Jobard F, Lefèvre C, Karaduman A et al (2002) Lipoxygenase-3 (ALOXE3) and 12(R)-lipoxygenase (ALOX12B) are mutated in nonbullous congenital ichthyosiform erythroderma (NCIE) linked to chromosome 17p13.1. Hum Mol Genet 11:107–113

13

Krieg P, Fürstenberger G (2014) The role of lipoxygenases in epidermis. Biochim Biophys Acta 1841:390–400

14

Harting M, Brunetti-Pierri N, Chan CS et al (2008) Self-healing collodion membrane and mild nonbullous congenital ichthyosiform erythroderma due to 2 novel mutations in the ALOX12B gene. Arch Dermatol 144:351–356

15

Vahlquist A, Bygum A, Gånemo A (2010) Genotypic and clinical spectrum of self-improving collodion ichthyosis: ALOX12B, ALOXE3 and TGM1 mutations in Scandinavian patients. J Invest Dermatol 130:438–443

16

Lefèvre C, Audebert S, Jobard F et al (2003) Mutations in the transporter ABCA12 are associated with lamellar ichthyosis type 2. Hum Mol Genet 12:2369–2378

17

Kelsell DP, Norgett EE, Unsworth H et al (2005) Mutations in ABCA12 underlie the severe congenital skin disease harlequin ichthyosis. Am J Hum Genet 76:794–803

18

Akiyama M, Sugiyama-Nakagiri Y, Sakai K et al (2005) Mutations in lipid transporter ABCA12 in harlequin ichthyosis and functional recovery by corrective gene transfer. J Clin Invest 115:1777–1784

19

Lefèvre C, Bouadjar B, Karaduman A et al (2004) Mutations in ichthyin a new gene on chromosome 5q33 in a new form of autosomal recessive congenital ichthyosis. Hum Mol Genet 13:2473–2482

20

Lefevre C, Bouadjar B, Ferrand V (2006) Mutations in a new cytochrome P450 gene in lamellar ichthyosis type 3. Hum Mol Genet 15:767–776

21

Grall A, Guaguère E, Planchais S (2012) PNPLA1 mutations cause autosomal recessive congenital ichthyosis in golden retriever dogs and humans. Nat Genet 44:140–147

22

Radner FP, Marrakchi S, Kirchmeier P et al (2013) Mutations in CERS3 cause autosomal recessive congenital ichthyosis in humans. PLoS Genet 9(6):e1003536

23

Eckl KM, Tidhar R, Thiele H et al (2013) Impaired epidermal ceramide synthesis causes autosomal recessive congenital ichthyosis and reveals the importance of ceramide acyl chain length. J Invest Dermatol 133:2202–2211

24

Choate KA, Lu Y, Zhou J (2010) Mitotic recombination in patients with ichthyosis causes reversion of dominant mutations in KRT10. Science 330:94–97

25

Lefèvre C, Jobard F, Caux F et al (2001) Mutations in CGI-58, the gene encoding a new protein of the esterase/lipase/thioesterase subfamily, in Chanarin-Dorfman syndrome. Am J Hum Genet 69:1002–1012

26

Klar J, Schweiger M, Zimmerman R et al (2009) Mutations in the fatty acid transport protein 4 gene cause the ichthyosis prematurity syndrome. Am J Hum Genet 85:248–253h:
Ethics declarations
Interessenkonflikt. J. Fischer und H. Traupe geben an, dass kein Interessenkonflikt besteht.
Dieser Beitrag beinhaltet keine Studien an Menschen oder Tieren.
About this article
Cite this article
Fischer, J., Traupe, H. Klinik und Genetik der Ichthyosen. medgen 26, 427–442 (2014). https://doi.org/10.1007/s11825-014-0017-z
Schlüsselwörter
Ichthyose

Hyperkeratose

Verhornungsstörung

Mutation

Genotyp-Phänotyp-Korrelation
Keywords
Ichthyosis

Hyperkeratosis

Cornification disorder

Mutation

Genotype phenotype correlation