Zusammenfassung
Die molekulare Karyotypisierung mithilfe der "Array"-basierten genomischen Hybridisierung (Microarrays) ermöglicht nicht nur den genomweiten, hochauflösenden Nachweis von Kopienzahlveränderungen, -zugewinnen und -verlusten, sondern auch die Detektion bestimmter Mosaike. Der Beitrag gibt eine Übersicht über Einflussgrößen beim Nachweis von Mosaiken mit Microarrays und über verschiedene Mosaikfälle, die sowohl mit Array-CGH (CGH: "comparative genomic hybridization") als auch mit SNP-Arrays (SNP: "single nucleotide polymorphism") erhoben wurden. Dabei wird anhand der Array-CGH eine Möglichkeit aufgezeigt, wie der Prozentsatz eines Mosaiks bestimmt werden kann.
Abstract
Molecular karyotyping of array-based genomic hybridization (microarrays) not only detects copy number variations, genomic gains and losses but also provides the assessment of specific mosaicism. This article gives an overview on parameters influencing the detection of mosaicism and different cases with mosaicism detected by comparative genomic hybridization (CGH) arrays and by single nucleotide polymorphism (SNP) arrays. Furthermore, a possibility is provided to calculate the percentage of a given mosaicism.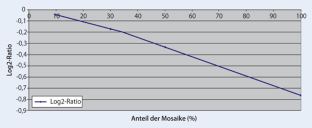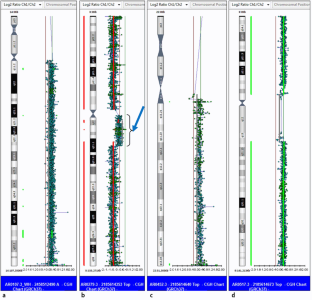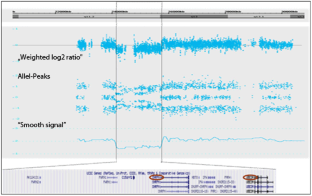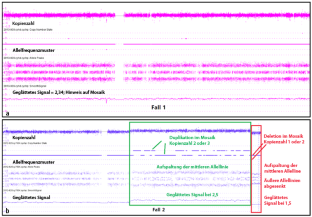 Literatur
1

Ballif BC, Rorem EA, Sundin K, Lincicum M, Gaskin S, Coppinger J, Kashork CD, Shaffer LG, Bejjani BA (2006) Detection of low-level mosaicism by array CGH in routine diagnostic specimens. Am J Med Genet A 140:2757–2767

2

Biesecker LG, Spinner NB (2013) A genomic view of mosaicism and human disease. Nat Rev Genet 14:307–320

3

Cheung SW, Shaw AC, Scott DA, Patel A, Sahoo T, Bacino CA, Pursley CA, Jiangzhen L, Erickson R, Gropman AL, Miller DT, Seashore MR, Summers AM, Stankiewicz P, Chinault AC, Lupski JR, Beaudet AL, Sutton VR (2007) Microarray-based CGH detects chromosomal mosaicism not revealed by conventional cytogenetics. Am J Med Genet A 143A:1676–1686

4

Conlin LK, Thiel BD, Bonnemann CG, Medne L, Ernst LM, Zackai EH, Deardorff MA, Krantz ID, Hakonarso H, Spinner NB (2010) Mechanisms of mosaicism, chimerism and uniparental disomy identified by single nucleotide polymorphism array analysis. Hum Genet 19(7):1263–1275

5

Hinderhofer K, Dikow N, Koch K, Maas B, Jauch A, Janssen JWG, Bartram CR, Moog U (2013) Milder presentation of Angelman syndrome patients due to somatic mosaicism. Med Genet 1:P-ClinG-079

6

Kearney HM, Kearney JB, Conlin LK (2011) Diagnostic implications of excessive homozygosity by SNP-based microarrays: consanguinity, uniparental disomy and recessive single-gene mutations. Clin Lab Med 31:595–613

7

Menten B, Maas N, Thienpont B, Buysse K, Vandesompele J, Melotte C, de Ravel T, Van Vooren S, Balikova I, Backx L, Janssens S, De Paepe A, De Moor B, Moreau Y, Marynen P, Fryns J-P, Mortier G, Devriendt K, Speleman F, Vermeesch JR (2006) Emerging patterns of cryptic chromosomal imbalance in patients with idiopathic mental retardation and multiple congenital anomalies: a new series of 140 patients and review of published reports. J Med Genet 43:625–633

8

Neill NJ, Torchia BS, Bejjani BA, Shaffer LG, Ballif BC (2010) Comparative analysis of copy number detection by whole-genome BAC and oligonucleotide array CGH. Mol Cytogenet 3:11

9

Rodriguez-Santiago B, Malats N, Rothman N, Armengol L, Garcia-Closas M, Kogevinas M, Villa O, Hutchinson A, Earl J, Marenne G, Jacobs K, Rico K, Rico D, Tardón A, Carrato A, Thomas G, Valencia A, Silverman D, Real FX, Chanock SJ, Pérez-Jurado LA (2010) Mosaic uniparental disomies and aneuploidies as large structural variants of the human genome. Am J Hum Genet 87(1):129–138

10

Valli R, Marletta C, Pressato B, Montalbano G, Lo Cuto F, Paquali F, Maserati E (2011) Comparative genomic hybridization on microarray (a-CGH) in constitutional and acquired mosaicism may detect as low as 8 % abnormal cells. Mol Cytgenet 4:13
Ethics declarations
Danksagung
Ich möchte mich an dieser Stelle bei meinen Kollegen und Freunden für die fruchtbaren Diskussionen und insbesondere bei Dr. Filges, Dr. Hinderhofer und Dr. Wragg für ihr Einverständnis zur Veröffentlichung ihrer Ergebnisse ganz herzlich bedanken.
Interessenkonflikt
E. Fiedler gibt an, dass kein Interessenkonflikt besteht.
Dieser Beitrag beinhaltet keine Studien an Menschen oder Tieren.
About this article
Cite this article
Fiedler, E. Mosaikbefunde in der Microarray-Diagnostik bei prä- und postnatalen Untersuchungen. medgen 26, 330–335 (2014). https://doi.org/10.1007/s11825-014-0012-4
Schlüsselwörter
Molekulare Karyotypisierung

Array-basierte, komparative genomische Hybridisierung (ArrayCGH)

"Single nucleotide polymorphism"-Array (SPN-Array)

Chromosomenmosaike

Mosaikberechnung
Keywords
Molecular karyotyping

Array-based comparative genomic hybridization (arrayCGH) ·

Single nucleotide polymorphism array (SNP array)

Chromosomal mosaicism

Calculation of mosaicism