Zusammenfassung
In der Zytogenetik werden Zellen im Gegensatz zu molekulargenetischen Untersuchungen individuell analysiert. Dadurch können Zellen mit verschiedenen Karyotypen (Zellmosaike) aufgedeckt werden. Dieser Beitrag gibt einen Überblick über die verschiedenen Probleme der diagnostischen Befunderhebung und -interpretation chromosomaler Mosaike. Eine besondere Herausforderung liegt darin, dass zwischen echten Mosaiken einerseits und Kulturartefakten, Pseudomosaiken, Alterseffekten, mütterlicher Kontamination oder Chimärismus andererseits unterschieden werden muss. Die Wahrscheinlichkeit, ein chromosomales Mosaik in der zytogenetischen Routinediagnostik zu übersehen, ist sehr hoch, da hier nur ca. 15 von 1012 Körperzellen und dazu in der Regel nur ein einziger Gewebetyp untersucht werden. Einige zytogenetische Mosaike sind typisch für bestimmte Syndrome, wie z. B. das Pallister-Killian-, das Katzenaugen oder das Ullrich-Turner-Syndrom; andere sind charakteristisch für bestimmte Krankheitsbilder, einschließlich hämatologischer maligner Erkrankungen.
Abstract
In contrast to molecular genetics, in cytogenetic analyses single cells are analyzed individually. This affords an opportunity to detect cells with chromosomal mosaicism. This article provides an overview on problems arising in the detection and interpretation of chromosomal mosaicism in cytogenetic diagnostics. A particular challenge in the diagnostics is to distinguish between clinically relevant genuine mosaicism on the one hand and cultured artifacts, pseudomosaics, age effects, maternal contamination and chimerism on the other. The probability of overlooking mosaicism in cytogenetic routine diagnostics is very high, as on average only 15 of the 1012 cells in the body are examined and usually only a single tissue is analyzed. However, some cytogenetic mosaics are typical for certain syndromes, such as Pallister-Killian syndrome, cat eye syndrome or Ullrich-Turner syndrome and others are characteristic for certain disorders including some hematological malignancies.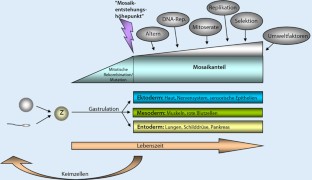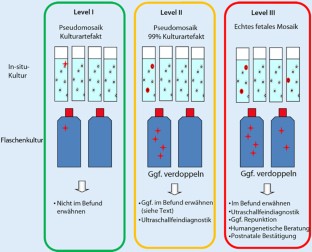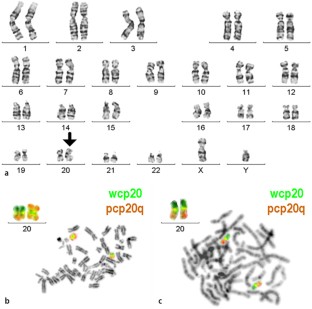 Literatur
1

Behjati S, Huch M, van Boxtel R et al (2014) Genome sequencing of normal cells reveals developmental lineages and mutational processes. Nature 513:422-425

2

Berger R, Bernard OA (2007) Jumping translocations. Genes Chromosomes Cancer 46:717–723

3

Bielanska M, Tan SL, Ao A (2002) Chromosomal mosaicism throughout human preimplantation development in vitro: incidence, type, and relevance to embryo outcome. Hum Reprod 17:413–419

4

Bohers E, Sarafan-Vasseur N, Drouet A et al (2008) Gradual reduction of BUBR1 protein levels results in premature sister-chromatid separation then in aneuploidy. Hum Genet 124:473–478

5

Brun JL, Mangione R, Gangbo F et al (2003) Feasibility, accuracy and safety of chorionic villus sampling: a report of 10741 cases. Prenat Diagn 23:295–301

6

Cozzi J, Conn CM, Harper J et al (1999) A trisomic germ cell line and precocious chromatid segregation leads to recurrent trisomy 21 conception. Hum Genet 104:23–28

7

Fryburg JS, Dimaio MS, Yang-Feng TL et al (1993) Follow-up of pregnancies complicated by placental mosaicism diagnosed by chorionic villus sampling. Prenat Diagn 13:481–494

8

Gardner M, Sutherland G, Shaffer L (2012) Chromosome abnormalities and genetic counseling – 4th edition, Oxford monographs on medical genetics; no 61. Oxford University Press, Oxford New York

9

Gesellschaft für Humangenetik (GfH), Berufsverband Deutscher Humangenetiker (BVDH) (2011) S2-Leitlinie "Humangenetische Diagnostik". Med Genet 23:281–322

10

Gibbons B, Tan SY, Yu CC et al (1999) Risk of gonadoblastoma in female patients with Y chromosome abnormalities and dysgenetic gonads. J Paediatr Child Health 35:210–213

11

Guttenbach M, Koschorz B, Bernthaler U et al (1995). Sex chromosome loss and aging: in situ hybridization studies on human interphase nuclei. Am J Hum Genet 57:1143–1150

12

Hall AL, Drendel HM, Verbrugge JL et al (2013) Positive cell-free fetal DNA testing for trisomy 13 reveals confined placental mosaicism. Genet Med 15:729–732

13

Hsu LY, Yu MT, Neu RL et al (1997) Rare trisomy mosaicism diagnosed in amniocytes, involving an autosome other than chromosomes 13, 18, 20, and 21: karyotype/phenotype correlations. Prenat Diagn 17:201–242

14

Hsu LY, Benn PA (1999) Revised guidelines for the diagnosis of mosaicism in amniocytes. Prenat Diagn 19:1081–1082

15

Iourov IY, Vorsanova SG, Yurov YB (2008) Chromosomal mosaicism goes global. Mol Cytogenet 1:26

16

Jacobs KB, Yeager M, Zhou W et al (2012) Detectable clonal mosaicism and its relationship to aging and cancer. Nat Genet 44:651–658

17

Jacobs P, Dalton P, James R et al (1997) Turner syndrome: a cytogenetic and molecular study. Ann Hum Genet 61:471–483

18

Lathi RB, Gustin SL, Keller J et al (2014) Reliability of 46,XX results on miscarriage specimens: a review of 1,222 first-trimester miscarriage specimens. Fertil Steril 101:178–182

19

Laurie CC, Laurie CA, Rice K et al (2012) Detectable clonal mosaicism from birth to old age and its relationship to cancer. Nat Genet 44:642–650

20

Liehr T, Klein E, Mrasek K et al (2013) Clinical impact of somatic mosaicism in cases with small supernumerary marker chromosomes. Cytogenet Genome Res 139:158–163

21

Mkrtchyan H, Gross M, Hinreiner S et al (2010) Early embryonic chromosome instability results in stable mosaic pattern in human tissues. PLoS One 5:e9591

22

Pan Q, Sun B, Huang X et al (2014) A prenatal case with discrepant findings between non-invasive prenatal testing and fetal genetic testings. Mol Cytogenet 7:48

23

Wang Y, Chen Y, Tian F et al (2014) Maternal mosaicism is a significant contributor to discordant sex chromosomal aneuploidies associated with noninvasive prenatal testing. Clin Chem 60:251–259

24

Wilson MG, Lin MS, Fujimoto A et al (1989) Chromosome mosaicism in 6,000 amniocenteses. Am J Med Genet 32:506–513
Einhaltung ethischer Richtlinien
Interessenkonflikt
A. Weise, E. Klein und K. Mrasek geben an, dass kein Interessenkonflikt besteht.
Dieser Beitrag beinhaltet keine Studien an Menschen oder Tieren.
About this article
Cite this article
Weise, A., Klein, E. & Mrasek, K. Chromosomale Mosaike in der klinischen Zytogenetik. medgen 26, 302–308 (2014). https://doi.org/10.1007/s11825-014-0011-5
Schlüsselwörter
Karyotyp

Kontamination

Artefakte

Pränatal

Postnatal
Keywords
Karyotype

Contamination

Artifacts

Prenatal

Postnatal