Zusammenfassung
Mosaike sind durch das parallele Vorliegen von Zellen des Organismus mit unterschiedlichen Genotypen gekennzeichnet. Mutationen können dabei sowohl in den Keimzellen ( Keimbahnmutationen) als auch in den Körperzellen ( somatische Mutation) entstehen. Für monogene Erkrankungen, bei denen die Mutation bei den Eltern nicht nachzuweisen ist, besteht die Möglichkeit eines elterlichen Keimzellmosaiks mit einem Wiederholungsrisiko für weitere Nachkommen. Ein gut untersuchtes Beispiel ist die Duchenne-Muskeldystrophie. Zudem konnten in den letzten Jahren die Ursachen syndromaler Erkrankungen, die auf ein somatisches Mosaik mit einer dominant wirkenden Mutation zurückzuführen sind, aufgeklärt werden. Beispiele sind das Proteus-Syndrom oder Erkrankungen aus dem Formenkreis der Hirnentwicklungsstörungen. Die Diagnostik dieser sporadischen Erkrankungen ist insbesondere durch den Einsatz von Next-Generation-Sequencing-Technologien möglich geworden. Es ist davon auszugehen, dass die Mosaikdiagnostik deshalb auch außerhalb der Tumorgenetik weiter an Bedeutung zunehmen wird. Möglicherweise spielen Mosaike auch bei häufigeren Erkrankungen eine größere Rolle, als bislang angenommen.
Abstract
Mosaicism is defined as the simultaneous presence of cells with different genotypes that originate from a common zygote. Mutations can either be present in germline or somatic cells. Monogenic disorders apparently caused by a de novo mutation may show a recurrence risk due to germline mosaicism in a parent. Duchenne muscular dystrophy is a well investigated example with a high frequency of germline mosaicism and the estimation for the risk of recurrence is based on theoretical models and empirical data. Recently, somatic mutations have been uncovered in various syndromic disorders, such as Proteus syndrome or hemimegalencephaly and respective mutations often show gain-of-function properties. Genetic testing is mainly based on next generation sequencing technologies but still remains challenging; however, detection of somatic mosaicism is expected to be of increasing relevance in the diagnosis of monogenic disorders. Somatic mosaicism may also play a hitherto underestimated role in common disorders.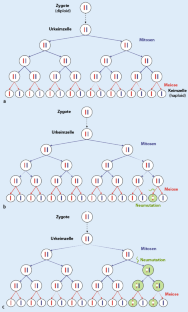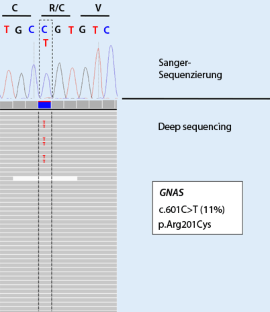 Literatur
1

Grimm T, Muller B, Muller CR et al (1990) Theoretical considerations on germline mosaicism in Duchenne muscular dystrophy. J Med Genet 27:683–687

2

Bakker E, Veenema H, Den Dunnen JT, van Broeckhoven C, Grootscholten PM, Bonten EJ, van Ommen GJ, Pearson PL (1989) Germinal mosaicism increases the recurrence risk for "new" Duchenne muscular dystrophy mutations. J Med Genet 26:553–559

3

Van Essen AJ, Abbs S, Baiget M, Bakker E, Boileau C, van Broeckhoven C, Bushby K, Clarke A, Claustres M, Covone AE et al (1992) Parental origin and germline mosaicism of deletions and duplications of the dystrophin gene: a European study. Hum Genet 88:249–257

4

Häne BG, Rogers RC, Schwartz CE (1999) Germline mosaicism in X-linked myotubular myopathy. Clin Genet 56:77–81

5

Slavin TP, Lazebnik N, Clark DM, Vengoechea J, Cohen L, Kaur M, Konczal L, Crowe CA, Corteville JE, Nowaczyk MJ, Byrne JL, Jackson LG, Krantz ID (2012) Germline mosaicism in Cornelia de Lange syndrome. Am J Med Genet A 158A:1481–1485

6

Lázaro C, Ravella A, Gaona A, Volpini V, Estivill X (1994) Neurofibromatosis type 1 due to germ-line mosaicism in a clinically normal father. N Engl J Med 331:1403–1407

7

Bottillo I, Torrente I, Lanari V, Pinna V, Giustini S, Divona L, De Luca A, Dallapiccola B (2010) Germline mosaicism in neurofibromatosis type 1 due to a paternally derived multi-exon deletion. Am J Med Genet A 152A:1467–1473

8

Natacci F, Baffico M, Cavallari U, Bedeschi MF, Mura I, Paffoni A, Setti PL, Baldi M, Lalatta F (2008) Germline mosaicism in achondroplasia detected in sperm DNA of the father of three affected sibs. Am J Med Genet A 146A:784–786

9

Grimm T, Meng G, Liechti-Gallati S, Bettecken T, Müller CR, Müller B (1994) On the origin of deletions and point mutations in Duchenne muscular dystrophy: most deletions arise in oogenesis and most point mutations result from events in spermatogenesis. J Med Genet 31:183–186

10

Müller B, Grimm T, Golla A (1995) Estimating the proportion of affected germ-cells in cases of germinal mosaicism in Duchenne muscular dystrophy (DMD). Med Genet 7:119

11

Edwards JH (1989) Familiarity, recessivity and germline mosaicism. Ann Hum Genet 53:33–47

12

Lyon MF (1961) Gene action in the X-chromosome of the mouse (Mus musculus L.). Nature 190:372–373

13

Biesecker LG, Spinner NB (2013) A genomic view of mosaicism and human disease. Nat Rev Genet 14(5):307–320

14

Weinstein LS, Shenker A, Gejman PV, Merino MJ, Friedman E, Spiegel AM (1991) Activating mutations of the stimulatory G protein in the McCune-Albright syndrome. N Engl J Med 325(24):1688–1695

15

Lindhurst MJ, Sapp JC, Teer JK, Johnston JJ, Finn EM, Peters K et al (2011) A mosaic activating mutation in AKT1 associated with the Proteus syndrome. N Engl J Med 365(7):611–619

16

Poduri A, Evrony GD, Cai X, Walsh CA (2013) Somatic mutation, genomic variation, and neurological disease. Science 341(6141):1237758
Einhaltung ethischer Richtlinien
Interessenkonflikt
I. Kurth und T. Grimm geben an, dass kein Interessenkonflikt besteht.
Dieser Beitrag beinhaltet keine Studien an Menschen oder Tieren.
About this article
Cite this article
Kurth, I., Grimm, T. Mosaike bei monogenen Erkrankungen. medgen 26, 336–341 (2014). https://doi.org/10.1007/s11825-014-0005-3
Schlüsselwörter
Mutationen

Keimzellen

Somazellen

Risikoberechnung

Next generation sequencing
Keywords
Mutations

Germ cells

Somatic cells

Risk score

Next generation sequencing