Zusammenfassung
Eine Tumorerkrankung stellt, bezogen auf den Gesamtorganismus, per definitionem ein Mosaik dar. Zusätzlich sind die meisten Tumoren, für sich betrachtet, Mosaike. Dieser Mosaikstatus wird üblicherweise als intratumorale Heterogenität bezeichnet und ist ein wesentlicher Faktor, der sowohl Relevanz für die Diagnostik als auch für die therapeutischen Strategien hat. Um die genetischen Veränderungen eines Tumors analysieren zu können, muss im Rahmen der Diagnostik sichergestellt werden, dass eine ausreichende Anzahl an Tumorzellen ausgewertet werden kann und nicht lediglich das normale Gewebe betrachtet wird. Dieses wird in der Diagnostik bei den verschiedenen Neoplasien mit unterschiedlichen Vorgehensweisen in Abhängigkeit von den verwendeten diagnostischen Methoden und der Art der Neoplasie erreicht. Zur Anwendung kommen Methoden, die die malignen Zellen anreichern und diese gezielt zur Proliferation stimulieren, oder die Methode wird mit einer ausreichenden Sensitivität durchführt, um auch kleine Klone erfassen zu können.
Abstract
By definition a tumor disease represents a mosaicism with respect to the entire organism but in addition most tumors also show mosaicism within themselves. This status of mosaicism is usually called intratumoral heterogeneity and is an essential factor which is of relevance for diagnostic as well as for therapeutic strategies. To be able to analyze the genetic changes of a tumor it has to be ensured that a sufficient number of tumor cells is analyzed and not only normal tissue. This is achieved in the diagnostic work-up of the different neoplasias with various approaches depending on the diagnostic method used and the type of neoplasia. Methods are used which either enrich the malignant cells stimulating them to targeted proliferation or the method is carried out with sufficient sensitivity to also detect small clones.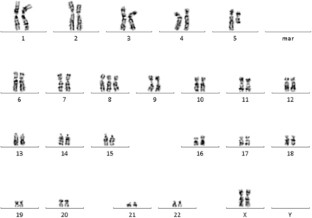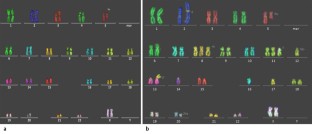 Literatur
1

Cancer Genome Atlas Research Network (2013) Genomic and epigenomic landscapes of adult de novo acute myeloid leukemia. N Engl J Med 368: 2059–2074

2

Cherry AM, Slovak ML, Campbell LJ, Chun K, Eclache V, Haase D, Haferlach C, Hildebrandt B, Iqbal AM, Jhanwar SC, Ohyashiki K, Sole F, Vandenberghe P, VanDyke DL, Zhang Y, Dewald GW (2012) Will a peripheral blood (PB) sample yield the same diagnostic and prognostic cytogenetic data as the concomitant bone marrow (BM) in myelodysplasia? Leuk Res 36:832–840

3

Gerlinger M, Rowan AJ, Horswell S, Larkin J, Endesfelder D, Gronroos E, Martinez P, Matthews N, Stewart A, Tarpey P, Varela I, Phillimore B, Begum S, McDonald NQ, Butler A, Jones D, Raine K, Latimer C, Santos CR, Nohadani M, Eklund AC, Spencer-Dene B, Clark G, Pickering L, Stamp G, Gore M, Szallasi Z, Downward J, Futreal PA, Swanton C (2012) Intratumor heterogeneity and branched evolution revealed by multiregion sequencing. N Engl J Med 366:883–892

4

Haferlach C, Rieder H, Lillington DM, Dastugue N, Hagemeijer A, Harbott J, Stilgenbauer S, Knuutila S, Johansson B, Fonatsch C (2007) Proposals for standardized protocols for cytogenetic analyses of acute leukemias, chronic lymphocytic leukemia, chronic myeloid leukemia, chronic myeloproliferative disorders, and myelodysplastic syndromes. Genes Chromosomes Cancer 46:494–499

5

Jacobs KB, Yeager M, Zhou W, Wacholder S, Wang Z et al. (2012) Detectable clonal mosaicism and its relationship to aging and cancer. Nat Genet 44:651–658

6

Johansson B, Billström R, Broberg K, Fioretos T, Nilsson PG, Ahlgren T, Malm C, Samuelsson BO, Mitelman F (1999) Cytogenetic polyclonality in hematologic malignancies. Genes Chromosomes Cancer 24:222–229

7

Kovitz C, Kantarjian H, Garcia-Manero G, Abruzzo LV, Cortes J (2006) Myelodysplastic syndromes and acute leukemia developing after imatinib mesylate therapy for chronic myeloid leukemia. Blood 1088:2811–2813

8

Nowell PC, Hungerford DA (1960) A minute chromosome in human granulocytic leukemia. Science 132:1497

9

Nowell PC (1976) The clonal evolution of tumor cell populations. Science 194:23–28

10

Shaffer LG, McGowan-Jordan J, Schmid M (2013) An international system for human cytogenetic nomenclature. Karger, Basel

11

Steidl C, Steffens R, Gassmann W, Hildebrandt B, Hilgers R, Germing U, Trumper L, Haase D (2005) Adequate cytogenetic examination in myelodysplastic syndromes: analysis of 529 patients. Leuk Res 29: 987–993

12

Vogelstein B, Papadopoulos N, Velculescu VE, Zhou S, Diaz LA Jr, Kinzler KW (2013) Cancer genome landscapes. Science 339:1546–1558

13

Wolff DJ, Bagg A, Cooley LD, Dewald GW, Hirsch BA, Jacky PB, Rao KW, Rao PN (2007) Guidance for fluorescence in situ hybridization testing in hematologic disorders. J Mol Diagn 9:134–143
Ethics declarations
Interessenkonflikt
C. Haferlach ist Mitinhaberin des Münchner Leukämielabors.
Alle beschriebenen Untersuchungen wurden mit Zustimmung der zuständigen Ethikkommision, im Einklang mit nationalem Recht sowie gemäß der Deklaration von Helsinki von 1975 (in der überarbeiteten Fassung) durchgeführt. Von allen beteiligten Patenten liegt eine Einverständniserklärung vor.
About this article
Cite this article
Haferlach, C. Mosaike in der Tumorzytogenetik. medgen 26, 324–329 (2014). https://doi.org/10.1007/s11825-014-0001-7
Schlüsselwörter
Chromosomenaberrationen

Genetische Heterogenität

Klonale Evolution

Fluoreszenz-in-situ-Hybridisierung

Chromosomenbandenaanalyse
Keywords
Chromosome aberrations

Genetic heterogeneity

Clonal evolution

In situ hybridization, fluorescence

Chromosome banding analysis