Zusammenfassung
Lange nichtkodierende RNAs (lncRNA) ergänzen die bisher bekannten Mechanismen und Möglichkeiten der Genregulation. lncRNAs beeinflussen auf transkriptioneller oder posttranskriptioneller Ebene – in Interaktion mit der Genomarchitektur – fundamentale biologische Prozesse, wie genomisches Imprinting, Histonmodifikationen, Genaktivierung oder -repression, die Determinierung von Gewebespezifitäten oder Zellproliferation. Die Assoziation von lncRNAs in der molekularen Pathogenese von klinisch apparenten Phänotypen wurde gezeigt und unterstreicht die Bedeutung der lncRNA-vermittelten Genregulation und jeglicher Veränderungen der regulativen Netzwerke im Nukleus. Aufgrund der gewebespezifischen lncRNA-Expression und der Zielgenspezifität stellen lncRNAs potenzielle Ziele für therapeutische Ansätze dar.
Abstract
Long non-coding RNAs (lncRNAs) expand our knowledge of transcriptional or posttranscriptional gene regulation. In interaction with the nuclear architecture, lncRNAs are involved in fundamental biological mechanisms, such as imprinting, histone code regulation, gene activation, gene repression, lineage determinations, and cell proliferation. Associations with apparent phenotypes have been attributed to lncRNAs. The involvement of lncRNA in gene regulation and disease underscores the importance of lncRNA-mediated regulatory networks. Manipulating lncRNAs is a conceivable therapeutic strategy because of their tissue-specific expression and their selective target genes.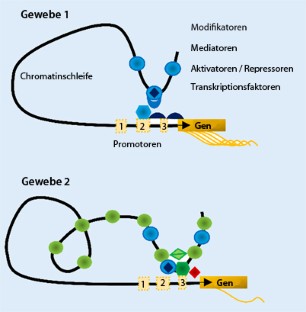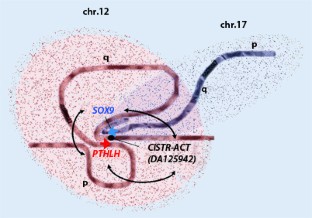 Literatur
1.

Batista PJ, Chang HY (2013) Long noncoding RNAs: cellular address codes in development and disease. Cell 152:1298–1307

2.

Brown CJ, Ballabio A, Rupert JL et al (1991) A gene from the region of the human X inactivation centre is expressed exclusively from the inactive X chromosome. Nature 349:38–44

3.

Cremer T, Cremer M (2010) Chromosome territories. Cold Spring Harb Perspect Biol 2:a003889

4.

Engreitz JM, Pandya-Jones A, McDonel P et al (2013) The Xist lncRNA exploits three-dimensional genome architecture to spread across the X chromosome. Science 341:1237973

5.

Fullwood MJ, Liu MH, Pan YF et al (2009) An oestrogen-receptor-alpha-bound human chromatin interactome. Nature 462:58–64

6.

Lieberman-Aiden E, Berkum NL van, Williams L et al (2009) Comprehensive mapping of long-range interactions reveals folding principles of the human genome. Science 326:289–293

7.

Maass PG, Rump A, Schulz H et al (2012) A misplaced lncRNA causes brachydactyly in humans. J Clin Invest 122:3990–4002

8.

Maher B (2012) ENCODE: the human encyclopaedia. Nature 489:46–48

9.

Memczak S, Jens M, Elefsinioti A et al (2013) Circular RNAs are a large class of animal RNAs with regulatory potency. Nature 495:333–338

10.

Rinn JL, Chang HY (2012) Genome regulation by long noncoding RNAs. Annu Rev Biochem 81:145–166

11.

Rinn JL, Kertesz M, Wang JK et al (2007) Functional demarcation of active and silent chromatin domains in human HOX loci by noncoding RNAs. Cell 129:1311–1323

12.

Wahlestedt C (2013) Targeting long non-coding RNA to therapeutically upregulate gene expression. Nat Rev Drug Discov 12:433–446
Einhaltung ethischer Richtlinien
Interessenkonflikt. P.G. Maass gibt an, dass kein Interessenkonflikt besteht.
Dieser Beitrag beinhaltet keine Studien an Menschen oder Tieren.
About this article
Cite this article
Maass, P. Lange nichtkodierende RNA (lncRNA). medgen 26, 5–10 (2014). https://doi.org/10.1007/s11825-013-0432-6
Schlüsselwörter
Genexpressionsregulation

Histoncode

Lange nichtkodierende RNA

Genom

Chromosomale Territorien
Keywords
Gene expression regulation

Histone code

Long noncoding RNA

Genome

Chromosomal territories