Zusammenfassung
Retinale Ionenkanalerkrankungen sind klinisch und genetisch sehr heterogen. Die bisher identifizierten krankheitsassoziierten Ionenkanäle umfassen zyklisch nukleotidgesteuerte (CNG-)Kanäle, spannungsgesteuerte Kalium- und Kalziumkanäle, einen einwärtsrektifizierenden Kaliumkanal, einen kalziumaktivierten Chloridkanal und den transienten Rezeptorpotenzialionenkanal TRPM1. Dieses breite Spektrum spiegelt sich auch in der resultierenden Pathophysiologie wieder. Mutationen in retinalen Ionenkanälen können die Detektion von Lichtreizen bzw. deren Umwandlung in ein elektrisches Signal oder die Weiterleitung des Signals von den Fotorezeptoren zu nachgeschalteten Neuronen beeinträchtigen. Einige Erkrankungen werden auch durch Mutationen in Ionenkanälen, die im retinalen Pigmentepithel lokalisiert sind, hervorgerufen. Dieses ist mit seinen unterstützenden Aufgaben für eine normale Netzhautfunktion essenziell.
Abstract
Retinal channelopathies are clinically and genetically heterogeneous, and are caused by mutations in genes for a variety of ion channels such as cyclic nucleotide-gated channels, voltage-gated potassium and calcium channels, an inwardly rectifying potassium channel, a calcium-dependent chloride channel and the TRPM1 channel. This broad spectrum of disease-associated ion channels is also reflected in the diversity of pathophysiological consequences. Mutations in retinal ion channels may affect phototransduction, thereby impairing the detection of light or interfere with the transmission of the stimulus from the photoreceptor to second-order neurons. Ion channels located in the retinal pigment epithelium, which supports normal retina function, can also be affected in some diseases.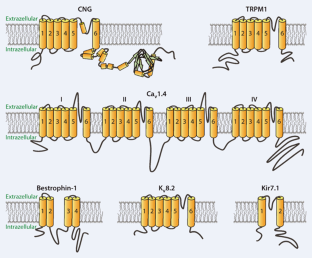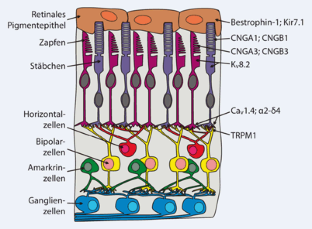 Literatur
1.

Glöckle N, Kohl S, Mohr J et al (2013) Panel-based next generation sequencing as a reliable and efficient technique to detect mutations in unselected patients with retinal dystrophies. Eur J Hum Genet doi:10.1038/ejhg.2013.72. (Epub ahead of print)

2.

Koeppen K, Reuter P, Kohl S et al (2008) Functional analysis of human CNGA3 mutations associated with colour blindness suggests impaired surface expression of channel mutants A3(R427C) and A3(R563C). Eur J Neurosci 27:2391–2401

3.

Wycisk KA, Budde B, Feil S et al (2006) Structural and functional abnormalities of retinal ribbon synapses due to Cacna2d4 mutation. Invest Ophthalmol Vis Sci 47:3523–3530

4.

Gómez NM, Tamm ER, Strauß O (2013) Role of bestrophin-1 in store-operated calcium entry in retinal pigment epithelium. Pflugers Arch 465:481–495

5.

Burgess R, Millar ID, Leroy BP et al (2008) Biallelic mutation of BEST1 causes a distinct retinopathy in humans. Am J Hum Genet 82:19–31

6.

Krapivinsky G, Medina I, Eng L et al (1998) A novel inward rectifier K + channel with unique pore properties. Neuron 20:995–1005

7.

Hejtmancik JF, Jiao X, Li A et al (2008) Mutations in KCNJ13 cause autosomal-dominant snowflake vitreoretinal degeneration. Am J Hum Genet 82:174–180

8.

Smith KE, Wilkie SE, Tebbs-Warner JT et al (2012) Functional analysis of missense mutations in Kv8.2 causing cone dystrophy with supernormal rod electroretinogram. J Biol Chem 287:43972–43983

9.

Michalakis S, Mühlfriedel R, Tanimoto N et al (2010) Restoration of cone vision in the CNGA3−/− mouse model of congenital complete lack of cone photoreceptor function. Mol Ther 18:2057–2063

10.

Koch S, Sothilingam V, Garcia Garrido M et al (2012) Gene therapy restores vision and delays degeneration in the CNGB1(−/−) mouse model of retinitis pigmentosa. Hum Mol Genet 21:4486–4496
Einhaltung ethischer Richtlinien
Interessenkonflikt. P. Reuter. S. Kohl, A. Bernd und B. Wissinger geben an, dass kein Interessenkonflikt besteht.
Dieser Beitrag beinhaltet keine Studien an Menschen oder Tieren.
About this article
Cite this article
Reuter, P., Kohl, S., Bernd, A. et al. Erbliche Ionenkanalerkrankungen der Netzhaut. medgen 25, 469–474 (2013). https://doi.org/10.1007/s11825-013-0422-8
Schlüsselwörter
Zyklisch nukleotidgesteuerte Kanäle

Humanes TRPM1-Protein

Chloridkanäle

Retinale Dystrophien

Ionenkanalerkrankungen
Keywords
Cyclic nucleotide-gated cation channels

TRPM1 protein, human

Chloride channels

Retinal dystrophies

Channelopathies