Zusammenfassung
Muskuläre Kanalopathien wie Myotonien, dyskaliämische periodische Paralysen (PP), maligne Hyperthermie (MH) und Core-Myopathien sind durch Mutationen in Na+-, K+-, Ca2+- und Cl−-Kanälen bedingt. Eine leichte Membrandepolarisation verursacht myotone Aktivität. Eine vermehrte Depolarisation kann die Über- in Untererregbarkeit umkehren und eine transiente Schwäche hervorrufen. Eine länger anhaltende Depolarisation der Plasma- und T-tubulären Membran ist für die dominanten dyskaliämischen PP die gemeinsame Basis der Schwäche. Der Kaliumspiegel im Serum beeinflusst das Ruhemembranpotenzial, weshalb Abweichungen vom physiologischen Bereich (z. B. durch Schilddrüsendysfunktion) Membrandepolarisation und Muskelschwäche begünstigen. Bei der Anlage zu MH, einer potenziell lebensbedrohlichen hypermetabolen Krise, erhöhen dominante Mutationen im zytoplasmatischen Teil des Ca2+-Freisetzungskanals des sarkoplasmatischen Retikulums die Empfindlichkeit für volatile Anästhetika. Dagegen führen dominante oder rezessive Mutationen im sarkoplasmatischen Teil zur Entleerung der Ca2+-Speicher und so zu Schwäche und Core-Myopathie.
Abstract
Muscular channelopathies such as myotonias, dyskalemic periodic paralyses (PP), malignant hyperthermia (MH), and core myopathies are caused by mutations of Na+, K+, Ca2+, and Cl− channels. Mild depolarization leads to myotonic activity. Augmented membrane depolarization can convert hyperexcitability into hypoexcitability and cause transient muscle weakness. Sustained depolarization of the plasmalemma and the t-tubular membrane is the common basis of the muscle weakness in the dominant dyskalemic PP. Serum potassium levels modulate the resting membrane potential, whereby deviations from the physiological range, e.g., by thyroid dysfunction, exacerbate membrane depolarization, and weakness. Susceptibility to MH, a potentially life-threatening hypermetabolic event, is mediated by dominant mutations which are situated in the cytoplasmic part of the Ca2+ release channel of the sarcoplasmic reticulum and increase the sensitivity to volatile anesthetics. Dominant or recessive mutations located in the sarcoplasmic part of the channel deplete the Ca2+ stores and lead to weakness and finally to a core myopathy.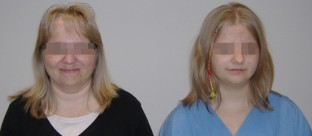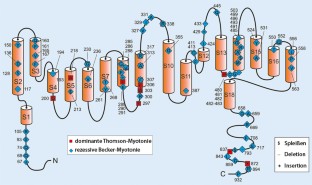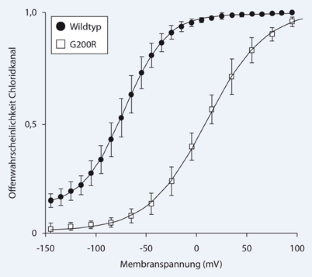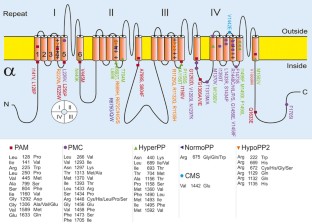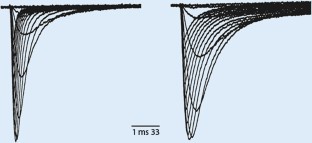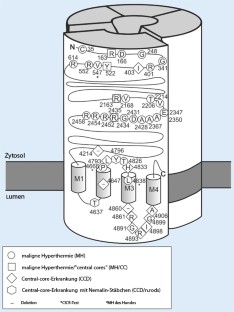 Literatur
1.

Fuhr P, Jurkat-Rott K, Lehmann-Horn F et al (2012) Myotone Dystrophien, nichtdystrophe Myotonien und periodische Lähmungen. In: Diener HC, Weimar C (Hrsg) Leitlinien für Diagnostik und Therapie in der Neurologie, 5. Aufl. Thieme, Stuttgart, S 810–817

2.

Jurkat-Rott K, Lehmann-Horn F (2005) Muscle channelopathies and critical points in functional and genetic studies. J Clin Invest 115:2000–2009

3.

Jurkat-Rott K, Weber MA, Fauler M et al (2009) K+ -dependent paradoxical membrane depolarization and Na+ overload, major and reversible contributors to weakness by ion channel leaks. Proc Natl Acad Sci U S A 106:4036–4041

4.

Kuzmenkin A, Jurkat-Rott K, Lehmann-Horn F, Mitrovic N (2003) Impaired slow inactivation due to a benign polymorphism and substitutions of Ser-906 in the II-III loop of the human Nav1.4 channel. Pflügers Arch 447:71–77

5.

Lehmann-Horn F, Rüdel R, Jurkat-Rott K (2004) Nondystrophic myotonias and periodic paralyses. In: Engel AG, Franzini-Armstrong C (Hrsg) Myology, 3. Aufl., Kapitel 46, McGraw-Hill New York, S 1257–1300

6.

Lehmann-Horn F, Rüdel R, Jurkat-Rott K (2013) Hereditary muscle channelopathies. In: Rimoin DL, Pyeritz RE, Korf BR (Hrsg) Rimoin's principles and practice of medical genetics, 6. Aufl., Kapitel 129, Elsevier, Oxford, S 1–17

7.

Lehmann-Horn F, Orth M, Kuhn M, Jurkat-Rott K (2011) A novel N440K sodium channel mutation causes myotonia with exercise-induced weakness – exclusion of CLCN1 exon deletion/duplication by MLPA. Acta Myol 30:133–137

8.

Robinson R, Carpenter D, Shaw MA et al (2006) Mutations in RYR1 in malignant hyperthermia and central core disease. Hum Mutat 27:977–989

9.

Zhou H, Brockington M, Jungbluth H et al (2006) Epigenetic allele silencing unveils recessive RYR1 mutations in core myopathies. Am J Hum Genet 79:859–868

10.

Zullo A, Klingler W, De Sarno C et al (2009) Functional characterization of ryanodine receptor (RYR1) sequence variants using a metabolic assay in immortalized B-lymphocytes. Hum Mutat 30:E575–E590
Einhaltung ethischer Richtlinien
Interessenkonflikt. F. L.-H. und K. J.-R. werden durch die gemeinnützige Else-Kröner-Fresenius-Stiftung, die Deutsche Gesellschaft für Muskelkranke (DGM) und das Bundesministerium für Bildung und Forschung (IonoNeurONet des Programms für seltene Erkrankungen) unterstützt. F. L.-H. ist Seniorforschungsprofessor der gemeinnützigen Hertie-Stiftung.
Alle Patienten, die über Bildmaterial oder anderweitige Angaben innerhalb des Manuskripts zu identifizieren sind, haben hierzu ihre schriftliche Einwilligung gegeben. Im Falle von nicht mündigen Patienten liegt die Einwilligung eines Erziehungsberechtigen oder des gesetzlich bestellten Betreuers vor.
Dieser Beitrag beinhaltet keine Studien an Menschen oder Tieren.
About this article
Cite this article
Lehmann-Horn, F., Jurkat-Rott, K. Monogene Ionenkanalerkrankungen der Skelettmuskulatur. medgen 25, 454–461 (2013). https://doi.org/10.1007/s11825-013-0419-3
Schlüsselwörter
Muskelerkrankungen

Myotonie

Paralyse

Maligne Hyperthermie

Myopathien
Keywords
Muscular diseases

Myotonia

Paralysis

Malignant hyperthermia

Myopathies