Zusammenfassung
Durch die Identifizierung von Taubheitsgenen konnten die molekularen Mechanismen der am Hörvorgang beteiligten Ionentransportprozesse im Innenohr in den vergangenen Jahren weitgehend aufgeklärt werden. Ihren Ausgang nimmt die Signaltransduktion am Trommelfell, das durch Schallwellen in Bewegung gesetzt wird. Diese Bewegungen werden über die Gehörknöchel in Form von Flüssigkeitsbewegungen an das Innenohr übertragen. Dadurch kommt es zur lokalen Auslenkung der Stereozilien der Haarzellen. Die Folge ist das Öffnen mechanosensitiver Ionenkanäle in den Stereozilien. Da diese in die mit Endolymphe gefüllte Scala media ragen, kommt es aufgrund der hohen Kaliumkonzentration der Endolymphe zu einem Kaliumeinstrom und zur Depolarisation der Haarzellen. Infolgedessen wird Transmitter ausgeschüttet, wodurch postsynaptisch elektrische Signale generiert werden, die über den Hörnerv weitergeleitet werden. Der für den Hörvorgang ausschlaggebende Ionengradient zwischen Haarzellen und Endolymphe wird durch die Stria vascularis, ein hochspezialisiertes Epithel in der lateralen Wand der Scala media, generiert.
Abstract
The identification of deafness genes helped to unravel the molecular mechanisms of ion movements that underlie the hearing process in the inner ear. Sound waves cause movements of the tympanic membrane that are transmitted as fluid movements to the inner ear by the middle ear bones. The sound-induced movements deflect hair cell stereocilia, which are bathed in endolymph. These movements cause the opening of mechanosensitive ion channels. Because of the high potassium concentration of the endolymph, potassium floods into the hair cells, which then depolarize. This results in transmitter release and the generation of postsynaptic electrical signals which are transmitted via the cochlear nerve. The unique ion gradient between hair cells and the endolymph is generated by a highly specialized epithelium in the lateral wall of the scala media, the stria vascularis.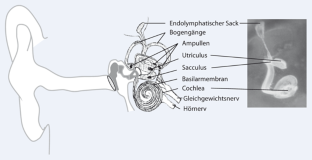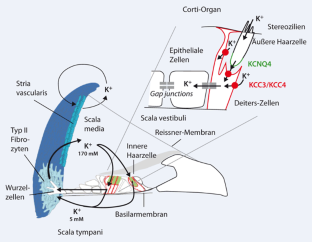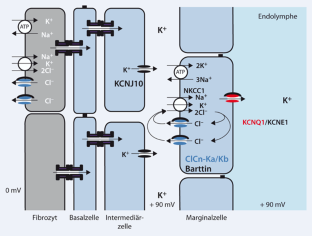 Literatur
1.

Hennings JC, Picard N, Huebner AK et al (2012) A mouse model for distal renal tubular acidosis reveals a previously unrecognized role of the V-ATPase a4 subunit in the proximal tubule. EMBO Mol Med 4:1057–1057

2.

Hübner CA, Jentsch TJ (2002) Ion channel diseases. Hum Mol Genet 11:2435–2445

3.

Hübner CA, Rust MB (2007) Physiology of cation chloride co-transporters. In: Pusch M (Hrsg) Advances in molecular and cell biology. Elsevier, London, S 241–277

4.

Kikuchi T, Adams JC, Miyabe Y et al (2000) Potassium ion recycling pathway via gap junction systems in the mammalian cochlea and its interruption in hereditary nonsyndromic deafness. Med Electron Microsc 33:51–56

5.

Kubisch C (2005) Genetische Grundlagen nichtsyndromaler Hörstörung. Dtsch Ärztebl 102:A2946–A2953

6.

Scott CA, Kelsell DP (2011) Key functions of gap junctions in skin and hearing. Biochem J 438:245–254

7.

Sidi S, Friedrich RW, Nicolson T (2003) NompC TRP channel required for vertebrate sensory hair cell mechanotransduction. Science 301:96–99

8.

Wangemann P (2011) The role of pendrin in the development of the murine inner ear. Cell Physiol Biochem 28:527–534

9.

Zdebik AA, Wangemann P, Jentsch TJ (2009) Potassium ion movement in the inner ear: insights from genetic disease and mouse models. Physiology 24:307–316
Einhaltung ethischer Richtlinien
Interessenkonflikt. A.K. Huebner und C.A. Hübner geben an, dass kein Interessenkonflikt besteht.
Dieser Beitrag beinhaltet keine Studien an Menschen oder Tieren.
About this article
Cite this article
Huebner, A., Hübner, C. Ionentransport und Taubheit. medgen 25, 475–479 (2013). https://doi.org/10.1007/s11825-013-0416-6
Schlüsselwörter
Hören

Ionenkanäle

Innenohr

Signaltransduktion

Kalium-Recycling
Keywords
Hearing

Ion channels

Ear, inner

Signal transduction

Potassium recycling