Zusammenfassung
Es werden wichtige Probleme in der Diagnostik bei Patienten mit Arthrogryposis dargestellt und Definitionen eingeführt. Danach werden praktische Ansätze für die Diagnostik und humangenetische Betreuung vorgeschlagen.
Abstract
In the present article, important challenges in the diagnosis of patients with unexplained arthrogryposis are presented. After explanation of definitions, practical strategies concerning diagnostics and counseling for clinical and molecular geneticists are suggested.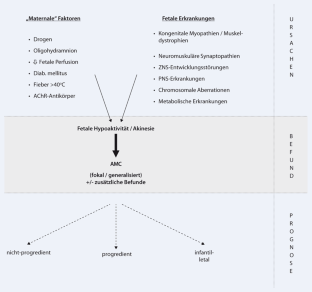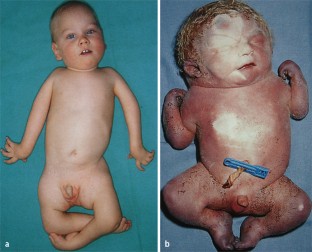 Literatur
1.

Abicht A, Dusl M, Gallenmüller C et al (2012) Congenital myasthenic syndromes: achievements and limitations of phenotype-guided gene-after-gene sequencing in diagnostic practice: a study of 680 patients. Hum Mutat 33:1474–1484

2.

Clement EM, Feng L, Mein R et al (2012) Relative frequency of congenital muscular dystrophy subtypes: analysis of the UK diagnostic service 2001–2008. Neuromuscul Disord 22:522–527

3.

Filges I, Hall JG (2013) Failure to identify antenatal multiple congenital contractures and fetal akinesia – proposal of guidelines to improve diagnosis. Prenat Diag 33:61–74

4.

Hall JG (2013) Chapter 161 – Arthogryposes (Multiple Congenital Contractures). In: Rimoin DL, Pyeritz RE, Korf BR (Hrsg) Emery and Rimoin's principles and practice of medical genetics, 6 Aufl. Academic Press, Amsterdam, S 1–101

5.

Kimber E, Tajsharghi H, Kroksmark A-K et al (2012) Distal arthrogryposis: clinical and genetic findings. Acta Paediat 101:877–887

6.

Lorenzoni PJ, Scola RH, Kay CS, Werneck LC (2012) Congenital myasthenic syndrome: a brief review. Pediatr Neurol 46:141–148

7.

Maggi L, Scoto M, Cirak S et al (2013) Congenital myopathies – clinical features and frequency of individual subtypes diagnosed over a 5-year period in the United Kingdom. Neuromuscul Disord 23:195–205

8.

Ravenscroft G, Sollis E, Charles AK et al (2011) Fetal akinesia: review of the genetics of the neuromuscular causes. J Med Genet 48:793–801

9.

Vincent A, Waters P, Leite MI et al (2012) Antibodies identified by cell-based assays in myasthenia gravis and associated diseases. Ann N Y Acad Sci 1274:92–98

10.

Vogt J, Morgan NV, Rehal P et al (2012) CHNRG genotype-phenotype correlations in the multiple pterygium syndromes. J Med Genet 49:21–26

11.

Kunze (2010) Wiedemanns Atlas der klinischen Syndrome, 6. Aufl., Schattauer, Stuttgart
Danksagung
R. Heller und K. Hoffmann danken den Gutachtern sowie Herrn Prof. Dr. Kunze für die freundliche Bereitstellung von Abb. 2 und Frau Prof. Dr. Wirth und Frau Dipl.-Übers. Boß für konstruktive Verbesserungsvorschläge.
Einhaltung ethischer Richtlinien
Interessenkonflikt. K. Hoffmann gibt an, dass kein Interessenkonflikt besteht. R. Heller wird teilweise durch das European Community's Seventh Framework Program FP7/2007–2013, "grant agreement" 2012-305121 ("project acronym" NeurOmics) finanziert und ist seit dem 12.05.2013 wissenschaftlicher Beirat der IGA.
Alle Patienten, die über Bildmaterial oder anderweitige Angaben innerhalb des Manuskripts zu identifizieren sind, haben hierzu ihre schriftliche Einwilligung gegeben. Im Falle von nicht mündigen Patienten liegt die Einwilligung eines Erziehungsberechtigen oder des gesetzlich bestellten Betreuers vor.
Dieser Beitrag beinhaltet keine Studien an Menschen oder Tieren.
About this article
Cite this article
Heller, R., Hoffmann, K. Genetische Diagnostik und Beratung bei Arthrogryposis. medgen 25, 358–364 (2013). https://doi.org/10.1007/s11825-013-0411-y
Schlüsselwörter
Arthrogryposis multiplex congenita

Fetale Akinesie-Deformationssequenz

Neuromuskuläre Erkrankungen

Stufendiagnostik

Genpanel
Keywords
Arthrogryposis multiplex congenita

Fetal akinesia deformation sequence

Neuromuscular disorders

Tiered diagnostic approach

Gene panel