Zusammenfassung
Auch wenn die Liste der Paraplegiegenorte schon vor der Ära des Next-Generation-Sequencing (NGS) umfangreich war, ist die Zahl der unlängst entdeckten neuen Paraplegiegene kaum noch zu übersehen. Derzeit sind 52  Genorte für die hereditären spastischen Spinalparalysen (HSP) vergeben und dabei 35 HSP-Gene identifiziert worden. Aufgrund der großen phänotypischen Überschneidung zwischen vielen HSP-Formen ist eine klinisch geführte Diagnostik oft nicht zielführend. Mit Abstand die häufigste Form der HSP ist die spastische Paraplegie 4 (SPG4) mit SPAST-Mutationen, die sowohl bei dominanten als auch bei scheinbar sporadischen HSP-Formen nachgewiesen werden. Hier reicht eine Gensequenzierung zur Diagnostik nicht aus, da in 10–20 % der SPG4-Fälle eine Deletion ganzer Exons vorliegt. Eine Bestimmung seltenerer HSP-Formen gelingt am effizientesten durch NGS-basierte Paneldiagnostik oder "whole exome sequencing" (WES).
Abstract
Even before the advent of next generation sequencing (NGS), multiple loci for hereditary spastic paraplegias (HSPs) had already been identified. In the last 2 years, dozens of new disease genes have been added, accounting for a total of 52 established HSP loci and 35 known HSP disease genes. With overlapping phenotypes for distinct genetic entities, the clinical diagnosis is often demanding and high-throughput genetic testing has to parallel a diagnostic workflow. Notwithstanding this aspect, spastin (SPAST) mutations evidently constitute the most important genetic cause in autosomal dominant paraplegia 4 (SPG4). Recently, large studies established that SPAST mutations are even causative in roughly 10 % of sporadic HSP patients. In this review, we suggest a diagnostic routine for HSP and elaborate on how detailed phenotyping and extensive genotyping will assist in the diagnosis of many more HSP subtypes. This ultimately will set a basis for selective clinical observations and therapy development.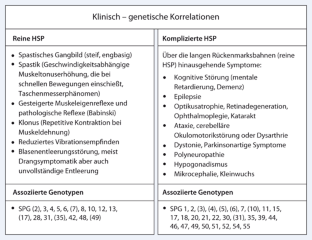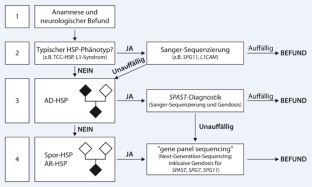 Literatur
1.

Hazan J, Fonknechten N, Mavel D et al (1999) Spastin, a new AAA protein, is altered in the most frequent form of autosomal dominant spastic paraplegia. Nat Genet 23:296–303

2.

Salinas S, Proukakis C, Crosby A, Warner TT (2008) Hereditary spastic paraplegia: clinical features and pathogenetic mechanisms. Lancet Neurol 7:1127–1138

3.

Schule R, Schols L (2011) Genetics of hereditary spastic paraplegias. Semin Neurol 31:484–493

4.

Beetz C, Nygren AO, Schickel J et al (2006) High frequency of partial SPAST deletions in autosomal dominant hereditary spastic paraplegia. Neurology 67:1926–1930

5.

Gassen KL van, Heijden CD van der, Bot ST de et al (2012) Genotype-phenotype correlations in spastic paraplegia type 7: a study in a large Dutch cohort. Brain 135:2994–3004

6.

Stevanin G, Azzedine H, Denora P et al (2008) Mutations in SPG11 are frequent in autosomal recessive spastic paraplegia with thin corpus callosum, cognitive decline and lower motor neuron degeneration. Brain 131:772–784

7.

GeneTests Medical Genetics Information Resource (database online). Copyright, University of Washington, Seattle. 1993–2013. http://www.genetests.org. Zugegriffen: 24. Feb. 2013

8.

Fokkema IF, Taschner PE, Schaafsma GC et al (2011) LOVD v.2.0: the next generation in gene variant databases. Hum Mutat 32:557–563
Interessenkonflik
Der korrespondierende Autor gibt für sich und seine Koautoren an, dass kein Interessenkonflikt besteht.
About this article
Cite this article
Schöls, L., Schlipf, N., Söhn, A. et al. Klinik und Genetik der spastischen Spinalparalysen. medgen 25, 249–257 (2013). https://doi.org/10.1007/s11825-013-0393-9
Schlüsselwörter
Angeborene genetische Erkrankungen

Neurologie

Differenzialdiagnose

Mutation

DNA-Sequenzanalyse
Keywords
Genetic diseases, inborn

Neurology

Differential diagnosis

Mutation

Sequence analysis, DNA