Zusammenfassung
Das Cockayne-Syndrom (CS) ist eine seltene, autosomal-rezessive Erkrankung, charakterisiert durch vorzeitige Alterungssymptomatik mit Degeneration des zentralen Nervensystems, Verlust des subkutanen Fettgewebes und Kachexie. Auslöser dieser Erkrankung sind autosomal-rezessiv vererbte Mutationen im CSA- und CSB-Gen. Im Zellkern sind das CSA- und das CSB-Protein sowohl an der DNA-Reparatur als auch der Transkription beteiligt. Außerhalb des Zellkerns schützen die CS-Proteine im Mitochondrium vor oxidativ induzierten mitochondrialen (mt) DNA-Schäden und spielen somit möglicherweise eine wichtige Rolle beim altersbedingten Verlust des subkutanen Fettgewebes. Damit ist das CS nicht nur wichtig als Modellerkrankung zur Untersuchung molekularer Mechanismen der DNA-Reparatur, sondern auch für das Verständnis der Ursachen des Alterungsprozesses.
Abstract
Cockayne syndrome (CS) is a rare autosomal recessive disease characterized by progeria, degeneration of the central nervous system, loss of subcutaneous fat and cachexia. The condition is caused by autosomal recessive mutations in the CSA and CSB genes. Within the nucleus, the CSA and CSB proteins are involved in DNA nucleotide excision repair and transcription. Outside the nucleus, CS proteins function in the protection of mitochondrial (mt) DNA from oxidative damage and may therefore play an important role in the aging-associated loss of subcutaneous fat tissue. CS is thus not only an important model disease for studying the effects of defective DNA repair mechanisms, but also for the furthered understanding of the aging process.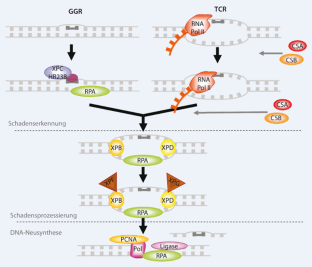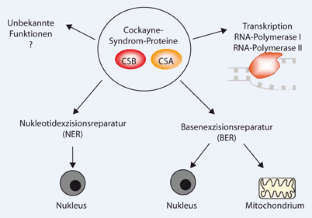 Literatur
1.

Berneburg M, Kamenisch Y, Krutmann J (2006) Repair of mitochondrial DNA in aging and carcinogenesis. Photochem Photobiol Sci 5:190–198

2.

Berneburg M, Krutmann J (2000) Photoimmunology, DNA repair and photocarcinogenesis. J Photochem Photobiol B 54:87–93

3.

Berneburg M, Lehmann AR (2001) Xeroderma pigmentosum and related disorders: defects in DNA repair and transcription. Adv Genet 43:71–102

4.

Kamenisch Y, Berneburg M (2009) Progeroid syndromes and UV-induced oxidative DNA damage. J Investig Dermatol Symp Proc 14:8–14

5.

Kamenisch Y, Fousteri M, Knoch J et al (2010) Proteins of nucleotide and base excision repair pathways interact in mitochondria to protect from loss of subcutaneous fat, a hallmark of aging. J Exp Med 207:379–390

6.

Knoch J, Kamenisch Y, Kubisch C, Berneburg M (2012) Rare hereditary diseases with defects in DNA-repair. Eur J Dermatol 22:443–455

7.

Lombard DB, Chua KF, Mostoslavsky R et al (2005) DNA repair, genome stability, and aging. Cell 120:497–512

8.

Nouspikel T (2009) DNA repair in mammalian cells: Nucleotide excision repair: variations on versatility. Cell Mol Life Sci 6:994–1009

9.

McCullough AK, Dodson ML, Lloyd RS (1999) Initiation of base excision repair: glycosylase mechanisms and structures. Annu Rev Biochem 68:255–285
Interessenkonflikt
Keine Angaben.
About this article
Cite this article
Kamenisch, Y., Berneburg, M. Cockayne-Syndrom. medgen 24, 268–272 (2012). https://doi.org/10.1007/s11825-012-0364-6
Schlüsselwörter
DNA-Reparatur-Erkrankungen

Progerie

DNA-Schäden

Kachexie

Alterung
Keywords
DNA repair-deficiency disorders

Progeria

DNA damage

Cachexia

Aging