Zusammenfassung
Schwere kongenitale Lipodystrophie, progeroide Fazies und variable Symptome eines Marfan-Syndroms stellen eine eigene Entität dar, nämlich eine Sonderform des Marfan-Syndroms mit einer trunkierenden Mutation am 3'-Ende des Fibrillin-1-Gens im vorletzten und letzten kodierenden Exon. Das mutierte Protein entgeht hochwahrscheinlich dem "nonsense mediated decay" (NMD) und ruft dadurch offenbar diesen speziellen Phänotyp hervor. Es sind bislang erst 5 Fälle mit diesem Krankheitsbild publiziert worden; bei 3 dieser Patienten wurde das Krankheitsbild bisher molekulargenetisch bestätigt. Bei folgenden klinischen Zeichen sollte diese Diagnose berücksichtigt und abgeklärt werden: intrauterine Wachstumsretardierung, progeroide Fazies schon bei Geburt, vermindertes subkutanes Fettgewebe und variable Zeichen eines Marfan-Syndroms.
Abstract
Severe congenital lipodystrophy, progeroid facies and additional variable features of Marfan syndrome represent a unique entity: a Marfan syndrome variant caused by a truncating mutation at the 3' end of the fibrillin 1 gene in the penultimate and final coding exons. It is highly likely that the mutant protein avoids nonsense mediated decay (NMD) and thus gives rise to this special phenotype. Only five cases of this pattern of symptoms have been published to date; in three instances the diagnosis was confirmed by molecular genetics. The following clinical features require that this diagnosis be considered and clarified: retarded intrauterine growth, progeroid facies at birth, reduced levels of subcutaneous fat and other variable features of Marfan syndrome.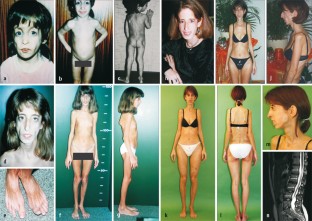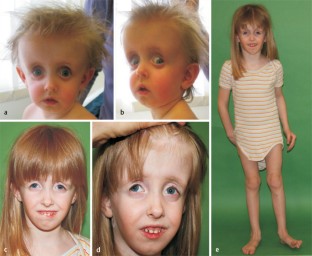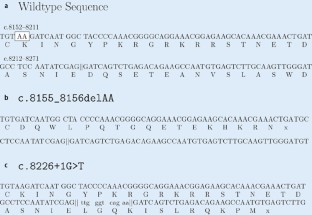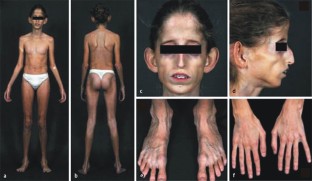 Literatur
1.

Goldblatt J, Hyatt J, Edwards C et al (2011) Further evidence for a marfanoid syndrome with neonatal progeroid features and severe generalized lipodystrophy due to frameshift mutations near the 3' end of the FBN1 gene. Am J Med Genet A 155A(4):717–720

2.

Graul-Neumann LM, Kienitz T, Robinson PN et al (2010) Marfan syndrome with neonatal progeroid syndrome-like lipodystrophy associated with a novel frameshift mutation at the 3' terminus of the FBN1-gene. Am J Med Genet Part A 152A:2749–2755

3.

Horn D, Robinson PN (2011) Progeroid facial features and lipodystrophy associated with a novel splice site mutation in the final intron of the FBN1 gene. Am J Med Genet A 155A(4):721–724

4.

O'Neill B, Simha V, Kotha V (2007) Body fat distribution and metabolic variables in patients with neonatal progeroid syndrome. Am J Med Genet Part A 143A:1421–1430

5.

Petruschke T, Rohrig K, Hauner H (1994) Transforming growth factor beta (TGF-beta) inhibits the differentiation of human adipocyte precursor cells in primary culture. Int J Obes Relat Metab Disord 18:532–536
Interessenkonflikt
Der korrespondierende Autor gibt für sich und seine Koautoren an, dass kein Interessenkonflikt besteht.
About this article
Cite this article
Graul-Neumann, L., Hoffmann, K., Robinson, P. et al. Progeroide Variante eines Marfan-Syndroms. medgen 24, 279–283 (2012). https://doi.org/10.1007/s11825-012-0361-9
Schlüsselwörter
Progerie

Progeroides Marfan-Syndrom

Neonatales Progeroidsyndrom

Lipodystrophie

FBN1-Protein, humanes
Keywords
Progeria

Progeroid Marfan syndrome

Neonatal progeroid syndrome

Lipodystrophy

FBN1 protein, human