Zusammenfassung
Das Werner-Syndrom ist eine segmental progeroide Erkrankung mit Beginn in der Adoleszenz oder im frühen Erwachsenenalter. Typische Symptome, die zum vorgealterten Phänotyp beitragen, sind ein postpubertär auftretender Kleinwuchs, Katarakte, eine vorzeitige Ergrauung/Ausdünnung des Haupthaars, sklerodermieähnliche Hautveränderungen und eine regionale Atrophie des subkutanen Fettgewebes. Darüber hinaus kommt es früh und gehäuft zu "Alterserkrankungen" wie z. B. einem Diabetes mellitus Typ 2, einer Osteoporose, einer Atherosklerose sowie verschiedenen malignen Tumoren. Das Werner-Syndrom wird autosomal-rezessiv vererbt und ist durch Mutationen im Werner-Gen (WRN) bedingt. Es wurden bis heute mehr als 70 über das gesamte Gen verteilte Mutationen identifiziert, die typischerweise zu einem Verlust der Genfunktion führen. WRN kodiert für eine RecQ-Typ-Helikase, die u. a. an der DNA-Reparatur und der Aufrechterhaltung der DNA-Integrität beteiligt ist, was sich in einer erhöhten genetischen Instabilität in Patientenzellen widerspiegelt. Trotz der relativen Seltenheit ist die Analyse des Werner-Syndroms von allgemeiner Bedeutung, um die Rolle der DNA-Stabilität und Integrität für das Altern sowie die Entwicklung altersassoziierter Erkrankungen besser zu verstehen.
Abstract
Werner syndrome is a segmental progeroid disorder with onset in adolescence or early adulthood. Typical symptoms contributing to patients' prematurely aged appearance include postpubertal development of short stature, cataracts, premature greying/thinning of scalp hair, scleroderma-like skin changes and regional atrophy of subcutaneous fat tissue. In addition, an increased rate and early onset of typical age-related diseases such as type 2 diabetes mellitus, osteoporosis, atherosclerosis, and various malignancies is observed. Werner syndrome is autosomal recessively inherited and caused by mutations in the Werner gene (WRN). To date, more than 70 WRN mutations have been identified. These are spread over the entire gene and typically represent loss of function mutations. WRN encodes a RecQ type helicase involved in DNA repair and the maintenance of DNA integrity, which is reflected by an increased genetic instability in patient cells. Despite the relative rarity of Werner syndrome, its analysis provides important general insights into the roles of DNA stability and integrity for the ageing process and the development of age-associated diseases.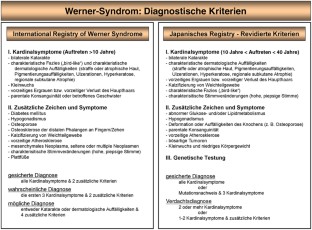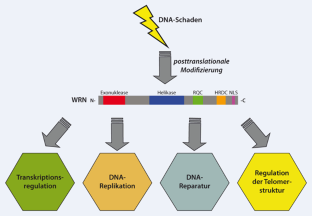 Literatur
1.

Chen L, Lee L, Kudlow BA et al (2003) LMNA mutations in atypical Werner's syndrome. Lancet 362:440–445

2.

Dreesen O, Stewart CL (2011) Accelerated aging syndromes, are they relevant to normal human aging? Aging (Albany NY) 3:889–895

3.

Epstein CJ, Martin GM, Motulsky AG (1965) Werner's syndrome; caricature of aging. A genetic model for the study of degenerative diseases. Trans Assoc Am Physicians 78:73–81

4.

Epstein CJ, Martin GM, Schultz AL, Motulsky AG (1966) Werner's syndrome a review of its symptomatology, natural history, pathologic features, genetics and relationship to the natural aging process. Medicine (Baltimore) 45:177–221

5.

Friedrich K, Lee L, Leistritz DF et al (2010) WRN mutations in Werner syndrome patients: genomic rearrangements, unusual intronic mutations and ethnic-specific alterations. Hum Genet 128:103–111

6.

Goto M, Matsuura M (2008) Secular trends towards delayed onsets of pathologies and prolonged longevities in Japanese patients with Werner syndrome. Biosci Trends 2:81–87

7.

Goto M, Miller RW, Ishikawa Y, Sugano H (1996) Excess of rare cancers in Werner syndrome (adult progeria). Cancer Epidemiol Biomarkers Prev 5:239–246

8.

Hisama FM, Bohr VA, Oshima J (2006) WRN's tenth anniversary. Sci Aging Knowledge Environ 10:pe18

9.

Hisama FM, Kubisch C, Martin GM, Oshima J (2012) Clinical utility gene card for: Werner syndrome. Eur J Hum Genet 20(5)

10.

Hisama FM, Lessel D, Leistritz D et al (2011) Coronary artery disease in a Werner syndrome-like form of progeria characterized by low levels of progerin, a splice variant of lamin A. Am J Med Genet 155A:3002–3006

11.

Kudlow BA, Kennedy BK, Monnat RJ Jr (2007) Werner and Hutchinson-Gilford progeria syndromes: mechanistic basis of human progeroid diseases. Nat Rev Mol Cell Biol 8:394–404

12.

Kyng KJ, May A, Kølvraa S, Bohr VA (2003) Gene expression profiling in Werner syndrome closely resembles that of normal aging. Proc Natl Acad Sci U S A 100:12259–12264

13.

Martin GM (2005) Genetic modulation of senescent phenotypes in Homo sapiens. Cell 120:523–532

14.

Martin GM, Oshima J, Gray MD, Poot M (1999) What geriatricians should know about the Werner syndrome. J Am Geriatr Soc 47:1136–1144

15.

Masala MV, Scapaticci S, Olivieri C et al (2007) Epidemiology and clinical aspects of Werner's syndrome in North Sardinia: description of a cluster. Eur J Dermatol 17:213–216

16.

Monnat RJ Jr (2010) Human RECQ helicases: roles in DNA metabolism, mutagenesis and cancer biology. Semin Cancer Biol 20:329–339

17.

Muftuoglu M, Oshima J, Kobbe C von et al (2008) The clinical characteristics of Werner syndrome: molecular and biochemical diagnosis. Hum Genet 124:369–377

18.

Oshima J, Martin GM, Hisama FM (2012) Werner Syndrome. In: Pagon RA, Bird TD, Dolan CR et al (Hrsg) GeneReviews™ [Internet]. Seattle (WA): University of Washington, Seattle; 1993–2012 (updated 2012 Feb 09)

19.

Pichierri P, Ammazzalorso F, Bignami M, Franchitto A (2011) The Werner syndrome protein: linking the replication checkpoint response to genome stability. Aging (Albany NY) 3:311–318

20.

Rossi ML, Ghosh AK, Bohr VA (2010) Roles of Werner syndrome protein in protection of genome integrity. DNA Repair (Amst) 9:331–344

21.

Saha B, Lessel D, Hisama FM et al (2010) A novel LMNA mutation causes altered nuclear morphology and symptoms of familial partial lipodystrophy (Dunnigan Variety) with progeroid features. Mol Syndromol 1(3):127–132

22.

Salk D, Au K, Hoehn H, Martin GM (1985) Cytogenetic aspects of Werner syndrome. Adv Exp Med Biol 190:541–546

23.

Satoh M, Imai M, Sugimoto M et al (1999) Prevalence of Werner's syndrome heterozygotes in Japan. Lancet 353:1766

24.

Takemoto M, Mori S, Kuzuya M et al (2012) Diagnostic criteria for Werner syndrome based on Japanese nationwide epidemiological survey. Geriatr Gerontol Int, doi:10.1111/j.1447-0594.2012.00913.x. [Epub ahead of print]

25.

Yu CE, Oshima J, Fu YH et al (1996) Positional cloning of the Werner's syndrome gene. Science 272:258–262
Interessenkonflikt
Der korrespondierende Autor gibt für sich und seine Koautoren an, dass kein Interessenkonflikt besteht.
About this article
Cite this article
Lessel, D., Oshima, J. & Kubisch, C. Werner-Syndrom. medgen 24, 262–267 (2012). https://doi.org/10.1007/s11825-012-0360-x
Schlüsselwörter
Werner-Syndrom

Progerie

RecQ-Helikase

DNA-Reparatur

Genomische Instabilität
Keywords
Werner syndrome

Progeria

RecQ helicase

DNA repair

Genomic instability