Zusammenfassung
Das Seckel-Syndrom ist eine autosomal-rezessiv vererbte Erkrankung, die durch einen proportionalen, bereits bei Geburt vorhandenen Kleinwuchs, eine ausgeprägte Mikrozephalie sowie charakteristische kraniofaziale Dysmorphien gekennzeichnet ist. Patienten mit Seckel-Syndrom zeigen zusätzlich eine geistige Behinderung, und bei einigen Patienten kommt es zum frühzeitigen Auftreten altersabhängiger Erkrankungen. Genetisch betrachtet stellt das Seckel-Syndrom eine heterogene Erkrankung dar, für die in den letzten Jahren mehrere kausale Gene identifiziert werden konnten. Diese spielen auf zellulärer Ebene sowohl bei Vorgängen der Zellteilung als auch bei der Aktivierung von Schutzmechanismen nach DNA-Schädigungen eine wichtige Rolle.
Abstract
Seckel syndrome is an autosomal recessive disorder characterized by proportionately short stature, severe microcephaly, mental retardation and craniofacial deformities that give rise to the typical "bird head" appearance. In some patients, premature onset of aging-associated diseases is also observed. In terms of genetics, Seckel syndrome is a heterogeneous condition for which many causal genes have been identified in recent years. In addition to genes involved in cellular activities, these include genes with important roles in cell division processes and the activation of DNA damage responses.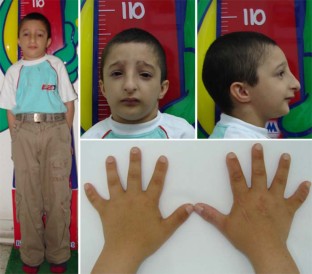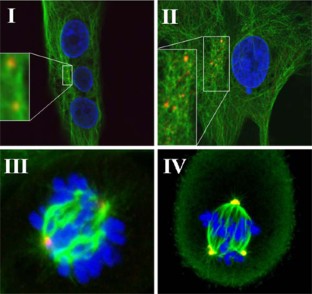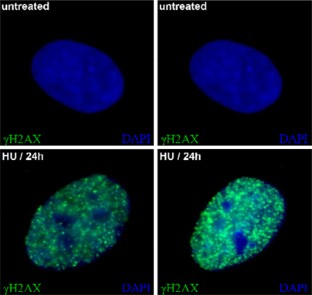 Literatur
1.

Alderton GK, Joenje H, Varon R et al (2004) Seckel syndrome exhibits cellular features demonstrating defects in the ATR-signalling pathway. Hum Mol Genet 13:3127–3138

2.

Al-Dosari MS, Shaheen R, Colak D, Alkuraya FS (2010) Novel CENPJ mutation causes Seckel syndrome. J Med Genet 47:411–414

3.

Bobabilla-Morales L, Corona-Rivera A, Corona-Rivera JR et al (2003) Chromosome instability induced in vitro with mitomycin C in five Seckel syndrome patients. Am J Med Genet 123A:148–152

4.

Bond J, Roberts E, Springell K et al (2005) A centrosomal mechanism involving CDK5RAP2 and CENPJ controls brain size. Nat Genet 37:353–355

5.

Bonner WM, Redon CE, Dickey JS et al (2008) GammaH2AX and cancer. Nat Rev Cancer 8:957–967

6.

Cho JH, Chang CJ, Chen CY, Tang TK (2006) Depletion of CPAP by RNAi disrupts centrosome integrity and induces multipolar spindles. Biochem Biophys Res Commun 339:742–747

7.

Faivre L, Le Merrer M, Lyonnet S et al (2002) Clinical and genetic heterogeneity of Seckel syndrome. Am J Med Genet 112:369–383

8.

Fitzgerald B, O'Driscoll M, Chong K et al (2012) Neuropathology of fetal stage Seckel syndrome: a case report providing a morphological correlate for the emerging molecular mechanisms. Brain Dev 34(3):238–243

9.

Gillingham AK, Munro S (2000) The PACT domain, a conserved centrosomal targeting motif in the coiled-coil proteins AKAP450 and pericentrin. EMBO Rep 1:524–529

10.

Goodship J, Gill H, Carter J et al (2000) Autozygosity mapping of a Seckel syndrome locus to chromosome 3q22.1-q24. Am J Hum Genet 67:498–503

11.

Griffith E, Walker S, Martin C-A et al (2008) Mutations in pericentrin cause Seckel syndrome with defective ATR-dependent DNA damage signaling. Nat Genet 40:232–236

12.

Guernsey DL, Jiang H, Hussin J et al (2010) Mutations in centrosomal protein CEP152 in primary microcephaly families linked to MCPH4. Am J Hum Genet 87:40–51

13.

Harper JW, Elledge SJ (2007) The DNA damage response: ten years after. Mol Cell 28:739–745

14.

Kalay E, Yigit G, Aslan Y et al (2011) CEP152 is a genome maintenance protein disrupted in Seckel syndrome. Nat Genet 43:23–26

15.

Kleylein-Sohn J, Westendorf J, Le Clech M et al (2007) Plk4-induced centriole biogenesis in human cells. Dev Cell 13:190–202

16.

Lovejoy CA, Xu X, Bansbach CE et al (2009) Functional genomic screens identify CINP as a genome maintenance protein. Proc Natl Acad Sci U S A 106:19304–19309

17.

Murga M, Bunting S, Montana MF et al (2009) A mouse model of ATR-Seckel shows embryonic replicative stress and accelerated aging. Nat Genet 41:891–898

18.

O'Driscoll M, Ruiz-Perez VL, Woods CG et al (2003) A splicing mutation affecting expression of ataxia-telangiectasia and Rad3-related protein (ATR) results in Seckel syndrome. Nat Genet 33:497–501

19.

Rauch A (2011) The shortest of the short: pericentrin mutations and beyond. Best Pract Res Clin Endocrinol Metab 25(1):125–130

20.

Rauch A, Thiel CT, Schindler D et al (2008) Mutations in the pericentrin (PCNT) gene cause primordial dwarfism. Science 319:816–819

21.

Ruzankina Y, Pinzon-Guzman C, Asare A et al (2007) Deletion of developmentally essential gene ATR in adult mice leads to age-related phenotypes and stem cell loss. Cell Stem Cell 1:113–126

22.

Seckel HPG (1960) Bird-headed Dwarfs: Studies in developmental anthropology including human proportions. Charles C Thomas, Springfield Ill

23.

Shanske A, Caride DG, Menasse-Palmer L et al (1997) Central nervous system anomalies in Seckel syndrome: report of a new family and review of the literature. Am J Med Genet 70(2):155–158

24.

Sir J-H, Barr AR, Nicholas AK et al (2011) A primary microcephaly protein complex forms a ring around parental centrioles. Nat Genet 43:1147–1153

25.

Tang C-JC, Fu R-H, Wu K-S et al (2009) CPAP is a cell-cycle regulated protein that controls centriole length. Nat Cell Biol 11:825–831

26.

Willems M, Genevieve D, Borck G et al (2010) Molecular analysis of pericentrin gene (PCNT) in a series of 24 Seckel/microcephalic osteodysplastic primordial dwarfism type II (MOPD II) families. J Med Genet 47:797–802
Danksagung
Die Autoren danken allen Patienten sowie deren Angehörigen für ihre Mitarbeit und ihr Einverständnis zur Veröffentlichung der Fotos.
Interessenkonflikt
Der korrespondierende Autor gibt für sich und seinen Koautor an, dass kein Interessenkonflikt besteht.
About this article
Cite this article
Yigit, G., Wollnik, B. Molekulare Mechanismen des Seckel-Syndroms. medgen 24, 284–288 (2012). https://doi.org/10.1007/s11825-012-0359-3
Schlüsselwörter
DNA-Schaden

DNA-Schadensreparatur-Dysfunktionen

Zentrosom

Mitose

Progerie
Keywords
DNA damage

DNA repair-deficiency disorders

Centrosome

Mitosis

Progeria