Zusammenfassung
Die Osteogenesis imperfecta (OI) ist die häufigste angeborene Erkrankung, die mit einer Frakturneigung und einer systemischen Skelettbeteiligung einhergeht. Die große Mehrzahl der Patienten hat eine autosomal-dominant erbliche OI-Form mit einer Mutation in den Typ-I-Kollagen-Genen COL1A1 oder COL1A2. Seit 2006 wurden 8 Gene identifiziert, die autosomal-rezessiv erblichen Formen der Erkrankung zugrunde liegen, sowie ein weiteres Gen für eine autosomal-dominant erbliche OI. Das Verständnis der molekularen Pathophysiologie konnte wesentlich erweitert werden. Das bisherige Paradigma der OI als einer reinen "Kollagenopathie" erscheint ebenso revisionsbedürftig wie das klinische Klassifikationssystem. Standardtherapie der schwereren OI-Formen ist die Behandlung mit intravenösen Bisphosphonaten. Ergänzend kommen in einem multimodalen Behandlungskonzept operative Maßnahmen zur Begradigung deformierter Extremitäten und zur Frakturversorgung sowie die Physiotherapie hinzu.
Abstract
Osteogenesis imperfecta (OI) is the most frequently occurring congenital disorder with an increased fracture rate and systemic skeletal involvement. The vast majority of patients have an autosomal dominant form of OI resulting from a mutation in one of the two type I collagen genes COL1A1 or COL1A2. Since 2006, eight genes for autosomal recessive forms of the disorder have been identified, as well as one additional gene for autosomal dominant OI. Our knowledge concerning molecular pathophysiology has been substantially broadened, such that the paradigm of OI as a pure "collagenopathy" no longer applies and the clinical classification system will have to be revised. Standard therapy for the more severe forms of OI comprises intravenous administration of bisphosphonates. Additional elements of a multimodal therapeutic concept include surgical intervention for bone deformities or fractures and physiotherapy.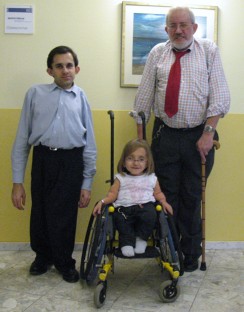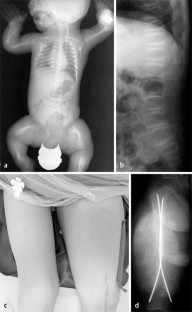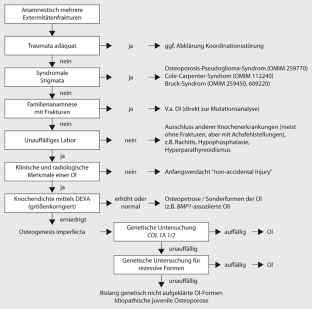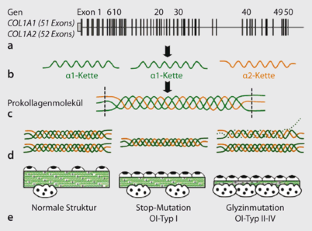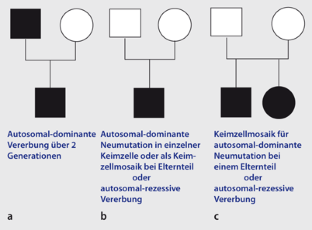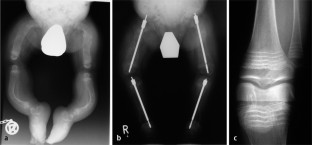 Literatur
1.

Asharani PV, Keupp K, Semler O et al (2012) Attenuated BMP1 function compromises osteogenesis, leading to bone fragility in humans and zebrafish. Am J Hum Genet 90(4):661–674

2.

Becker J, Semler O, Gilissen C et al (2011) Exome sequencing identifies truncating mutations in human SERPINF1 in autosomal-recessive osteogenesis imperfecta. Am J Hum Genet 88(3):362–371

3.

Cheung MS, Arponen H, Roughley P et al (2010) Cranial base abnormalities in osteogenesis imperfecta: phenotypic and genotypic determinants. J Bone Miner Res 26(2):405–413

4.

Cho T, Lee K, Lee K et al (2012) A single recurrent mutation in the 5′-UTR of IFITM5 causes osteogenesis imperfecta type V. Am J Human Genet 91(2): 343–348

5.

Forlino A, Cabral WA, Barnes AM, Marini JC (2011) New perspectives on osteogenesis imperfecta. Nat Rev Endocrinol 7(9):540–557

6.

Gatti D, Antoniazzi F, Prizzi R et al (2005) Intravenous neridronate in children with osteogenesis imperfecta: a randomized controlled study. J Bone Miner Res 20(5):758–763

7.

Glorieux FH, Bishop NJ, Plotkin H et al (1998) Cyclic administration of pamidronate in children with severe osteogenesis imperfecta. N Engl J Med 339(14):947–952

8.

Land C, Rauch F, Montpetit K et al (2006) Effect of intravenous pamidronate therapy on functional abilities and level of ambulation in children with osteogenesis imperfecta. J Pediatr 148(4):456–460

9.

Marini JC, Forlino A, Cabral WA et al (2007) Consortium for osteogenesis imperfecta mutations in the helical domain of type I collagen: regions rich in lethal mutations align with collagen binding sites for integrins and proteoglycans. Hum Mutat 28(3):209–221

10.

Mau H (1982) In osteogenesis imperfecta no intramedullary nailing and especially no bone plates in childhood. Z Orthop Ihre Grenzgeb 120(3):297–308

11.

Pyott SM, Pepin MG, Schwarze U et al (2011) Recurrence of perinatal lethal osteogenesis imperfecta in sibships: parsing the risk between parental mosaicism for dominant mutations and autosomal recessive inheritance. Genet Med 13(2):125–130

12.

Rauch F, Glorieux FH (2004) Osteogenesis imperfecta. Lancet 363(9418):1377–1385

13.

Rauch F, Lalic L, Roughley P, Glorieux FH (2010) Relationship between genotype and skeletal phenotype in children and adolescents with osteogenesis imperfecta. J Bone Miner Res 25(6):1367–1374

14.

Roschger P, Fratzl-Zelman N, Misof BM et al (2008) Evidence that abnormal high bone mineralization in growing children with osteogenesis imperfecta is not associated with specific collagen mutations. Calcif Tissue Int 82(4):263–270

15.

Semler O, Garbes L, Keupp K et al (2012) A mutation in the 5'-UTR of IFITM5 creates an in-frame start codon and causes autosomal-dominant osteogenesis imperfecta type V with hyperplastic callus. Am J Hum Genet 91(2):349–357

16.

Semler O, Beccard R, Palmisano D et al (2011) Reshaping of vertebrae during treatment with neridronate or pamidronate in children with osteogenesis imperfecta. Horm Res Paediatr 76(5):321–327

17.

Semler O, Fricke O, Vezyroglou K et al (2008) Results of a prospective pilot trial on mobility after whole body vibration in children and adolescents with osteogenesis imperfecta. Clin Rehabil 22(5):387–394

18.

Sillence DO, Senn A, Danks DM (1979) Genetic heterogeneity in osteogenesis imperfecta. J Med Genet 16(2):101–116

19.

Steiner RD, Pepin MG, Byers PH (2005) Osteogenesis imperfecta. In: Pagon RA, Bird TD, Dolan CR et al (Hrsg) GeneReviews (PMID: 20301472)

20.

Dijk FS van, Byers PH, Dalgleish R et al (2012) EMQN best practice guidelines for the laboratory diagnosis of osteogenesis imperfecta. Eur J Hum Genet 20(1):11–19
Interessenkonflikt
Der korrespondierende Autor gibt für sich und seine Koautoren an, dass kein Interessenkonflikt besteht.
About this article
Cite this article
Semler, O., Hoyer-Kuhn, H. & Netzer, C. Osteogenesis imperfecta. medgen 24, 297–311 (2012). https://doi.org/10.1007/s11825-012-0358-4
Schlüsselwörter
Knochenfrakturen

Kollagen Typ I

Bisphosphonate

Genetische Diagnostik

COL1A1-Protein, humanes
Keywords
Bone fractures

Collagen type I

Bisphosphonates

Genetic diagnosis

COL1A1 protein, human