Zusammenfassung
Alle autosomal-rezessiven Cutis-laxa-Syndrome haben mehr oder weniger ausgeprägte progeroide Züge. Sie zeigen als Gemeinsamkeit Veränderungen des Bindegewebes, die u. a. zu faltiger, schlaffer Haut führen, und eine unterschiedlich starke Reduktion der Knochenmineraldichte. Daneben können je nach Typ zusätzlich Haarveränderungen, kardiovaskuläre, neurologische, gastrotintestinale und urologische Symptome bestehen. Dieser Artikel gibt eine Übersicht über die klinischen Charakteristika, die Gendefekte und den momentanen Wissensstand bezüglich der Mechanismen.
Abstract
All autosomal recessive cutis laxa syndromes display more or less pronounced progeroid features. Common hallmarks include the altered connective tissue that underlies the wrinkled, lax skin and a variable reduction in bone mineral density. Depending on the subtype, other symptoms such as abnormal hair or cardiovascular, neurological, gastrointestinal and urological problems may arise. This article gives an overview of the clinical characteristics, gene defects and current knowledge concerning their pathological mechanisms.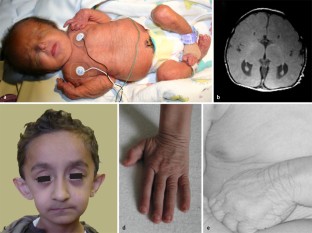 Literatur
1.

Basel-Vanagaite L et al (2009) RIN2 deficiency results in macrocephaly, alopecia, cutis laxa, and scoliosis: MACS syndrome. Am J Hum Genet 85(2):254–263

2.

Bicknell LS et al (2008) A missense mutation in ALDH18A1, encoding Delta1-pyrroline-5-carboxylate synthase (P5CS), causes an autosomal recessive neurocutaneous syndrome. Eur J Hum Genet 16(10):1176–1186

3.

Callewaert B et al (2012) Comprehensive clinical and molecular analysis of 12 families with type 1 recessive cutis laxa. Hum Mutat: Epub 2012 Jul 24. doi: 10.1002/humu.22165

4.

Fischer B et al (2012) Further characterization of ATP6V0A2-related autosomal recessive cutis laxa. Hum Genet 131(11):1761–1773

5.

Hennies HC et al (2008) Gerodermia osteodysplastica is caused by mutations in SCYL1BP1, a Rab-6 interacting golgin. Nat Genet 40(12):1410–1412

6.

Hucthagowder V et al (2006) Fibulin-4: a novel gene for an autosomal recessive cutis laxa syndrome. Am J Hum Genet 78(6):1075–1080

7.

Loeys B et al (2002) Homozygosity for a missense mutation in fibulin-5 (FBLN5) results in a severe form of cutis laxa. Hum Mol Genet 11(18):2113–2118

8.

Morava E et al (2009) Autosomal recessive cutis laxa syndrome revisited. Eur J Hum Genet 17(9):1099–1110

9.

Rajab A et al (2008) Geroderma osteodysplasticum hereditaria and wrinkly skin syndrome in 22 patients from Oman. Am J Med Genet A 146A(8):965–976

10.

Reversade B et al (2009) Mutations in PYCR1 cause cutis laxa with progeroid features. Nat Genet 41(9):1016–1021
Interessenkonflikt
Der korrespondierende Autor gibt an, dass kein Interessenkonflikt besteht.
About this article
Cite this article
Kornak, U. Progeroide autosomal-rezessive Cutis-laxa-Syndrome. medgen 24, 273–278 (2012). https://doi.org/10.1007/s11825-012-0353-9
Schlüsselwörter
Mikrofibrilläres Protein

Golgi-Apparat

Glykosylierung

Katarakt

Mitochondrium
Keywords
Microfibrillar protein

Golgi apparatus

Glycosylation

Cataract

Mitochondrium