Zusammenfassung
Die letzten Jahre haben erhebliche Fortschritte im Verständnis der Biologie des Alterns erbracht. Die Bedeutung genomischer Instabilität als kausaler Faktor der funktionellen Degeneration in der Alterung wurde besonders durch Untersuchungen an progeroiden Syndromen deutlich. Humane Progerien stellen seltene Erbkrankheiten dar, welche von ausgesprochener Diversität und Komplexität gekennzeichnet sind. Die Manifestationen progeroider Syndrome reflektieren sowohl die Funktion der involvierten DNA-Reparatur- und Schadensantwortmechanismen als auch die komplexen physiologischen Reaktionen auf DNA-Läsionen. Untersuchungen an biologischen Modellsystemen progeroider Erkrankungen haben Verbindungen zwischen der DNA-Schadensantwort und genetischen Regulationsmechanismen der Alterung aufgezeigt. Durch diese Erkenntnisse hat sich einerseits das Verständnis der Ursachen von Progerie und Alterung verbessert, andererseits werden neue Strategien erkenntlich, welche zur Entwicklung präventiver Interventionen zur Behandlung progeroider Symptome und altersbedingter Erkrankungen führen könnten.
Abstract
Recent years have witnessed substantial progress in the understanding of the biology of aging. The significance of genomic instability as a causal factor in age-related functional decline has become particularly apparent through research into progeria syndromes. Human progeria syndromes are rare hereditary genetic disorders that are characterized by enormous diversity and complexity. The clinical manifestations of progeria syndromes reflect both the functions of the genome maintenance mechanisms involved, as well as the complex physiological adjustments that are evoked by lesions in the DNA. Investigation of biological model systems of progeria syndromes has revealed links between the DNA damage response and the genetic mechanisms that regulate longevity. The insights gained here have not only deepened the mechanistic understanding of the causes of progeria and aging, but have also prompted new concepts for the development of interventional strategies for the treatment of progeria syndromes and aging-related diseases.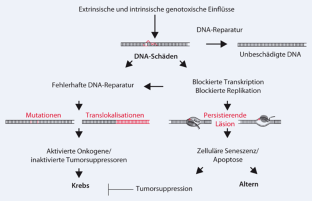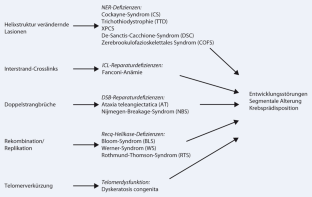 Literatur
1.

Bartek J, Lukas J (2007) DNA damage checkpoints: from initiation to recovery or adaptation. Curr Opin Cell Biol 19(2):238–245

2.

Bartke A, Brown-Borg H (2004) Life extension in the dwarf mouse. Curr Top Dev Biol 63:189–225

3.

Hanawalt PC, Spivak G (2008) Transcription-coupled DNA repair: two decades of progress and surprises. Nat Rev Mol Cell Biol 9(12):958–970

4.

Kenyon C (2001) A conserved regulatory system for aging. Cell 105(2):165–168

5.

Kirkwood TB (2005) Understanding the odd science of aging. Cell 120(4):437–447

6.

Laugel V, Dalloz C, Durand M et al (2010) Mutation update for the CSB/ERCC6 and CSA/ERCC8 genes involved in Cockayne syndrome. Hum Mutat 31(2):113–126

7.

Schumacher B (2009) Transcription-blocking DNA damage in aging: a mechanism for hormesis. Bioessays 31(12):1347–1356

8.

Schumacher B, Garinis GA, Hoeijmakers JH (2008) Age to survive: DNA damage and aging. Trends Genet 24(2):77–85

9.

Ugalde AP, Marino G, Lopez-Otin C (2011) Rejuvenating somatotropic signaling: a therapeutical opportunity for premature aging? Aging (Albany NY) 2(12):1017–1022

10.

Vijg J (2007) Aging of the genome, 1 Aufl. Oxford University Press, Oxford, S 384
Danksagung
BS erhält Unterstützung der Deutschen Forschungsgemeinschaft (CECAD and SFB 829), des European Research Council (ERC Starting grant 260383), Marie Curie (European Reintegration Grant 239330), der German-Israeli Foundation (GIF, 2213–1935.13/2008 and 1104–68.11/2010), der Deutschen Krebshilfe (109453) und des Bundesministeriums für Bildung und Forschung (BMBF, SyBaCol).
About this article
Cite this article
Schumacher, B. DNA-Reparatur und Alterung. medgen 24, 289–296 (2012). https://doi.org/10.1007/s11825-012-0352-x
Schlüsselwörter
Progerie

DNA-Reparatur-Dysfunktionen

Langlebigkeit

DNA-Schäden

Krebs
Key words
Progeria

DNA repair-deficiency disorders

Longevity

DNA damage

Cancer