Zusammenfassung
Es gibt eine Gruppe primärer und sekundärer Laminopathien mit progeroidem Phänotyp. Sie sind mit pleiotropen Mutationen im LMNA- bzw. ZMPSTE24-Gen assoziiert und äußern sind klinisch als Hutchinson-Gilford-Syndrom, restriktive Dermopathie oder mandibuloakrale Dysplasie. Neben diesen klinisch klar abzugrenzenden progeroiden Laminopathien gibt es eine zunehmende Anzahl atypischer progeroider Laminopathien – auch als atypisches Werner-Syndrom bekannt –, die sich klinisch nicht zuordnen lassen, da sie Merkmale mehrerer Laminopathien aufweisen. Exemplarisch werden zwei solcher atypischer primärer und sekundärer progeroider Laminopathien vorgestellt, die klinisch sich überschneidende Merkmale des Hutchinson-Gilford-Syndroms, der restriktiven Dermopathien, der mandibuloakralen Dysplasie und darüber hinaus muskulärer Laminopathien aufweisen.
Abstract
There is a group of primary and secondary laminopathies that show progeroid phenotypes. They are associated with pleiotropic mutations in the LMNA or ZMPSTE24 genes and are clinically associated with Hutchinson-Gilford progeria syndrome, restrictive dermopathy and mandibuloacral dysplasia. Besides these clinically distinct entities, there is also an increasing number of atypical progeroid laminopathies—also known as atypical Werner syndrome—that cannot be categorized clinically as they show features of several laminopathies. As an example, two atypical primary and secondary progeroid laminopathies that show overlapping features of Hutchinson-Gilford progeria syndrome, restrictive dermopathy, dysplasia and even muscular laminopathies are presented.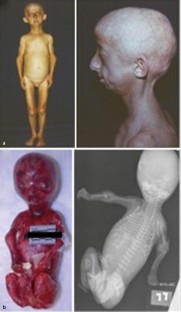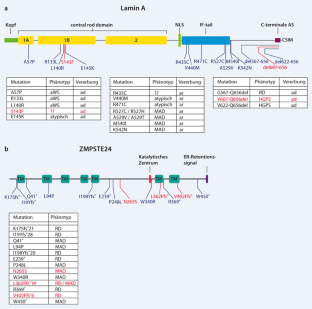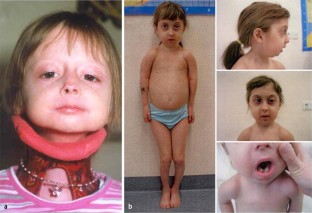 Literatur
1.

Agarwal AK, Fryns JP, Auchus RJ, Garg A (2003) Zinc metalloproteinase, ZMPSTE24, is mutated in mandibuloacral dysplasia. Hum Mol Genet 16:1995–2001

2.

Chen L, Lee L, Kudlow BA et al (2003) LMNA mutations in atypical Werner's syndrome. Lancet 362:440–445

3.

Sandre-Giovannoli A de, Bernard R, Cau P et al (2003) Lamin a truncation in Hutchinson-Gilford progeria. Science 300:2055

4.

Eriksson M, Brown WT, Gordon LB et al (2003) Recurrent de novo point mutations in lamin A cause Hutchinson-Gilford progeria syndrome. Nature 423:293–298

5.

Kirschner J, Brune T, Wehnert M et al (2005) p.S 143F mutation in lamin A/C causes new phenotype combining congenital myopathy and progeria. Ann Neurol 57:148–151

6.

Navarro CL, De Sandre-Giovannoli A, Bernar R et al (2004) Lamin A and ZMPSTE24 (FACE1) defects cause nuclear disorganization and identify restrictive dermopathy as a lethal neonatal laminopathy. Hum Mol Genet 13:2493–2503

7.

Navarro CL, Cadinanos J, De Sandre-Giovannoli A et al (2005) Loss of ZMPSTE24 (FACE-1) causes autosomal recessive restrictive dermopathy and accumulation of Lamin A precursors. Hum Mol Genet 14:1503–1513

8.

Navarro CL, Cau PN, Levy N (2006) Molecular bases of progeroid syndromes. Hum Mol Genet 15:R151–R161

9.

Novelli G, Muchir A, Sangiuolo F et al (2002) Mandibuloacral dysplasia is caused by a mutation in LMNA-encoding Lamin A/C. Am J Hum Genet 71:426–431

10.

Worman HJ, Bonne G (2007) Laminopathies: A wide spectrum of human disease. Exp Cell Res 313:2121–2133
Danksagung/Interessenkonflikt
Die Autoren bedanken sich bei allen Patienten und deren Familien für ihr Einverständnis zur Veröffentlichung der Fotos sowie den Dres. D.V. Spencer und E. Rossier für die Überlassung von Bildmaterial für die Abb. 2b und Abb. 4b.
Der korrespondierende Autor gibt für sich und seinen Koautor an, dass kein Interessenkonflikt besteht.
About this article
Cite this article
Wehnert, M., Meinke, P. Progeroide Laminopathien zwischen Hutchinson-Gilford-Syndrom, restriktiver Dermopathie und mandibuloakraler Dysplasie. medgen 24, 257–261 (2012). https://doi.org/10.1007/s11825-012-0351-y
Schlüsselwörter
Laminopathien

Progerie

Lamin Typ A

Atypisches Werner-Syndrom
Keywords
Laminopathies

Progeria

Lamin type A

Atypical Werner syndrome