Zusammenfassung
Indem die molekulargenetische Untersuchung vieler Gene (Gen-Panels bzw. Exomanalyse) immer günstiger wird, steht deren Anwendung in der klinischen Praxis bevor. Dies wird insbesondere den Bereich solcher monogenen Erkrankungen betreffen, die stark heterogen sind, bei denen also Mutationen in vielen verschiedenen Genen zu Phänotypen führen, die klinisch nur schwer voneinander abgrenzbar sind. Ein Beispiel hierfür sind die Atmungskettendefekte. Die Exomsequenzierung ermöglicht hier ein rasches Mutationsscreening, das parallel in allen Genen abläuft, die ursächlich infrage kommen.
Abstract
With molecular-genetic diagnostics of large sets of genes (gene panels, exome sequencing) becoming less expensive, it is expected that they will be increasingly used in clinical practice. This will especially affect those monogenic diseases which are heterogenic, that is, in which mutations of many different genes result in phenotypes that are clinically difficult to distinguish from each other. Respiratory chain defects are an example of such disorders. Exome sequencing allows for rapid, simultaneous screening of all genes that come into question.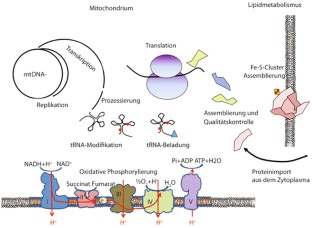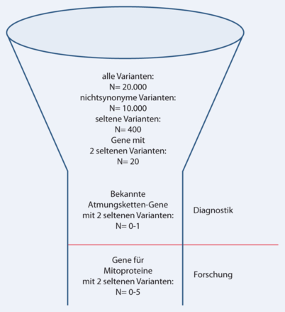 Literatur
1.

Chinnery P (2010) NCBI bookshelf, GeneReviews. Mitochondrial disorders overview. http://www.ncbi.nlm.nih.gov/books/NBK1116/. Zugegriffen: 01. Sept. 2012

2.

Dimauro S, Davidzon G (2005) Mitochondrial DNA and disease. Ann Med 37:222–232

3.

Elstner M, Andreoli C, Klopstock T et al (2009) The mitochondrial proteome database: MitoP2. Methods Enzymol 457:3–20

4.

Galmiche L, Serre V, Beinat M et al (2011) Exome sequencing identifies MRPL3 mutation in mitochondrial cardiomyopathy. Hum Mutat 32:1225–1231

5.

Gerards M, Bosch BJ van den, Danhauser K et al (2011) Riboflavin-responsive oxidative phosphorylation complex I deficiency caused by defective ACAD9: new function for an old gene. Brain 134:210–219

6.

Ghezzi D, Baruffini E, Haack TB et al (2012) Mutations of the mitochondrial-tRNA modifier MTO1 cause hypertrophic cardiomyopathy and lactic acidosis. Am J Hum Genet 90:1079–1087

7.

Götz A, Tyynismaa H, Euro L et al (2011) Exome sequencing identifies mitochondrial alanyl-tRNA synthetase mutations in infantile mitochondrial cardiomyopathy. Am J Hum Genet 88:635–642

8.

Koopman WJ, Willems PH, Smeitink JA (2012) Monogenic mitochondrial disorders. N Engl J Med 366:1132–1141

9.

Kedes L, Liu ET (2010) The Archon Genomics X PRIZE for whole human genome sequencing. Nat Genet 42:917–918

10.

Kemp JP, Smith PM, Pyle A et al (2001) Nuclear factors involved in mitochondrial translation cause a subgroup of combined respiratory chain deficiency. Brain 134:183–195

11.

Haack TB, Danhauser K, Haberberger B et al (2010) Exome sequencing identifies ACAD9 mutations as a cause of complex I deficiency. Nat Genet 42:1131–1134

12.

Haack TB, Madignier F, Herzer M et al (2012) Mutation screening of 75 candidate genes in 152 complex I deficiency cases identifies pathogenic variants in 16 genes including NDUFB9. J Med Genet 49:83–89

13.

Haack TB, Haberberger B, Frisch EM et al (2012) Molecular diagnosis in mitochondrial complex I deficiency using exome sequencing. J Med Genet 49:277–283

14.

Haack TB, Rolinski B, Haberberger B et al (2012) Homozygous missense mutation in BOLA3 causes multiple mitochondrial dysfunctions syndrome in two siblings. J Inherit Metab Dis: 2012 May 5 [Epub ahead of print]

15.

Haack TB, Makowski C, Yao Y et al (2012) Impaired riboflavin transport due to missense mutations in SLC52A2 causes Brown-Vialetto-Van Laere syndrome. J Inherit Metab Dis: 2012 Aug 3 [Epub ahead of print]

16.

Mayr JA, Haack TB, Graf E et al (2012) Lack of the mitochondrial protein acylglycerol kinase causes Sengers syndrome. Am J Hum Genet 90:314–320

17.

Munnich A, Rötig A, Chretien D et al (1996) Clinical presentation of mitochondrial disorders in childhood. J Inherit Metab Dis 19:521–527

18.

Neveling K, Hoischen A (2012) Exom-Sequenzierung zur Identifizierung von Krankheitsgenen. Med Genet 24:4–11

19.

Pierson TM, Adams D, Bonn F et al (2011) Whole-exome sequencing identifies homozygous AFG3L2 mutations in a spastic ataxia-neuropathy syndrome linked to mitochondrial m-AAA proteases. PLoS Genet 7:e1002325

20.

Rötig A, Lebon S, Zinovieva E et al (2004) Molecular diagnostics of mitochondrial disorders. Biochim Biophys Acta1659:129–135

21.

Spiegel R, Pines O, Ta-Shma A et al (2012) Infantile cerebellar-retinal degeneration associated with a mutation in mitochondrial aconitase, ACO2. Am J Hum Genet 90:518–523

22.

Steenweg ME, Ghezzi D, Haack T et al (2012) Leukoencephalopathy with thalamus and brainstem involvement and high lactate 'LTBL' caused by EARS2 mutations. Brain 135:1387–1394

23.

Wortmann SB, Vaz FM, Gardeitchik T et al (2012) Mutations in the phospholipid remodeling gene SERAC1 impair mitochondrial function and intracellular cholesterol trafficking and cause dystonia and deafness. Nat Genet 44:797–802
Danksagung/Interessenkonflikt
Wir bedanken uns bei den Patienten, die Proben für Forschungszwecke zur Verfügung gestellt haben. Die Autoren werden unterstützt von den BMBF-geförderten Verbundprojekten mitoNET und E-rare (GENOMIT) sowie den EU-geförderten NGS-Projekten (FP7) GUVADIS und ESGI. Der korrespondierende Autor gibt für sich und seine Koautoren an, dass kein Interessenkonflikt besteht.
About this article
Cite this article
Prokisch, H., Oexle, K. & Meitinger, T. Exomdiagnostik verändert die Sicht auf Mitochondriopathien. medgen 24, 183–186 (2012). https://doi.org/10.1007/s11825-012-0348-6
Schlüsselwörter
Mitochondriopathien

Atmungskette

Genetische Beratung

DNA-Sequenzierung

Exom
Keywords
Mitochondrial diseases

Respiratory chain

Genetic counseling

DNA sequencing

Exome