Zusammenfassung
Die häufigste Manifestation einer Mitochondriopathie bei Erwachsenen ist die chronisch progressive externe Ophthalmoplegie (CPEO), die eine variable Multisystembeteiligung aufweist. Molekulargenetisch finden sich am häufigsten singuläre mtDNA-Deletionen, die meist mit einer sporadischen CPEO einhergehen. Es gibt aber auch autosomal-dominant und rezessiv vererbte CPEO-Formen durch Defekte in nukleären Genen, die für die mtDNA-Replikation wichtig sind, die zu multiplen mtDNA-Deletionen führen. Andere klassische multisystemische mitochondriale Erkrankungen sind z. B. das MELAS-Syndrom und das MERRF-Syndrom, sie entstehen durch maternal vererbte Punktmutationen der mtDNA. Die Lebersche Optikusneuropathie, ebenfalls durch mtDNA-Punktmutationen bedingt, ist eine häufige Mitochondriopathie ohne multisystemische Beteiligung, Über solch klassische mitochondriale Erkrankungen hinaus gibt es Mitochondriopathienpatienten mit weniger charakteristischen, manchmal monosymptomatischen Phänotypen (z. B. Myopathie oder Epilepsie), die schwieriger zu erkennen sind.
Abstract
The most frequent manifestation of mitochondrial disease in adults is chronic progressive external ophthalmoplegia (CPEO) that can present with variable multisystemic involvement. Molecular genetically single mtDNA deletions are identified in more than half of the patients associated with mainly sporadic CPEO. There are also autosomal dominant and recessive forms of CPEO due to mutations in nuclear genes that are important for mtDNA replication resulting in multiple mtDNA deletions. Other common multisystemic disorders are MELAS syndrome and MERRF syndrome due to maternally inherited mtDNA point mutations. Leber's hereditary optic neuropathy is a frequent mitochondrial disorder without multisystemic involvement, which is also due to mtDNA point mutations. In addition to classical mitochondrial disorders there are patients with mitochondrial disease showing non-characteristic sometimes monosymptomic phenotypes (e.g. myopathy or epilepsy) that are difficult to recognize.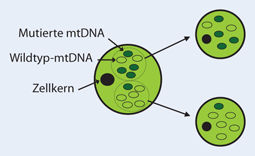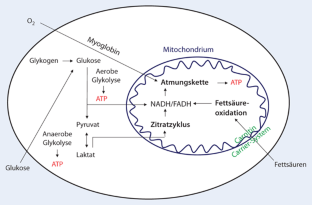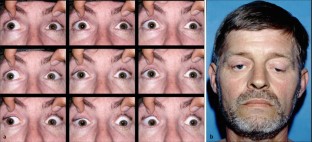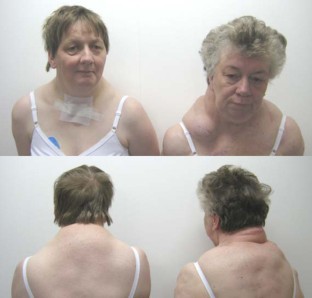 Literatur
1.

Chinnery PF, DiMauro S, Shanske S et al (2004) The risk of developing a mitochondrial DNA deletion disorder. Lancet 364:592–596

2.

Deschauer M, Swalwell H, Strauss M et al (2006) Novel mitochondrial tRNAPhe gene mutation associated with late-onset neuromuscular disease. Arch Neurol 63:902–905

3.

Deschauer M, Wieser T, Zierz S (2005) Muscle carnitine palmitoyltransferase II deficiency: clinical and molecular genetic features and diagnostic aspects. Arch Neurol 62:37–41

4.

Deschauer M, Zierz S (2007) Chronic progressive external ophthalmoplegia – a common manifestation of mitochondrial disorders. Lorenz B, Borruat FX (eds) Essentials in ophthalmology: Pediatric ophthalmology, neuro-ophthalmology, genetics. Springer, Berlin Heidelberg New York Tokyo, pp 267−282

5.

DiMauro S (2010) A history of mitochondrial disease. J Inherit Metab Dis 34:261–276

6.

Freisinger (2012) Mitochondriale Erkrankungen im Kindesalter. Med Genet

7.

Milone M, Massie R (2010) Polymerase gamma 1 mutations: clinical correlations. Neurologist 16:84–91

8.

Schaefer AM, McFarland R, Blakely EL et al (2008) Prevalence of mitochondrial DNA disease in adults. Ann Neurol 63:35–39

9.

Sproule DM, Kaufmann P (2008) Mitochondrial encephalopathy, lactic acidosis, and strokelike episodes: Basic concepts, clinical phenotype, and therapeutic management of MELAS syndrome. Ann N Y Acad Sci 1142:133–158

10.

Swalwell H, Deschauer M, Hartl H et al (2006) Pure myopathy associated with a novel mitochondrial tRNA gene mutation. Neurology 66:447–449
Interessenkonflikt
Der korrespondierende Autor gibt an, dass kein Interessenkonflikt besteht.
About this article
Cite this article
Deschauer, M. Mitochondriale Erkrankungen im Erwachsenenalter. medgen 24, 169–175 (2012). https://doi.org/10.1007/s11825-012-0344-x
Schlüsselwörter
Phänotyp

Myopathien

Chronisch progressive externe Ophthalmoplegie

Mutation

Mitochondriopathien
Keywords
Phenotype

Myopathies

Chronic progressive external ophthalmoplegia

Mutation

Mitochondrial disease