Zusammenfassung
Mitochondriale Erkrankungen im Kindesalter sind relativ häufige angeborene Erkrankungen des Energiestoffwechsels mit einem klinischen und genetisch sehr breiten Spektrum, das meist mehrere Organsysteme betrifft. Es gibt wenige typische mitochondrialen Syndrome, die meisten Patienten zeigen Krankheitsbilder mit verdächtigen, aber unspezifischen Symptomen. Das ZNS ist sehr häufig betroffen. Nur eine sinnvolle Kombination aus klinischen, biochemischen, morphologischen und molekulargenetischen Untersuchungen führt zu einer spezifischen Diagnose. Dabei spielt die biochemisch-funktionelle Untersuchung des mitochondrialen Stoffwechsels im betroffenen Gewebes (z. B. frischer Muskel) eine zentrale Rolle. Die neuen Technologien der Molekulargenetik ("next generation sequencing") haben zur Identifikation einer beträchtlichen Anzahl von Krankheitsgenen geführt und damit auch zum Verständnis der Pathomechanismen beigetragen. Es ist zu hoffen, dass dies auch die Entwicklung neuer Therapieansätze erleichtert, da die Behandlungen bisher weitgehend symptomatisch und wenig erfolgreich sind.
Abstract
Mitochondriopathies in childhood represent rather frequent inborn errors of energy metabolism with a broad clinical and genetic spectrum mostly involving several different organs. There are few typical mitochondrial syndromes. The majority of the patients however presents a combination of suspicious but unspecific symptoms that frequently affect the CNS. Only a useful combination of clinical, biochemical, morphological and molecular genetic methods leads to a specific diagnosis. The biochemical analysis of the mitochondrial function in affected tissue (e.g. fresh muscle) plays a central role. New technologies in molecular genetics like next generation sequencing have allowed the identification of a considerable number of new disease genes and have contributed to the understanding of pathomechanisms in mitochondrial diseases. Hopefully this will also provide the basis for the development of new therapeutic approaches as therapy is still mostly symptomatic and not very successful.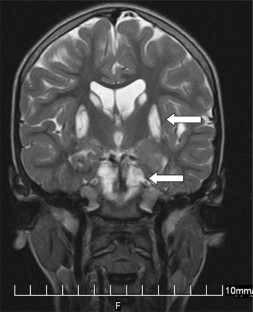 Literatur
1.

AWMF (2012) Leitlinien. Diagnostik und Therapieansätze bei Mitochondriopathien im Kindes- und Jugendalter; http://www.awmf.org/uploads/tx_szleitlinien/027-016_S2_Diagnostik_und_Therapieansaetze_bei_Mitochondriopathien_im_Kindes-_und_Jugendalter_03-2009_03-2012.pdf

2.

Copeland WC (2012) Defects in mitochondrial DNA replication and human disease. Crit Rev Biochem Mol Biol 47(1):64–74

3.

Deschauer M (2012) Mitochondriale Erkrankungen im Erwachsenenalter. Med Gen

4.

Dimauro S, Rustin P (2009) A critical approach to the therapy of mitochondrial respiratory chain and oxidative phosphorylation diseases. Biochim Biophys Acta 1792:1159–1167

5.

Emmanuele V, López LC, Berardo A et al (2012) Heterogeneity of coenzyme Q10 deficiency: patient study and literature review (2012). Arch Neurol

6.

Haack TB, Haberberger B, Frisch EM et al (2012) Molecular diagnosis in mitochondrial complex I deficiency using exome sequencing. J Med Genet 49:277–283

7.

Haack TB, Rolinski B, Haberberger B et al (2012) Homozygous missense mutation in BOLA3 causes multiple mitochondrial dysfunctions syndrome in two siblings. J Inherit Metab Dis

8.

Koopman WJ, Willems PH, Smeitink JA (2012) Monogenic mitochondrial disorders. N Engl J Med 366:1132–1141

9.

Mayr JA, Merkel O, Kohlwein SD et al (2007) Mitochondrial phosphate-carrier deficiency: a novel disorder of oxidative phosphorylation. Am J Hum Genet 80:478–484

10.

Mayr JA, Freisinger P, Schlachter K et al (2011) Thiamine pyrophosphokinase deficiency in encephalopathic children with defects in the pyruvate oxidation pathway. Am J Hum Genet 89:806–812

11.

Shaham O, Slate NG, Goldberger O et al (2010) A plasma signature of human mitochondrial disease revealed through metabolic profiling of spent media from cultured muscle cells. Proc Natl Acad Sci U S A 107:1571–1575

12.

Suomalainen A, Elo JM, Pietiläinen KH et al (2011) FGF-21 as a biomarker for muscle-manifesting mitochondrial respiratory chain deficiencies: a diagnostic study. Lancet Neurol10:806–818

13.

Wenz T, Wang X, Marini M, Moraes CT (2011) A metabolic shift induced by a PPAR panagonist markedly reduces the effects of pathogenic mitochondrial tRNA mutations. J Cell Mol Med 15:2317–2325
Interessenkonflikt
Der korrespondierende Autor gibt für sich und seinen Koautor an, dass kein Interessenkonflikt besteht.
About this article
Cite this article
Freisinger, P., Sperl, W. Mitochondriale Erkrankungen im Kindes- und Jugendalter. medgen 24, 162–168 (2012). https://doi.org/10.1007/s11825-012-0343-y
Schlüsselwörter
Mitochondriopathie

Atmungskettendefekt

Mutation

Myopathien

Enzephalomyopathie
Keywords
Mitochondriopathy

Respiratory chain deficiency

Mutation

Myopathies

Encephalomyopathy