Zusammenfassung
Mitochondriale Erkrankungen sind – wie auch die übrigen Artikel dieses Schwerpunkthefts verdeutlichen – ein weites Feld in der klinischen Genetik. Aufgrund des bunten klinischen Bildes sowohl bei Kindern als auch bei Erwachsenen ergeben sich relativ häufig Konstellationen, in denen auch eine mitochondriale Erkrankung in das differenzialdiagnostische Spektrum mit einbezogen wird. In der genetischen Beratung stellt dies eine besondere Herausforderung dar, da unter dieser Verdachtsdiagnose grundsätzlich alle Erbgänge, inklusive einer maternalen Vererbung, möglich sind und gleichzeitig eine zielgerichtete Diagnostik zum molekulargenetischen Beleg oder auch Ausschluss der Diagnose durch die außerordentliche genetische Heterogenität erschwert ist. Im Folgenden erläutern wir ein rationales Vorgehen in der molekulargenetischen Diagnostik und besondere Aspekte der genetischen Beratung.
Abstract
As outlined in other articles of this issue mitochondrial medicine is a complex area in clinical genetics. Due to the wide variability of clinical presentation in both pediatric and adult patients there are frequent constellations of symptoms that may suggest an underlying mitochondrial disorder. This is a challenge in genetic counseling because basically all patterns of inheritance have to be taken into account—including maternal transmission—but a straightforward genetic testing to confirm or exclude the suggested diagnosis is hampered by the immense genetic heterogeneity of the mitochondrial disease spectrum. This article focuses on a diagnostic strategy and specific aspects of genetic counseling in mitochondrial disorders.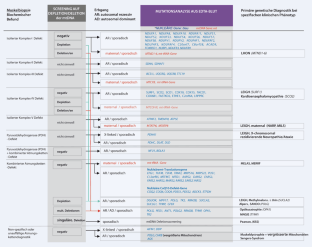 Literatur
1.

Chan SS, Naviaux RK, Basinger AA et al (2009) De novo mutation in POLG leads to haplotype insufficiency and Alpers syndrome. Mitochondrion 9:340–345

2.

Chinnery PF, DiMauro S, Shanske S et al (2004) Risk of developing a mitochondrial DNA deletion disorder. Lancet 364:592–596

3.

Cohen BH, Chinnery PF, Copeland WC (2010) POLG-Related Disorders. In: Pagon RA, Bird TD, Dolan CR et al (Hrsg) GeneReviews™; University of Washington, Seattle/WA. http://www.ncbi.nlm.nih.gov/pubmed/20301295. Zugegriffen: 20. Aug. 2012

4.

Greaves LC, Reeve AK, Taylor RW, Turnbull DM (2012) Mitochondrial DNA and disease. J Pathol 226:274–286

5.

Honzik T, Tesarova M, Magner M et al (2012) Neonatal onset of mitochondrial disorders in 129 patients: clinical and laboratory characteristics and a new approach to diagnosis. J Inherit Metab Dis: 2012 Jan 10 [Epub ahead of print]

6.

Marchington D, Malik S, Banerjee A et al (2010) Information for genetic management of mtDNA disease: sampling pathogenic mtDNA mutants in the human germline and in placenta. J Med Genet 47:257–261

7.

Poulton J, Bredenoord AL (2010) 174th ENMC international workshop: applying pre-implantation genetic diagnosis to mtDNA diseases: implications of scientific advances 19–21 March 2010, Naarden, The Netherlands. Neuromuscul Disord 20:559–563

8.

Takeda A, Sudo A, Yamada M et al (2012) Eponym: Barth syndrome. Eur J Pediatr 170:1365–1367

9.

Uziel G, Ghezzi D, Zeviani M (2011) Infantile mitochondrial encephalopathy. Semin Fetal Neonatal Med 16:205–215

10.

Ylikallio E, Suomalainen A (2012) Mechanisms of mitochondrial diseases. Ann Med 44:41–59

11.

(o A) (o J) Mitomap. A human mitochondrial genome database. http://www.mitomap.org. Zugegriffen: 20. Aug. 2012
Interessenkonflikt
Der korrespondierende Autor gibt für sich und seinen Koautor an, dass kein Interessenkonflikt besteht.
About this article
Cite this article
Horvath, R., Abicht, A. Mitochondriale Erkrankungen. medgen 24, 176–182 (2012). https://doi.org/10.1007/s11825-012-0339-7
Schlüsselwörter
Mitochondriale Erkrankungen

Genetische Diagnostik

Maternaler Erbgang

Heteroplasmie

Genetische Beratung
Keywords
Mitochondrial diseases

Genetic testing

Maternal heredity

Heteroplasmy

Genetic counseling