Zusammenfassung
Der Autor weist auf die Wichtigkeit von Patientenselbsthilfe allgemein und speziell der Mito-Selbsthilfe hin. Anhand verschiedener wissenschaftlicher Forschungsrichtungen, besonders der verhaltensorientierten Gesundheitspsychologie, weist er nach, wie wichtig es für Patienten mit chronischen Erkrankungen ist, diese aktiv zu bewältigen ("Selbstmanagement"), sich zu informieren, soziale Unterstützung zu bekommen und sowohl ein Kohärenzgefühl als auch Strategien zur Krankheitsbewältigung zu entwickeln. Erste Studien zur Wirksamkeit von Selbsthilfegruppen geben Hinweise, dass diese eine positive Krankheitsbewältigung unterstützen können. Das biopsychosoziale Modell der WHO sieht der Autor als Basis für die Arbeit der Selbsthilfe. Es folgt ein Überblick über Aktivitäten und Ziele der Mito-Selbsthilfegruppe. Diese beinhalten die Unterstützung der Forschung, Patientenedukation, Erfahrungsaustausch zwischen Patienten, Kommunikation zwischen Patienten und Medizinern sowie grundsätzlich die Verbesserung der Lebensqualität.
Abstract
The author points out the importance of self-help in general and of mitochondrial diseases self-help organizations in particular. He gives evidence from several scientific branches, especially behavioural health-psychology. Patients with chronic diseases should actively come to terms with their disease in the sense of "self-management". They should be informed, have social support, have a "sense of coherence" and develop coping strategies. Evaluation of the effectiveness of self-help groups is still scarce, but there is preliminary evidence that they can foster the aforementioned strategies. The author supports the bio-psycho-social model by the WHO as the basis for the work of self-help groups. This is followed by an overview of the mito group's national and international activities and goals. These include the support of research, education of patients, communication among patients themselves and between patients and the medical profession as well as basically the improvement of their quality of life.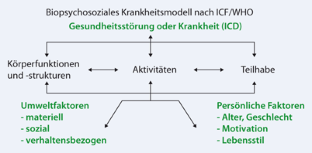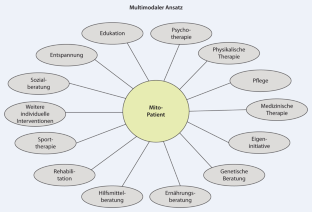 Literatur
1.

Antononovsky A (1997) Salutogenese – Zur Entmystifizierung der Gesundheit. dgvt, Tübingen

2.

FGÖ Fonds Gesundes Österreich (2005) Wirkung von Selbsthilfegruppen auf Persönlichkeit und Lebensqualität. http://www.fgoe.org/presse-publikationen/downloads/selbsthilfe

3.

Fox B (1998) Psychosocial factors in cancer incidence and prognosis. In: Holland J (Hrsg) Psychooncology. Oxford University Press, New York, S 110–124

4.

Hölzel D, Schubert-Fritschle G (2008) Evidenzbasierte Medizin in der Onkologie: Spiegelt die Studienlage die klinische Realität wider? Zentralbl Chir 133(1):15–19

5.

Kanfer FH, Reinecker H, Schmelzer D (2005) Selbstmanagement-Therapie. Springer, Berlin

6.

Kyrouz EM, Humphreys K, Loomis C (2002) A review of research on the effectiveness of self-help mutual aid groups. In: White BJ, Madara EJ (Hrsg) Self-help group sourcebook, chapt 5. American Self-Help Group Clearinghouse

7.

Petzold TD (2009) Salutogenese und Selbsthilfe. SHK-Newsletter III 2009, Berlin

8.

Schwarzer R (2004) Psychologie des Gesundheitsverhaltens. Hogrefe, Göttingen

9.

WHO (2005) ICF – Internationale Klassifikation der Funktionsfähigkeit, Behinderung und Gesundheit (deutsche Übersetzung). DIMDI (http://www.dimdi.de/static/de/klassi/icf/index.htm)

10.

Deutsches Institut für Medizinische Dokumentation und Information (o J) Homepage. http://www.dimdi.de
Interessenkonflikt
Der Autor ist selbst von einer Mitochondriopathie betroffen. Die Krankheit wurde 2006 diagnostiziert. Seither ist Carsten Gamroth aktiv in der Selbsthilfe für Mito-Betroffene engagiert. Aufgrund seiner Ausbildung (Studium der Psychologie an der HHU-Düsseldorf) und Profession (Psychologischer Psychotherapeut/Spezieller Schmerzpsychotherapeut) setzt er sich besonders dafür ein, dass Themen aus dem Komplex der Gesundheitspsychologie (Selbstwirksamkeit, Lebensqualität, Copingstrategien, aktive Bewältigung) innerhalb der DGM diskutiert werden. Gemeinsam mit seiner Frau hat er die Interessen der DGM und der Mito-Selbsthilfe beim Aufbau der International Mito-Patients (IMP) vertreten.
About this article
Cite this article
Gamroth, C. Mito-Selbsthilfe. medgen 24, 204–210 (2012). https://doi.org/10.1007/s11825-012-0337-9
Schlüsselwörter
Selbsthilfegruppen

Gesundheitspsychologie

Selbstmanagement

Krankheitsbewältigung

Biopsychosoziales Modell
Keywords
Self-help groups

Health psychology

Self-management

Coping skills

Bio-psycho-social model