Zusammenfassung
Das familiäre Mittelmeerfieber (FMF), Hyper-IgD-Syndrom (HIDS) und das Tumornekrosefaktor(TNF)-Rezeptor-1-assoziierte periodische Syndrom (TRAPS) sind monogene Krankheiten, die unter dem Begriff der hereditären Fiebersyndrome zusammengefasst werden. Sie sind durch rezidivierende Episoden mit Fieber und Entzündungszeichen gekennzeichnet und werden von Mutationen in Genen verursacht, denen eine Funktion bei der angeborenen Immunität zukommt. Die vorliegende Übersichtsarbeit befasst sich mit dem klinischen Erscheinungsbild und der Genetik der hereditären Fiebersyndrome. Sie sind für die humangenetische Beratung von Bedeutung.
Abstract
Familial Mediterranean fever (FMF), mevalonate kinase deficiency (MKD), and tumour necrosis factor (TNF) receptor-1-associated periodic syndrome (TRAPS) are monogenic disorders included under the term"hereditary fever syndromes". These diseases are characterized by recurrent episodes of fever and inflammation and arise from mutations of genes regulating the innate immune system. The present review describes the clinical and genetic spectrum of hereditary fever syndromes, which are of importance for genetic counseling.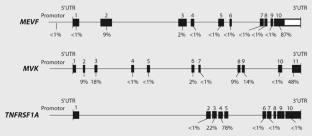 Literatur
1.

Shohat M, Halpern G (2009) Familial Mediterranean Fever. In: GeneReviews at GeneTests: Medical Genetics Information Resource (database online). Copyright, University of Washington, Seattle. 1997–2011. Available at http://www.genetests.org

2.

Drenth JP, Meer JW van der (2001) Hereditary periodic fever. N Engl J Med 345:1748–1757

3.

Timmann C, Horstmann R (2009) Molecular diagnostics of hereditary fever syndromes. Familial Mediterranean fever (FMF), hyperimmunoglobulin D syndrome (HIDS), tumor necrosis factor receptor-associated periodic syndrome (TRAPS), cryopyrin-associated periodic syndrome (CAPS: FCAS, MWS, NOMID/CINCA). Z Rheumatol 68:720–725

4.

Deltas CC, Mean R, Rossou E et al (2002) Familial Mediterranean fever (FMF) mutations occur frequently in the Greek-Cypriot population of Cyprus. Genet Test 6:15–21

5.

Gross O, Thomas CJ, Guarda G, Tschopp J (2011) The inflammasome: an integrated view. Immunol Rev 243:136–151

6.

Kallinich T, Haffner D, Niehues T et al (2007) Colchicine use in children and adolescents with familial Mediterranean fever: literature review and consensus statement. Pediatrics 119:474–483

7.

Meinzer U, Quartier P, Alexandra JF et al (2011) Interleukin-1 targeting drugs in familial Mediterranean fever: a case series and a review of the literature. Semin Arthritis Rheum 41:265–271

8.

Hilst JC van der, Bodar EJ, Barron KS et al (2008) Long-term follow-up, clinical features, and quality of life in a series of 103 patients with hyperimmunoglobulinemia D syndrome. Medicine 87:301–310

9.

Bader-Meunier B, Florkin B, Sibilia J et al (2011) Mevalonate kinase deficiency: a survey of 50 patients. Pediatrics 128:152–159

10.

Stoffels M, Simon A (2011) Hyper-IgD syndrome or mevalonate kinase deficiency. Curr Opin Rheumatol 23:419–423

11.

Houten SM, Woerden CS van, Wijburg FA et al (2003) Carrier frequency of the V377I (1129G > A) MVK mutation, associated with Hyper-IgD and periodic fever syndrome, in the Netherlands. Eur J Hum Genet 11:196–200

12.

Houten SM, Frenkel J, Rijkers GT et al (2002) Temperature dependence of mutant mevalonate kinase activity as a pathogenic factor in hyper-IgD and periodic fever syndrome. Hum Mol Genet 11:3115–3124

13.

Hull KM, Drewe E, Aksentijevich I et al (2002) The TNF receptor-associated periodic syndrome (TRAPS): emerging concepts of an autoinflammatory disorder. Medicine 81:349–368

14.

Stojanov S, McDermott MF (2005) The tumour necrosis factor receptor-associated periodic syndrome: current concepts. Expert Rev Mol Med 7:1–18

15.

Massonnet B, Normand S, Moschitz R et al (2009) Pharmacological inhibitors of the mevalonate pathway activate pro-IL-1 processing and IL-1 release by human monocytes. Eur Cytokine Netw 20:112–120

16.

Milhavet F, Cuisset L, Hoffman HM et al (2008) The infevers autoinflammatory mutation online registry: update with new genes and functions. Hum Mutat 29:803–808

17.

Ravet N, Rouaghe S, Dode C et al (2006) Clinical significance of P46L and R92Q substitutions in the tumour necrosis factor superfamily 1A gene. Ann Rheum Dis 65:1158–1162

18.

Rebelo SL, Bainbridge SE, Amel-Kashipaz MR et al (2006) Modeling of tumor necrosis factor receptor superfamily 1A mutants associated with tumor necrosis factor receptor-associated periodic syndrome indicates misfolding consistent with abnormal function. Arthritis Rheum 54:2674–2687

19.

Turner MD, Chaudhry A, Nedjai B (2012) Tumour necrosis factor receptor trafficking dysfunction opens the TRAPS door to pro-inflammatory cytokine secretion. Biosci Rep 32:105–112
Interessenkonflikt
Der korrespondierende Autor gibt für sich und seinen Koautor an, dass kein Interessenkonflikt besteht.
About this article
Cite this article
Schumacher, J., Timmann, C. Hereditäre Fiebersyndrome. medgen 24, 211–222 (2012). https://doi.org/10.1007/s11825-012-0335-y
Schlüsselwörter
Autoinflammation

Fiebersyndrom

Amyloidose

Colchizin

Interleukin-1-Antagonisten
Keywords
Autoinflammatory diseases

Fever syndromes

Amyloidosis

Colchicine

Interleukin-1 antagonist