Zusammenfassung
Wir berichten über unsere Erfahrungen mit der Array-comparative-genomic-hybridization(CGH)-Untersuchung über 5 Jahre an 1310 untersuchten Patienten. Mit zunehmender Auflösung der Arrays nimmt die Zahl der detektieren Veränderungen zu, deren Relevanz zum Teil schwer zu beurteilen ist. Die am häufigsten nachgewiesene pathogene Veränderung bei den von uns untersuchten Patienten ist die 0,6 Mb große Deletion bzw. Duplikation in 16p11.2. Befunde, die nicht im Zusammenhang mit der initialen Fragestellung standen, wurden bei 0,2% der Patienten erhoben.
Abstract
We report on our experience with array CGH analysis on 1310 samples over the last 5 years. The number of copy number variants (CNV) rises as the resolution of the arrays increases; however, the relevance of some of these findings is difficult to evaluate. Deletion or duplication in 16p11.2 was the most frequently diagnosed pathogenic CNV. Clinically relevant findings which were not directly connected to the query were observed in about 0.2% of patients.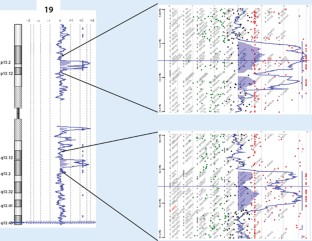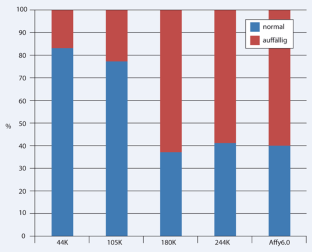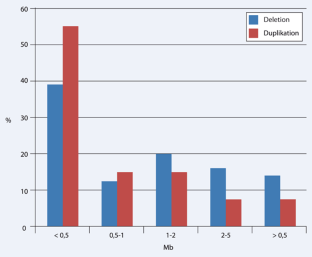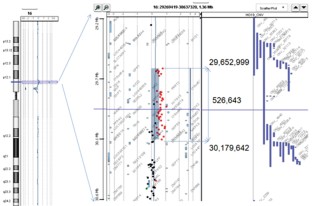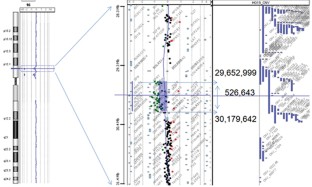 Literatur
1.

Argyriou L, Hiort O, Meinecke P et al (2010) A de novo unbalanced translocation leading to partial monosomy 9p23-pter and partial trisomy 15q25.3-qter associated with 46,XY complete gonadal dysgenesis, tall stature and mental retardation. Clin Dysmorphol 19(4):190–194

2.

Bens S, Haake A, Tönnies H et al (2011) A de novo 1.1 Mb microdeletion of chromosome 19p13.11 provides indirect evidence for EPS 15L1 to be a strong candidate for split hand split foot malformation. Eur J Med Genet 54(5):e501–504

3.

Caliebe A, Kroes HY, Smagt JJ van der et al (2010) Four patients with speech delay, seizures and variable corpus callosum thickness sharing a 0.440 Mb deletion in region 1q44 containing the HNRPU gene. Eur J Med Genet 53(4):179–185

4.

Caliebe A, Martin Subero JI, Muhle H et al (2011) A 2 Mb deletion in 14q13 associated with severe developmental delay and hemophagocytic lymphohistiocytosis.Eur J Med Genet 54(5):e505–509

5.

Endele S, Rosenberger G, Geider K et al (2010) Mutations in GRIN2A and GRIN2B encoding regulatory subunits of NMDA receptors cause variable neurodevelopmental phenotypes. Nat Genet 42(11):1021–1026

6.

Miller DT, Adam MP, Aradhya S et al (2010) Consensus statement: chromosomal microarray is a first-tier clinical diagnostic test for individuals with developmental disabilities or congenital anomalies. Am J Hum Genet 86(5):749–764

7.

Mitter D, Chiaie BD, Lüdecke HJ et al (2010) Genotype-phenotype correlation in eight new patients with a deletion encompassing 2q31.1. Am J Med Genet A 152A(5):1213–1224

8.

Mohrmann I, Gillessen-Kaesbach G, Siebert R et al (2011) A de novo 0.57 Mb microdeletion in chromosome 11q13.1 in a patient with speech problems, autistic traits, dysmorphic features and multiple endocrine neoplasia type 1. Eur J Med Genet 54(4):e461–464

9.

Reutlinger C, Helbig I, Gawelczyk B et al (2010) Deletions in 16p13 including GRIN2A in patients with intellectual disability, various dysmorphic features, and seizure disorders of the rolandic region. Epilepsia 51:1870–1873

10.

Weichert J, Schröer A, Amari F et al (2011) A 1 Mb-sized microdeletion Xq26.2 encompassing the GPC3 gene in a fetus with Simpson-Golabi-Behmel syndrome Report, antenatal findings and review. Eur J Med Genet 54(3):343–347
Danksagung
Wir danken allen Mitarbeitern im molekulargenetischen Labor und molekularzytogenetischen Labor des Instituts für Humangenetik, Kiel, für ihre Arbeit. Allen Kollegen, die diese Untersuchungen durch die Zusendung von Proben und klinischer Informationen ermöglichten, gilt unser herzlicher Dank.
Hinweis: Aufgrund der Vorgabe, dass das Literaturverzeichnis auf 10 Arbeiten zu beschränken ist, werden Artikel zu Grundlagen oder allgemein geläufigen Syndromen nicht aufgeführt. Wir verweisen ggf. auf entsprechende Übersichten und Bibliographien z. B. über OMIM.
Interessenkonflikt
Der korrespondierende Autor weist für sich und seine Koautoren auf folgende Beziehung(en) hin: RS, SB, IN, JIMS, IV und AC haben im Rahmen von Forschungsprojekten und Beta-Studien Array-Plattformen der Firmen Agilent und Affymetrix getestet.
About this article
Cite this article
Caliebe, A., Platzer, K., Argyriou, L. et al. Array-CGH. medgen 24, 99–107 (2012). https://doi.org/10.1007/s11825-012-0330-3
Schlüsselwörter
Oligonukleotidarray

Mikroarray

Karyotypisierung

Störung der geistigen Entwicklung

Deletion 16p11.2
Keywords
Oligonucleotide array

Microarray

Karyotyping

Intellectual disability

Deletion 16p11.2