Zusammenfassung
Array-basierte Methoden zum Nachweis chromsomaler Imbalancen haben in der vergangenen Dekade zunehmende Bedeutung in der tumorgenetischen Analytik gewonnen. Dabei werden im Wesentlichen auf Array-CGH ("comparative genomic hybridization") und SNP(Single-nucleotide-polymorphism)-Array basierte Technologien unterschieden, die je nach Fragestellung, Ausgangsmaterial und gewünschter Auflösung Vor- und Nachteile haben. So erlauben SNP-basierte Methoden im Gegensatz zum klassischen Array-CGH-Ansatz den gleichzeitigen Nachweis von chromosomalen Imbalancen und von Verlust der Heterozygotie ohne Veränderung der Kopienzahl ("copy-neutral loss of heterozygosity", CN-LOH). Bei allen Array-basierten Analysen von Tumoren ist zu beachten, dass im Gegensatz zu den Analysen zum Nachweis konstitutioneller Veränderungen zumeist nicht alle untersuchten Zellen dem neoplastischen Klon oder einem chromosomal aberranten Subklon angehören. Einsatzgebiete von Array-basierten Technologien bei Tumoren sind z. B. die Charakterisierung pathogenetisch relevanter Imbalancen, die Definition von molekularen und klinischen Subgruppen von Tumoren oder die Identifizierung von Targets für eine individualisierte Therapie.
Abstract
Over the last decade, array-based methods for the detection of genomic imbalances have gained increasing importance in the field of cancer genetics. With their particular platform-specific advantages and disadvantages, different array comparative genomic hybridization (CGH) and single nucleotide polymorphism (SNP) array-based technologies can be utilized according to the question addressed, the material to be analyzed and the resolution targeted. In contrast to array CGH-based technologies, SNP-based arrays allow the simultaneous detection of copy-neutral loss of heterozygosity in addition to the diagnosis of chromosomal imbalances. In all array-based approaches it should be borne in mind that tumors are usually a mixture of clonal neoplastic and normal cells and that some aberrations might be subclonal. Applications of array-based imbalance mapping in cancer include the characterization of pathogenetically relevant imbalances, the definition of molecular or clinical subgroups of tumors or the identification of targets for individualized therapy.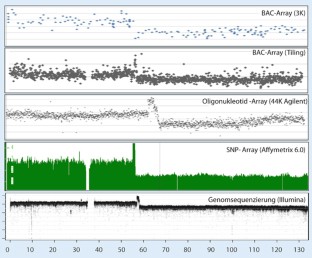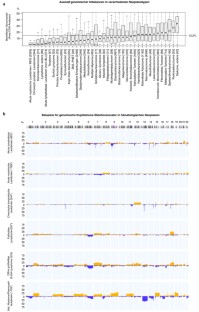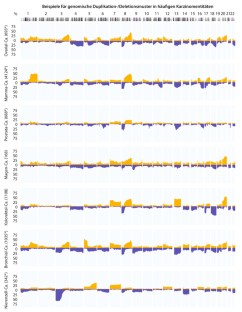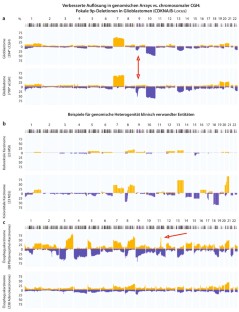 Literatur
1.

Baudis M (2007) Genomic imbalances in 5918 malignant epithelial tumors: an explorative meta-analysis of chromosomal CGH data. BMC Cancer 7:226

2.

Beroukhim R, Mermel CH, Porter D et al (2010) The landscape of somatic copy-number alteration across human cancers. Nature 463:899–905

3.

Cai H, Kumar N, Baudis M (2012) arrayMap: a reference resource for genomic copy number imbalances in human malignancies. arXiv:1201.2677 [q-bio.GN]

4.

Dittmann K, Przybylski GK, Grabarczyk P et al (2012) Fast approach for clarification of chromosomal aberrations by using LM-PCR and FT-CGH in leukaemic sample. Acta Haematol 127:16–19

5.

Klapper W, Kreuz M, Kohler CW et al (2012) Patient age at diagnosis is associated with the molecular characteristics of diffuse large B-cell lymphoma. Blood 119:1882–1887

6.

Kool M, Korshunov A, Remke M et al (2012) Molecular subgroups of medulloblastoma: an international meta-analysis of transcriptome, genetic aberrations, and clinical data of WNT, SHH, Group 3, and Group 4 medulloblastomas. Acta Neuropathol 123:473–484

7.

Mestre-Escorihuela C, Rubio-Moscardo F, Richter JA et al (2007) Homozygous deletions localize novel tumor suppressor genes in B-cell lymphomas. Blood 109:271–280

8.

Pinkel D, Segraves R, Sudar D et al (1998) High resolution analysis of DNA copy number variation using comparative genomic hybridization to microarrays. Nat Genet 20:207–211

9.

Raghavan M, Lillington DM, Skoulakis S et al (2005) Genome-wide single nucleotide polymorphism analysis reveals frequent partial uniparental disomy due to somatic recombination in acute myeloid leukemias. Cancer Res 65:375–378

10.

Solinas-Toldo S, Lampel S, Stilgenbauer S et al (1997) Matrix-based comparative genomic hybridization: biochips to screen for genomic imbalances. Genes Chromosomes Cancer 20:399–407
Danksagungen
Die Autoren bedanken sich bei allen Kolleginnen und Kollegen, deren Arbeiten im Bereich der Array-basierten Analyse von Tumoren aufgrund von Platzbeschränkungen nicht zitiert werden konnten und die Array-basierte Daten zu http://www.arraymap.org beigetragen haben, auf denen die Abb. 2–4 dieser Arbeit beruhen. Die Analysen, auf denen Abb. 1 beruht, erfolgten z. T. in Kooperation mit Dr. Jose Ignacio Martin-Subero (Kiel/Barcelona), Dr. R. de Leeuw (Vancouver) und Dr. Matthias Schlesner (DKFZ).
Interessenkonflikt
Der korrespondierende Autor weist für sich und seine Koautoren auf folgende Beziehung(en) hin: Die eigenen Arbeiten der Autoren im Bereich der Array-basierten Analyse von malignen Neoplasien wurden gefördert von der Deutschen Krebshilfe, dem Bundesministerium für Bildung und Forschung (BMBF), Krebshilfe Schweiz, FEBS, Polish Ministry of Science and Higher Education und der KinderKrebsInitiative Buchholz/Holm-Seppensen. RS hat im Rahmen von Forschungsprojekten und Beta-Studien Array-Plattformen der Firmen Affymetrix, Illumina und Agilent getestet.
About this article
Cite this article
Baudis, M., Giefing, M., Cai, H. et al. Array-basierter Nachweis chromosomaler Aberrationen bei malignen Neoplasien. medgen 24, 114–122 (2012). https://doi.org/10.1007/s11825-012-0328-x
Schlüsselwörter
"Array comparative genomic hybridization"

Einzelnukleotidpolymorphismus

Verlust der Heterozygotie

Tumorgenetik

Chromosomale Imabalancen
Keywords
Array comparative genomic hybridization

Single nucleotide polymorphism

Loss of heterozygosity

Cancer genetics

Chromosomal imbalances