Zusammenfassung
Die molekulare Karyotypisierung durch Array-CGH ("comparative genomic hybridization") und SNP-Arrays (SNP: "single nucleotide polymorphism") ermöglicht die hochauflösende Untersuchung des gesamten Genoms, um so Gewinne und/oder Verluste (Kopienzahlvarianten, "copy number variants", CNVs) zu detektieren, die die Ursache einer genetischen Erkrankung sein können. Diese Technik wird in erster Linie zur Ursachenklärung bei syndromalen und nichtsyndromalen (geistigen) Entwicklungsstörungen und zur genetischen Charakterisierung von Tumoren eingesetzt. Auch in der pränatalen Diagnostik könnte die molekulare Karyotypisierung bei auffälligem sonographischem Befund zur Klärung der Ursachen hilfreich sein. Der Artikel gibt eine kurze Übersicht über die grundlegenden Methoden, deren Grenzen und Stärken sowie einen Ausblick in die Zukunft.
Abstract
Molecular karyotyping by array comparative genomic hybridization (CGH) and single nucleotide polymorphism (SNP) arrays allows for a high resolution scan of the entire genome. It detects gains or losses (copy number variants) that might be the underlying cause of a genetic disorder. This technique is mainly applied to cases with syndromal or non-syndromal impaired (intellectual) development and is used to characterize genetic aberrations of tumor samples. Furthermore, molecular karyotyping might be useful for resolving prenatal cases with abnormal ultrasound findings. The purpose of this article is to explain the basic techniques, their limitations and strengths and to provide an outlook on future prospects.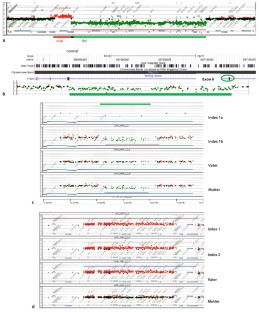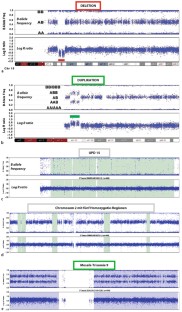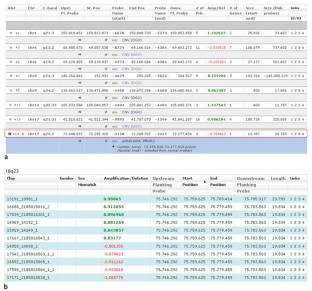 Literatur
1.

Bruno DL et al (2011) Extending the scope of diagnostic chromosome analysis: detection of single gene defects using high-resolution SNP microarrays. Hum Mutat 32(12):1500–1506

2.

Bruno DL et al (2011) Pathogenic aberrations revealed exclusively by single nucleotide polymorphism (SNP) genotyping data in 5000 samples tested by molecular karyotyping. J Med Genet 48(12):831–839

3.

Conlin LK et al (2010) Mechanisms of mosaicism, chimerism and uniparental disomy identified by single nucleotide polymorphism array analysis. Hum Mol Genet 19(7):1263–1275

4.

Leeuw N de et al (2012) Diagnostic interpretation of array data using public databases and internet sources. Hum Mutat

5.

Deak KL, Horn SR, Rehder CW (2011) The evolving picture of microdeletion/microduplication syndromes in the age of microarray analysis: variable expressivity and genomic complexity. Clin Lab Med 31(4):543–64, viii

6.

Hanemaaijer NM et al (2012) Practical guidelines for interpreting copy number gains detected by high-resolution array in routine diagnostics. Eur J Hum Genet 20(2):161–165

7.

Haraksingh RR et al (2011) Genome-wide mapping of copy number variation in humans: comparative analysis of high resolution array platforms. PLoS One 6(11):e27859

8.

Miller DT et al (2010) Consensus statement: chromosomal microarray is a first-tier clinical diagnostic test for individuals with developmental disabilities or congenital anomalies. Am J Hum Genet 86(5):749–764

9.

Morrow EM (2010) Genomic copy number variation in disorders of cognitive development. J Am Acad Child Adolesc Psychiatry 49(11):1091–1104

10.

Schaaf CP, Wiszniewska J, Beaudet AL (2011) Copy number and SNP arrays in clinical diagnostics. Annu Rev Genomics Hum Genet 12:25–51

11.

Su Z et al (2011) Next-generation sequencing and its applications in molecular diagnostics. Expert Rev Mol Diagn 11(3):333–343

12.

Deutsche Gesellschaft für Humangenetik e. V., Berufsverband Deutscher Humangenetiker e. V. (2011) S2-Leitlinie Humangenetische Diagnostik. Med Genet 23:281–323

13.

Scheinin et al. (2012) Posterpräsentation ISCO-Konferenz 2012
Interessenkonflikt
Der korrespondierende Autor gibt für sich und seine Koautoren an, dass kein Interessenkonflikt besteht.
About this article
Cite this article
Hackmann, K., Engels, H. & Schröck, E. Molekulare Karyotypisierung in der genetischen Diagnostik. medgen 24, 86–93 (2012). https://doi.org/10.1007/s11825-012-0326-z