Zusammenfassung
Durch Deletionen im chromosomalen Bereich 2q37 wird ein klinisches Bild verursacht, das als "Albright-hereditäre-Osteodystrophie(AHO)-ähnliches Syndrom" bezeichnet wird. Aufgrund der Hauptmerkmale leichte bis mäßig schwere Entwicklungsverzögerung, Verhaltensauffälligkeiten und Brachydakytlie Typ E wird dieser Phänotyp auch Brachydaktylie-mentales-Retardierungs-Syndrom (BDMR, MIM 600430) genannt. Durch Eingrenzung minimaler krankheitsrelevanter 2q37-Deletionsintervalle wurde das Histondeacetylase-4-Gen (HDAC4, MIM 605314), ein zentraler Transkriptionsrepressor, der in der Gehirn-, Muskel- und Skelettentwicklung involviert ist, als krankheitsrelevantes Gen für das BDMR-Syndrom identifiziert. Bislang wurden intragenische HDAC4-Mutationen bei 2 Patienten mit BDMR-Syndrom nachgewiesen, bei denen zunächst aufgrund von Verhaltensauffälligkeiten klinisch ein Smith-Magenis-Syndrom vermutet worden war. Untersuchungen mittels Array-CGH ("comparative genomic hybridization") decken ein breiteres phänotypisches Spektrum des 2q37-Deletionssyndroms als bislang bekannt auf. So war der Nachweis einer 2q37-Deletion auch bei entwicklungsverzögerten Patienten ohne BDE möglich.
Abstract
Deletions of the 2q37 chromosomal region cause a phenotype known as "Albright's hereditary osteodystrophy (AHO)-like syndrome." The main clinical features, such as mild to moderate developmental delay, behavioral abnormalities and brachydactyly type E (BDE), lead to the synonymously used designation brachydactyly-mental retardation syndrome (BDMR, MIM 600430). By refinement of minimal 2q37 deletion intervals, histone deacetylase 4 (HDAC4, MIM 605314), a central transcription repressor gene involved in brain, muscle and skeletal development, has been identified as the disease gene relevant for BDMR syndrome. As yet, intragenic HDAC4 mutations have been detected in two BDMR patients initially diagnosed with Smith-Magenis syndrome because of their behavioral abnormalities. Array CGH analyses revealed a broader phenotypic spectrum of 2q37 deletion syndrome than initially assumed since 2q37 deletions were also detected in patients with developmental delay without BDE.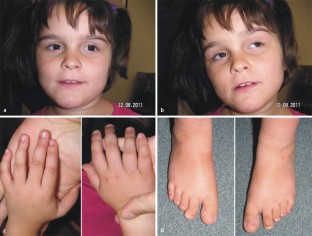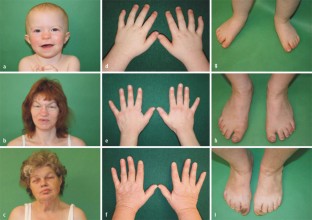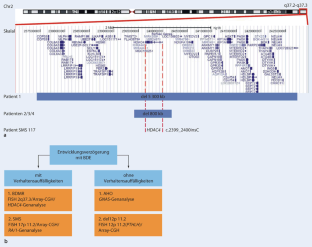 Literatur
1.

Aldred MA, Sanford RO, Thomas NS et al (2004) Molecular analysis of 20 patients with 2q37.3 monosomy: definition of minimum deletion intervals for key phenotypes. J Med Genet 41:433–439

2.

Correa D, Hesse E, Seriwatanachai D et al (2010) Zfp521 is a target gene and key effector of parathyroid hormone-related peptide signaling in growth plate chondrocytes. Dev Cell 19:533–546

3.

Doherty ES, Solomon BD, Lacbawan F (1993–2007) 2q37 Deletion Syndrome. In: Pagon RA, Bird TD, Dolan CR, Stephens K (Hrsg) GeneReviews. University of Washington, Seattle/WA

4.

Johnson D, Kan S, Oldridge M et al (2003) Missense mutations in the homeodomain of HOXD13 are associated with brachydactyly types D and E. Am J Hum Genet 72:984–997

5.

Klopocki E, Hennig BP, Dathe K et al (2010) Deletion and point mutations of PTHLH cause brachydactyly type E. Am J Hum Genet 86:434–439

6.

Majdzadeh N, Wang L, Morrison BE et al (2008) HDAC4 inhibits cell-cycle progression and protects neurons from cell death. Dev Neurobiol 68:1076–1092

7.

Miska EA, Langley E, Wolf D et al (2001) Differential localization of HDAC4 orchestrates muscle differentiation. Nucleic Acids Res 29:3439–3447

8.

Vega RB, Matsuda K, Oh J et al (2004) Histone deacetylase 4 controls chondrocyte hypertrophy during skeletogenesis. Cell 119:555–566

9.

Villavicencio-Lorini P, Kuss P, Friedrich J et al (2010) Homeobox genes d11-d13 and a13 control mouse autopod cortical bone and joint formation. J Clin Invest 120:1994–2004

10.

Williams SR, Aldred MA, Der Kaloustian VM et al (2010) Haploinsufficiency of HDAC4 causes brachydactyly mental retardation syndrome, with brachydactyly type E, developmental delays, and behavioral problems. Am J Hum Genet 87:219–228
Interessenkonflikt
Der korrespondierende Autor gibt für sich und seine Koautoren an, dass kein Interessenkonflikt besteht.
About this article
Cite this article
Villavicencio-Lorini, P., Klopocki, E., Pfeiffer, L. et al. Das 2q37-Deletionssyndrom. medgen 24, 40–47 (2012). https://doi.org/10.1007/s11825-012-0318-z
Schlüsselwörter
HDAC4-Protein, humanes

2q37-Deletions-Syndrom

Brachydaktylie-mentales-Retardierungs-Syndrom

Albright-hereditäre-Osteodystrophie-ähnliches Syndrom

Brachydaktylie
Keywords
HDAC4 protein, human

2q37 deletion syndrome

Brachydactyly-mental retardation syndrome

Albright hereditary osteodystrophy-like syndrome

Brachydactyly