Zusammenfassung
Bei der Fibrodysplasia ossificans progressiva (FOP) handelt es sich um eine sehr seltene, autosomal-dominant vererbbare Erkrankung, die durch Ausbildung von heterotopen Ossifikationen charakterisiert ist, welche zu einer ausgeprägten Mobilitätseinschränkung führen. Angeborene Fehlbildungen von Großzehen im Sinne von Hypoplasie und fibularer Deviation werden bei den meisten Patienten beschrieben. Eine Hypoplasie der Daumen besteht bei etwa der Hälfte der Patienten. Als genetische Ursache der FOP wurden heterozygote Mutationen im ACVR1-Gen identifiziert. Wir berichten über die klinischen und molekulargenetischen Daten von 25 eigenen Patienten (3 bereits veröffentlicht) und weiteren 47 Patienten aus der Literatur mit bekannten Mutationen, bei denen klinische Daten vorlagen und stellen eine Genotyp-Phänotyp-Korrelation dar.
Abstract
Fibrodysplasia ossificans progressiva is a rare autosomal dominant genetic disorder and the most disabling condition of heterotopic ossification in humans. Congenital malformation of the great toes in terms of hypoplasia or aplasia and fibular deviation is noted in almost all patients, and a hypoplasia of the thumbs in about half of the patients. Mutations in the ACVR1 gene were identified as a genetic cause of FOP. We summarize the clinical and molecular data of 25 patients from our cohort as well as of 47 patients with known mutations, and the clinical information described in the literature so far. We discuss these summarized data in terms of genotype-phenotype correlation.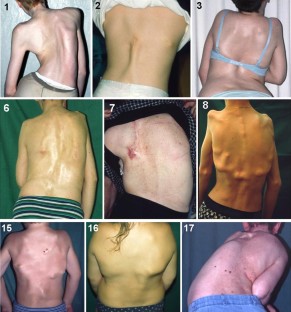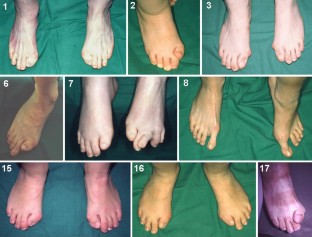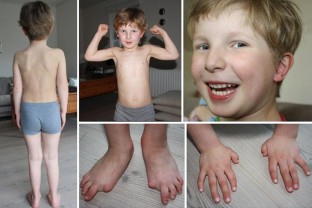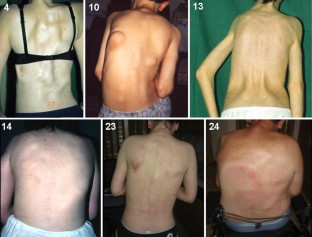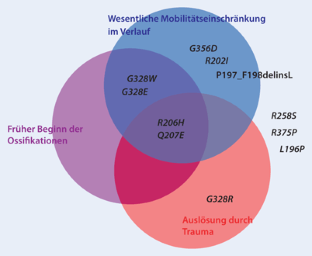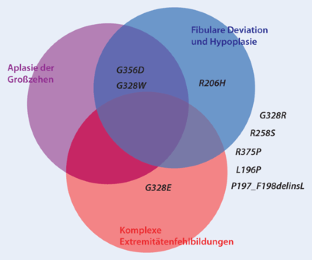 Literatur
1.

Adegbite NS, Xu M, Kaplan FS et al (2008) Diagnostic and mutational spectrum of progressive osseous heteroplasia (POH) and other forms of GNAS-based heterotopic ossification. Am J Med Genet A 146A:1788–1796

2.

Barnett CP, Dugar M, Haan EA (2011) Late-onset variant fibrodysplasia ossificans progressiva leading to misdiagnosis of ankylosing spondylitis. Am J Med Genet A 155A(6):1492–1495. doi: 10.1002/ajmg.a.34003

3.

Bocciardi R, Bordo D, Di Duca M et al (2009) Mutational analysis of the ACVR1 gene in Italian patients affected with fibrodysplasia ossificans progressiva: confirmations and advancements. Eur J Hum Genet 17(3):311–318

4.

Carvalho DR, Navarro MM, Martins BJ et al (2010) Mutational screening of ACVR1 gene in Brazilian fibrodysplasia ossificans progressiva patients. Clin Genet 77(2):171–176

5.

Chen D, Zhao M, Mundy GR (2004) Bone morphogenetic proteins. Growth Factors 22(4):233–241

6.

Cohen RB, Hahn GV, Tabas JA et al (1993) The natural history of heterotopic ossification in patients who have fibrodysplasia ossificans progressiva. A study of forty-four patients. J Bone Joint Surg Am 75(2):215–219

7.

Connor JM, Evans DA (1982) Fibrodysplasia ossificans progressiva. The clinical features and natural history of 34 patients. J Bone Joint Surg Br 64(1):76–83

8.

Furuya H, Ikezoe K, Wang L et al (2008) A unique case of fibrodysplasia ossificans progressiva with an ACVR1 mutation, G356D, other than the common mutation (R206H). Am J Med Genet A 146A(4):459–463

9.

Gregson CL, Hollingworth P, Williams M et al (2011) A novel ACVR1 mutation in the glycine/serine-rich domain found in the most benign case of a fibrodysplasia ossificans progressiva variant reported to date. Bone 48(3):654–658

10.

Kaplan FS, Xu M, Seemann P et al (2009) Classic and atypical fibrodysplasia ossificans progressiva (FOP) phenotypes are caused by mutations in the bone morphogenetic protein (BMP) type I receptor ACVR1. Hum Mutat 30(3):379–390

11.

Kitterman JA, Kantanie S, Rocke DM, Kaplan FS (2005) Iatrogenic harm caused by diagnostic errors in fibrodysplasia ossificans progressiva. Pediatrics 116:e654–e661

12.

Nakajima M, Haga N, Takikawa K et al (2007) The ACVR1 617G > A mutation is also recurrent in three Japanese patients with fibrodysplasia ossificans progressiva. J Hum Genet 52(5):473–475

13.

Petrie KA, Lee WH, Bullock AN et al (2009) Novel mutations in ACVR1 result in atypical features in two fibrodysplasia ossificans progressiva patients. PLoS One 4(3):e5005

14.

Pignolo RJ, Foley KL (2005) Non-hereditary heterotopic ossification. Implications for injury, arthropathy, and aging. Clin Rev Bone Miner Metab 3:261–266

15.

Ratbi I, Borcciadi R, Regragui A et al (2010) Rarely occurring mutation of ACVR1 gene in Moroccan patient with fibrodysplasia ossificans progressiva. Clin Rheumatol 29(1):119–121

16.

Shi Y, Massagué J (2003) Mechanisms of TGF-beta signaling from cell membrane to the nucleus. Cell 113(6):685–700

17.

Shore EM, Xu M, Feldman GJ et al (2006) A recurrent mutation in the BMP type I receptor ACVR1 causes inherited and sporadic fibrodysplasia ossificans progressiva. Nat Genet 38:525–527. Erratum (2007): Nat Genet. 39: 276

18.

Virdi AS, Shore EM, Oreffo RO et al (1999) Phenotypic and molecular heterogeneity in fibrodysplasia ossificans progressiva. Calcif Tissue Int 65(3):250–255

19.

Wozney JM, Rosen V, Celeste AJ et al (1988) Novel regulators of bone formation: molecular clones and activities. Science 242(4885):1528–1534
Danksagung
Wir bedanken uns bei allen Patienten, die an dieser Studie teilgenommen haben, bei ihren Familien sowie beim Förderverein für Fibrodysplasia Ossificans Progressiva-Erkrankte FOP e. V. Weiterhin geht unser Dank an die betreuenden Ärzte für die Zuweisung der Patienten sowie an Prof. Stefan Mundlos und Prof. Frederick Kaplan, die die molekulargenetische Diagnostik im ACVR1-Gen durchgeführt haben.
Interessenkonflikt
Die korrespondierende Autorin gibt für sich und ihre Koautoren an, dass kein Interessenkonflikt besteht.
About this article
Cite this article
Stefanova, I., Grünberg, C. & Gillessen-Kaesbach, G. Fibrodysplasia ossificans progressiva. medgen 24, 20–32 (2012). https://doi.org/10.1007/s11825-012-0315-2
Schlüsselwörter
Fibrodysplasia ossificans progressiva

Ossifikation, heterotope

Großzehenfehlbildungen

Fibulare Deviation
Keywords
Fibrodysplasia ossificans progressiva

Ossification, heterotopic

Monophalangism of the great toes

Fibular deviation