Zusammenfassung
Die Präimplantationsdiagnostik (PID) für monogen vererbte Erkrankungen ist heute neben der Pränataldiagnostik als eine Möglichkeit der Realisierung des Kinderwunsches international fest etabliert. Die Schwangerschaftsraten entsprechen denen einer Behandlung mit intrazytoplasmatischer Spermieninjektion (ICSI) ohne genetische Testung im Rahmen der normalen Kinderwunschbehandlung. Sie erfordert vorab eine umfassende ergebnisoffene genetische und reproduktionsmedizinische Beratung interessierter Paare mit Darstellung der Möglichkeiten der PID, aber auch ihrer Risiken und ihrer begrenzten Erfolgschancen. Von Seiten des PID-Zentrums ist neben einer guten interdisziplinären medizinischen Betreuung ein Qualitätsmanagement für das genetische und In-vitro-Fertilisations(IVF)-Labor inklusive Schnittstellen zu etablieren, welches den Besonderheiten der Einzelzelldiagnostik Rechnung trägt.
Abstract
Preimplantation genetic diagnosis (PGD) today is worldwide a well established alternative option to prenatal diagnosis for families with Mendelian disorders. The clinical pregnancy rates obtained at good PGD centers correspond to those of regular intracytoplasmic sperm injection (ICSI) cycles without genetic testing during fertility treatment. Prior to PGD for monogenic inherited disorders a comprehensive non-directive counseling of the interested couple on the possibilities of PGD is required, but also on its risks and limitations, covering both, genetic aspects as well as reproductive medicine. The performing PGD center has to provide reliable interdisciplinary medical care as well as quality management for the genetics and IVF laboratory including their interface, accounting for the particular requirements of single-cell genetic testing.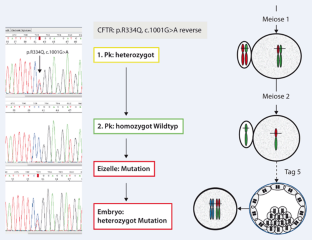 Literatur
1.

(o A) (2010) DIR Jahrbuch 2009. Mod. Nachdruck nach: Bühler K, Bals-Pratsch M, Kupka MS, Board of Trustees (2010) DIR Annual 2009. J Reproduktionsmed Endokrinol 7:470–497

2.

Barbash-Hazan S, Frumkin T, Malcov M et al (2009) Preimplantation aneuploid embryos undergo self-correction in correlation with their developmental potential. Fertil Steril 92:890–896

3.

Bredenoord A, Dondorp W, Pennings G et al (2009) Preimplantation genetic diagnosis for mitochondrial DNA disorders: ethical guidance for clinical practice. Eur J Hum Genet 17:1550–1559

4.

Griesinger G, Bündgen N, Salmen D et al (2009) Polar body biopsy in the diagnosis of monogenic diseases: the birth of three healthy children. Dtsch Arztebl Int 106:533–538

5.

Handyside AH, Kontogianni EH, Hardy K, Winston RM (1990) Pregnancies from biopsied human preimplantation embryos sexed by Y-specific DNA amplification. Nature 344:768–770

6.

Harper JC, Coonen E, Rycke M de et al (2010) ESHRE PGD Consortium data collection X: cycles from January to December 2007 with pregnancy follow-up to October 2008. Hum Reprod 25:2685–2707

7.

Harper JC, Sengupta SB (2011) Preimplantation genetic diagnosis: state of the ART 2011. Hum Genet online first July 12, 2011. doi:10.1007/s00439–011–1056-z

8.

Harton GL, Rycke M de, Fiorentino F et al (2011) ESHRE PGD consortium best practice guidelines for amplification-based preimplantation genetic diagnosis (PGD). Hum Reprod 26:33–40

9.

Kokkali G, Traeger-Synodinos J, Vrettou C et al (2007) Blastocyst biopsy versus cleavage stage biopsy and blastocyst transfer for preimplantation genetic diagnosis of beta-thalassaemia: a pilot study. Hum Reprod 22:1443–1449

10.

Kuliev A, Rechitsky S (2011) Polar body based preimplantation genetic diagnosis for Mendelian disorders. Mol. Hum Reprod 17:275–285

11.

Pantos K, Makrakis E, Karantzis P et al (2004) Blastocyst versus early cleavage embryo transfer: a retrospective analysis of 4,165 transfers. Clin Exp Obstet Gynecol 31:42–44

12.

Rosenbusch B (2006) The contradictory information on the distribution of non-disjunction and pre-division in female gametes. Hum Reprod 21:2739–2742

13.

Echten-Arends J van, Mastenbroek S, Sikkema-Raddatz B et al (2011) Chromosomal mosaicism in human preimplantation embryos: a systematic review. Hum Reprod Update 17:620–627

14.

Verlinsky Y, Ginsberg N, Lifchez A et al (1990) Analysis of the first polar body: preconception genetic diagnosis. Hum Reprod 5:826–829

15.

Vos A de, Staessen C, Rycke M de et al (2009) Impact of cleavage-stage embryo biopsy in view of PGD on human blastocyst implantation: a prospective cohort of single embryo transfers. Hum Reprod 24:2988–2996
Danksagung
Unser ganz besonderer Dank gilt Prof. Dr. med. Eberhard Schwinger für seine langjährige vielfältige Unterstützung unserer Arbeiten und die wunderschöne Zusammenarbeit. Gemeinsam mit seinen Lübecker Kollegen hat er die Entwicklung der Präimplantationsdiagnostik in Deutschland entscheidend geprägt.
Interessenkonflikt
Der korrespondierende Autor gibt an, dass kein Interessenkonflikt besteht.
About this article
Cite this article
Hehr, A., Paulmann, B., Seifert, B. et al. Präimplantationsdiagnostik für monogen vererbte Erkrankungen. medgen 23, 469–478 (2011). https://doi.org/10.1007/s11825-011-0306-8
Schlüsselwörter
Präimplantationsdiagnostik

Monogen vererbte Erkrankungen

ICSI

Polkörperdiagnostik

Trophektodermdiagnostik
Keywords
Preimplantation genetic diagnosis

Monogenic inherited disorders

ICSI

Polar body diagnosis

Trophectoderm diagnosis