Zusammenfassung
Das Ersttrimesterscreening zur Risikobestimmung für Trisomie 21, 18 und 13 hat sich in den letzten 10 Jahren in Deutschland etabliert. Die optimale Durchführung setzt die Einhaltung bestimmter Messkriterien voraus sowie die Benutzung evaluierter Risikoberechnungsprogramme. Die individuelle Risikoberechnung erfolgt im deutschsprachigen Raum meist mit dem Berechnungsprogramm PRC der Fetal Medicine Foundation Deutschland (FMF-D) unter Verwendung der Angaben zum maternalen Alter, zur Scheitel-Steiß-Länge, zur Nackentransparenz, zum freien β-HCG (Humanchoriongonadotropin) und zum PAPP-A ("pregnancy-associated plasma protein-A"). PRC 2.0 berücksichtigt zusätzlich den Nikotinkonsum, die ethnische Herkunft und das mütterliche Gewicht. Durch die neuen Version des Berechnungsprogramms PRC 2.0 konnte die Trisomie-21-, -18- und -13-Detektionsrate erhöht werden bei gleichzeitiger Senkung der Falsch-positiv-Raten. Diese Ergebnisse werden verglichen mit den Ergebnissen aus der vorherigen Version von PRC und denen des englischen Algorithmus.
Abstract
First-trimester screening for the risk evaluation of trisomy 21, 18 and 13 has become established in Germany over the last 10 years. Optimal implementation requires the use of certain measurement criteria in ultrasound, as well as the use of an evaluated risk calculation program. In Germany, individual risk calculation is mostly performed using the PRC calculation program from the Fetal Medicine Foundation Germany (FMF-D), implementing data on maternal age, crown-rump length, nuchal translucency, free β-HCG and PAPP-A concentrations. PRC 2.0 also takes nicotine consumption, ethnicity and maternal weight into consideration. By using this new version, trisomy 21, 18 and 13 detection rates could be increased while reducing false positive rates. These results are compared with the results from the previous version of PRC and those of the English algorithm.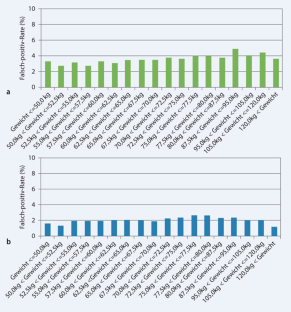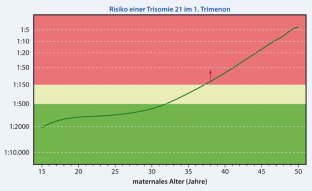 Literatur
1.

Eiben B, Merz E, Hackelöer J et al (2008) Ersttrimesterscrening: Welche Methode liefert die besten Ergebnisse? Frauenarzt 49:196–197

2.

Eiben B, Thode C (2006) Die Fetal Medicine Foundation Deutschland e. V (FMF). Med Genet 18:235–236

3.

Kagan et al (2011) Comparison of two first trimester screening algorithms for trisomy 21 with and without adjustment of maternal characteristics. eingereicht bei: Ultraschall Med

4.

Merz E, Thode C, Alkier A et al (2008) A new approach to calculating the risk of chromosomal abnormalities with first-trimester screening data- Ein neues Verfahren zur Berechnung des rRisikos von Chromosomenanomalien unter Verwendung von Ersttrimester-Screening-Daten. Ultraschall Med 29:639–645

5.

Merz E, Thode C, Eiben B et al (2011) Individualized correction for maternal weight in calculating the risk of chromosomal abnormalities with first-trimester screening data; Kalkulation des Risikos für chromosomale Anomalien im Ersttrimester-Screening unter Berücksichtigung einer individuellen gewichtsadaptierten Korrektur. Ultraschall Med 32:33–39
Interessenkonflikt
Keine Angaben.
About this article
Cite this article
Eiben, B., Thode, C. & Merz, E. Das Ersttrimesterscreening und die neue Risikoberechnungsoftware der Fetal Medicine Foundation Deutschland. medgen 23, 453–456 (2011). https://doi.org/10.1007/s11825-011-0303-y
Schlüsselwörter
Ersttrimesterscreening

Nackentransparenz

Beta-HCG

PAPP-A

Trisomie 21
Keywords
First-trimester screening

Nuchal translucency

HCG-beta

PAPP-A

Trisomy 21