Zusammenfassung
Die zytogenetischen Analysen an Fruchtwasserzellen oder an Chorionzotten sind die Standardmethoden der invasiven Pränataldiagnostik. In besonderen Fällen stellen die Fetalblutanalyse oder die Untersuchung fetaler Zellen anderen Ursprungs eine gute Ergänzung dar, um den tatsächlichen fetalen Chromosomensatz zu ermitteln. Die Chromosomenanalyse erlaubt die Beurteilung des gesamten Genoms auf lichtmikroskopischer Ebene. Bei molekulargenetischen Analysen monogener Erkrankungen werden native Chorionzotten für eine derartige, gezielte Untersuchung bevorzugt verwendet. Die schnelle Entwicklung der nichtinvasiven genetischen Pränataldiagnostik kann die Optionen werdender Eltern, bestimmte genetisch bedingte Störungen auszuschließen, erweitern und auf den Einsatz der invasiven pränatalen Diagnostik maßgeblich Einfluss nehmen.
Abstract
Cytogenetic analysis of amniotic fluid cells or chorionic villi are standard methods in invasive prenatal diagnosis. In certain cases, analyzing fetal blood cells or fetal cells of other origin represents an excellent supplementary investigation to disclose a fetal chromosomal aberration. At the microscopic level, chromosome analysis allows an examination of the complete genome. In the case of molecular analysis of monogenic disorders, native chorionic villi are the preferred tissue for targeted examination. Rapid advances in molecular non-invasive prenatal diagnosis will broaden parents' options to exclude certain relevant genetic changes and will have an important impact on the field of invasive prenatal diagnosis.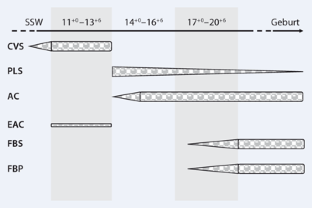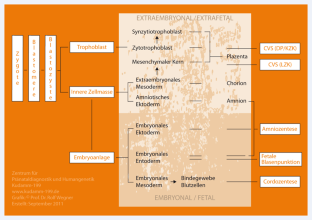 Literatur
1.

Benn PA (2010) Prenatal diagnosis of chromosomal abnormalities through amniocentesis. In: Milunsky (Hrsg) Genetic disorders and the fetus. Wiley & Blackwell, London, S 194–272

2.

Chitty LS, Schoot CE van der, Hahn S, Avent ND (2008) SAFE – The Special Non-invasive Advances in Fetal and Neonatal Evaluation Network: aims and achievements. Prenat Diagn 28:83–88

3.

Gardner RJM, Sutherland GR (2004) Chromosome abnormalities and genetic counseling. Oxford University Press, Oxford

4.

(o A) (2009) Gesetz über genetische Untersuchungen beim Menschen (Gendiagnostikgesetz – GenDG). Bundesgesetzblatt Teil I 2009 Nr. 50, ausgegeben zu Bonn am 4. August 2009. BGBl 1 2009: 2529–2538

5.

Hahnemann JM, Vejerslev LO (1997) European collaborative research on mosaicism in CVS (EUCROMIC) – fetal and extrafetal cell lineages in 192 gestations with CVS mosaicism involving single autosomal trisomy. Am J Med Genet 70:179–187

6.

Hsu LYF, Benn PA (1999) Revised guidelines for the diagnosis of mosaicism in amniocytes. Prenat Diagn 19:1081–1090

7.

Lo YM, Corbetta N, Chamberlain PF et al (1997) Presence of fetal DNA in maternal plasma and serum. Lancet 350:485–487

8.

Nationaler Ethikrat (2003) Genetische Diagnostik vor und während der Schwangerschaft. Nationaler Ethikrat, Berlin

9.

Gesellschaft für Humangenetik (GfH), Berufsverband Deutscher Humangenetiker (BVDH) (2011) S2-Leitlinie "Humangenetische Diagnostik". Med Genet 23:281–322

10.

Sperling K, Wegner RD (1995) Ätiologie und Pathogenese chromosomal bedingter embryofetaler Fehlbildungen und Spontanaborte. In: Becker R, Fuhrmann W, Holzgreve W, Sperling K (Hrsg) Pränatale Diagnostik und Therapie. Wissenschaftliche Verlagsgesellschaft, Stuttgart, S 45–86

11.

Wegner RD (Hrsg) (1999) Diagnostic cytogenetics. Lab manual. Springer, Berlin
Interessenkonflikt
Der korrespondierende Autor gibt an, dass kein Interessenkonflikt besteht.
About this article
Cite this article
Wegner, RD., Stumm, M. Zytogenetische Methoden in der Pränataldiagnostik. medgen 23, 457–462 (2011). https://doi.org/10.1007/s11825-011-0298-4
Schlüsselwörter
Pränataldiagnostik

Amniozentese

Chorionzottenbiopsie

Zytogenetik

Mosaike
Keywords
Prenatal diagnosis

Amniocentesis

Chorionic villi sampling

Cytogenetics

Mosaicism