Zusammenfassung
Am Beispiel der Muskeldystrophie Duchenne werden Risikoberechnungen beim X-chromosomal rezessiven Erbgang mithilfe des Bayesschen Rechentableaus durchgeführt und dabei demonstriert, wie sich auch komplexe genetische Modelle berücksichtigen lassen und auf das Risiko auswirken.
Abstract
Using the example of Duchenne muscular dystrophy, risk calculations for X-linked recessive traits are performed using the Bayesian computation tableaus, demonstrating how to take even complex genetic models and their impact on the calculated risk into consideration.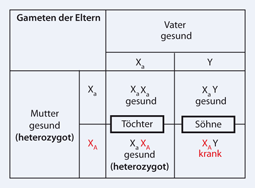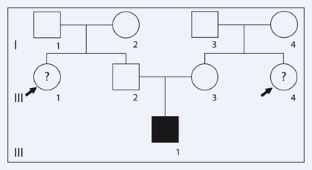 Literatur
1.

Barbujani G, Russo A, Danieli GA et al (1990) Segregation analysis of 1885 DMD families: significant departure from the expected proportion of sporadic cases. Hum Genet 84:522–526

2.

Den Dunnen JT, Grootscholten PM, Bakker E et al (1989) Topography of the Duchenne muscular dystrophy (DMD) gene: FIGE and cDNA analysis of 194 cases reveals 115 deletions and 13 duplications. Am J Hum Genet 45:835–847

3.

Fischer C, Gross W, Krüger J et al (2006) Modelling germline mosaicism and different new mutation rates simultaneously for appropriate risk calculations in families with Duchenne muscular dystrophy. Ann Hum Genet 70:237–248

4.

Fischer C, Krüger J, Gross W (2006) RISCALW: a Windows program for risk calculation in families with Duchenne muscular dystrophy. Ann Hum Genet 70:249–253

5.

Grimm T, Kress W, Meng G, Müller-Reible CR (2009) Muskeldystrophien Duchenne und Becker – Molekulargenetische Diagnostik und genetisches Modell. Med Genet 21:327–331

6.

Grimm T, Meng G, Liechti-Gallati S et al (1994) On the origin of deletions and point mutations in Duchenne muscular dystrophy: most deletions arise in oogenesis and most point mutations result from events in spermatogenesis. J Med Genet 31:183–186

7.

Grimm T, Müller B, Müller CR, Janka M (1990) Theoretical considerations on germline mosaicism in Duchenne muscular dystrophy. J Med Genet 27:683–687

8.

Haldane JB (1935) The rate of spontaneous mutation of a human gene. J Genet 31:317–326

9.

Kawamura J, Kato S, Ishihara T et al (1997) Difference of new mutation rates in dystrophin gene between deletion and duplication mutation in Duchenne and Becker muscular dystrophy. Rinsho Shinkeigaku 37:212–217

10.

Keller H, Emery AEH, Spiegler AWJ et al (1996) Age effects on serum creatine kinase (SCK) levels in obligate carriers of Duchenne muscular dystrophy (DMD) and Becker muscular dystrophy (BMD) and its implication on genetic counselling. Acta Cardiomyol 8:27–34

11.

Van Essen AJ, Abbs S, Baiget M et al (1992) Parental origin and germline mosaicism of deletions and duplications of the dystrophin gene: a European study. Hum Genet 88:249–257

12.

White S, Kalf M, Liu Q et al (2002) Comprehensive detection of genomic duplications and deletions in the DMD gene, by use of multiplex amplifiable probe hybridization. Am J Hum Genet 71:365–374
Interessenkonflikt
Der korrespondierende Autor gibt an, dass kein Interessenkonflikt besteht.
About this article
Cite this article
Grimm, T., Fischer, C. Risikoberechnungen beim X-chromosomal rezessiven Erbgang. medgen 23, 373–376 (2011). https://doi.org/10.1007/s11825-011-0294-8
Schlüsselwörter
X-chromosomaler Erbgang

Bayes-Theorem

Mutation

Mosaik

Muskeldystrophie Duchenne/Becker
Keywords
X-linked inheritance

Bayes theorem

Mutation

Mosaicism

Muscular dystrophy, Duchenne/Becker